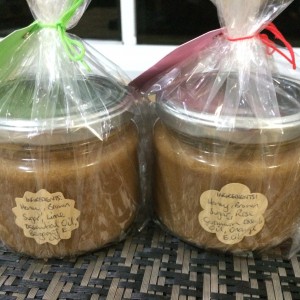 Homemade Beauty: Body Scrub and Face Mask
I am often complimented on my skin (which is lovely to hear as I age). When people ask what I use, they are often surprised to learn that I actually do not use expensive creams, masks or potions.
Putting toxins and chemicals on my face isn't as appealing as it used to be before I knew what was actually in those products and how they harm the body.
Just my like my
REAL FOOD Guidelines
, I like to keep my beauty routine simple.
Unfortunately I was fond of using harsh glycolic acid peals and lightening creams (even toothpaste on my face) to diminish the hormonal pigmentation that developed throughout my years with an Eating Disorder.
By keeping it simple and attending to my health from the inside out, my pigmentation has all but faded away these days.
You're probably very familiar with the old saying – cleanse, scrub and moisturise. And this is necessary to care for your skin as it sheds and renews itself over a 27 day cycle.
Here's what I do for a simple and effective skincare routine:
Clean the skin every morning and night. For cleansing, I use Dr Bronner liquid soaps with essential oils and a variety of natural soaps, like goats milk, lavender and peppermint.

Slough off the dead skin cells so the skin can breathe (and radiate!). I make my own face and body scrubs with raw honey, fine granulated brown sugar and essential oils, which I mix up in a large tub and use in the shower (very convenient).

Balance the moisture – inside and out – by drinking plenty of clean water and moisturising where needed. Moisturising couldn't be any easier with coconut oil, Bio Oil and Vitamin E oil for both face and body.

Use non-toxic make up and minimise exposure to harsh chemicals and toxins in skincare and household products.

Eat a variety of real food throughout the seasons, cut down on all refined sugar, eat and drink your greens.

Manage stress as it arises and practice self-care and relaxation techniques daily.
My skin is smooth, soft and glowing – even at 40!
Using all natural ingredients like raw honey and bentonite clay alongside pure therapeutic grade essential oils, is like using the best of mother nature to care for our largest organ – our skin.
Bonus! For a weekly face mask, I use bentonite clay mixed with filtered water and essential oils. Bentonite Clay – 100% Pure
makes a fabulous facial mask, for shrinking pores, tightening and toning skin, removing impurities, sloughing off dead skin cells, and just making your skin look and feel great.
It can be very easy to make your own staple beauty products and get a quick and simple routine going.
It doesn't take much time to mix these together and they'll last quite a while before you'll have to make another batch (especially the mask).
Always remember though that beauty begins from the inside out.
Enjoy! V xo
ALL NATURAL FACE AND BODY SCRUB
Ingredients:
2 cups raw honey
2 cups brown sugar
4-6 drops of your favourite essential oil (ensure it is quality essential oil and not synthetic)
Method:
Place the honey into a container and add the sugar. Mix to combine.
Add the essential oils and stir the scrub to mix them oils through.
Use 3-4 times per week in the shower. Use a small handful mixed with a little warm water to smooth the grainy mix into a paste and scrub gently over your skin, concentrating on elbows, knees, your back and arms. Wash off with warm water and enjoy silky soft, smooth skin!
A great idea for a special gift is to put your home made beauty concoctions into attractive jars and wrap them up for your loved ones. Chances are they haven't made time to care for themselves in such an easy and natural way, so when you give them a lovely home made gift that smells delicious and is kind to their skin, they may just start a new self-care routine for themselves!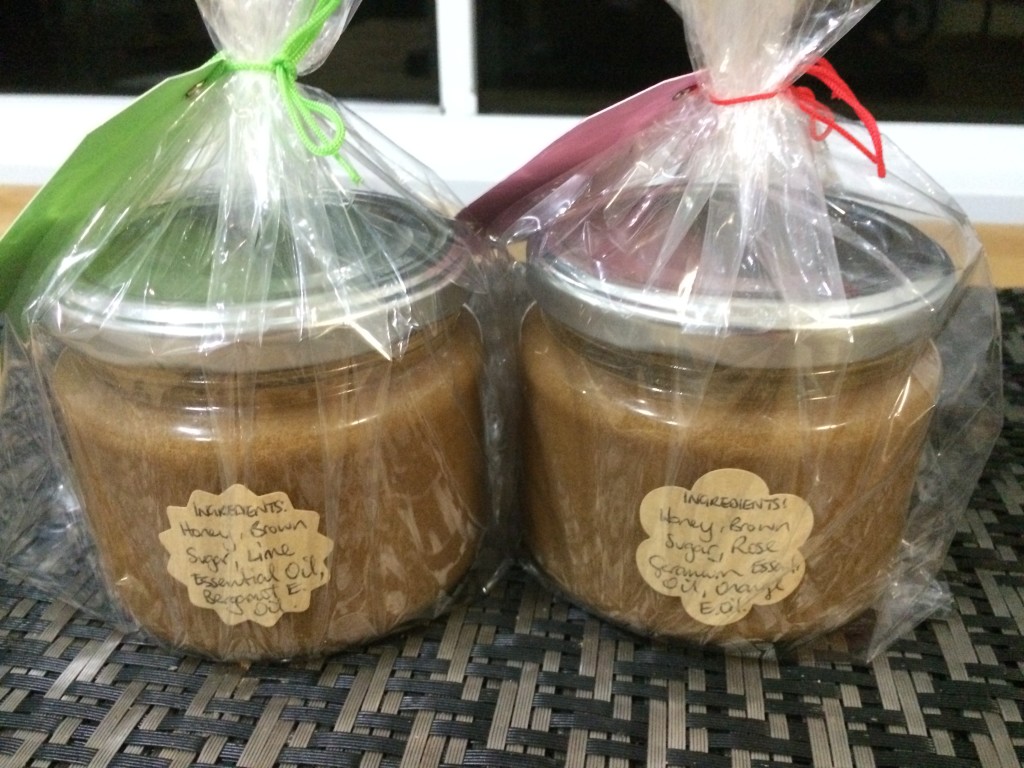 ALL NATURAL CLAY FACE MASK
Ingredients:
2 tablespoons organic bentonite clay
4 tablespoons filtered water
2-4 drops of your favourite essential oil (ensure it is quality essential oil and not synthetic)
Method:
Mix together the bentonite clay and water until it is a smooth paste.
Add in the essential oils and stir through until combined.
Store in a small airtight glass jar and use once weekly – smooth a thin layer onto clean skin and allow to dry, approximately 10 minutes. Wash off thoroughly in warm water and moisturise with pure organic coconut oil.
Watch me show you the ingredients and how to make and use them here:
Let your natural beauty shine!
Love
Viki  xo
About Viki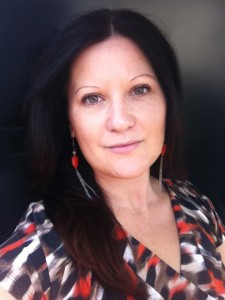 Viki Thondley is a Mind-Body Wellness Specialist and qualified Holistic Counsellor, Food, Stress & Lifestyle Coach, Meditation Therapist, and Eating Disorder Recovery Coach who inspires women to shift from limited thinking, low self-esteem and restriction to whole-self nourishment, body confidence and whole food healing. Recovered from bulimia nervosa and the many years of hormonal imbalances, food prison and self-sabotaging behaviours', Viki is an inspiring coach, speaker and event host who also provides personalised holistic programs, workshops and retreats to instil self-love, happiness, body confidence and real food freedom. She is author of "Achieving Your Wellness: Create a Life You Love" and "Healthy Chocolate Delights: Real Food Sweet Treats".
Sign up to her Happy | Healthy | Confident newsletter for her free 43 page eBook "Break Up with Dieting: 10 Tips to Calm Your Mind, Relax Your Body & Eat With Pleasure" + weekly whole-self nourishment tips, inspiration and recipes!