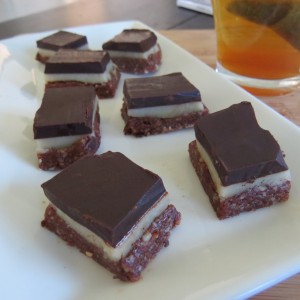 My Famous Peppermint Slice Recipe!
I've always loved peppermint slice! Just loved going by the bakery whenever I felt the yearning for a chocolate biscuit base with a dark chocolate topping, sandwiching a thick layer of sweet, creamy peppermint icing!
Those were the days when I had little knowledge of what I was eating and had no interest in learning what it was doing to my blood sugar, insulin or hormones. Holistic health wasn't something I practised back then and nutrition wasn't something I took much notice of.
These days I don't go the bakery. Haven't for years. But I do still enjoy a peppermint slice…
After years of not having them at all I suddenly started reminiscing. My brain began ticking over with a simple way to create all 3 layers, determined to present the healthiest version of an old time favourite.
And here we have it!
Unrefined, sugar-free, naturally sweetened… paleo, raw, vegan, gluten-free, dairy-free and full of healthy fats and minerals.
It came together in an afternoon of cooking inspiration and creativity while I was listening and singing along to the Beatles (their music a huge love since my childhood).
I hope you love this raw chocolate recipe as much as my whole family does. It's certainly a favourite and features in my upcoming Easy Chocolate Delights eBook!
Scrumptious Peppermint Slice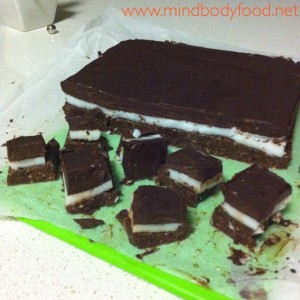 Base:
1 cup almonds

1 cup walnuts

15 soaked and pitted medjool dates (approximately 1 ½ cups)

1/4 cup raw cacao powder

Pinch of celtic or pink himalayan salt
Method:
Pulse the nuts in a food processor until roughly chopped, then add the medjool dates, cacao powder and salt. Process until well combined and the mixture sticks between your fingers.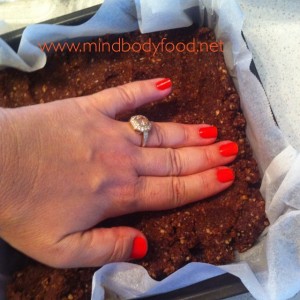 Line a medium sized slice tin with baking paper and press the base mixture down evenly with the back of a spoon or spatula. It's quite important to ensure an even base to prepare for the filling.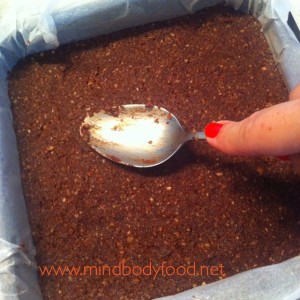 Place the base into the freezer while you make the filling.
Filling:
1 cup melted coconut oil

4 tablespoons pure maple syrup

1-2 teaspoons peppermint essence

OR

2 – 4 drops food grade essential oil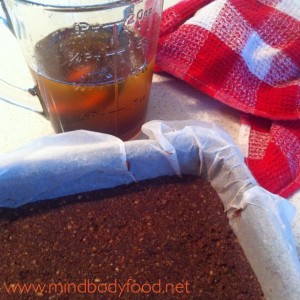 Method:
Combine all ingredients and blend or mix well. Take the base out of the freezer and immediately pour the filling onto the base – as long as your base is smooth and even this should be easy. Return straight to the freezer on a flat surface and freeze for at least 30 minutes prior to the final chocolate layer being poured on.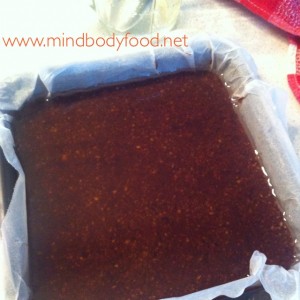 Topping:
400g basic dark chocolate
Note: You can use any kind of chocolate you prefer for this top layer. I use either my "Basic Dark Chocolate" recipe or my "Easy Peasy Chocolate" recipe. You could of course though melt down your favourite top quality store bought chocolate and layer that over the top.
Method:
Make the basic dark raw chocolate recipe or melt down previously made dark chocolate. It's not essential to temper the chocolate for this slice but it's good to get in the habit, especially if you'd like a firm, compact chocolate layer on the top.
Once the slice is set in the freezer, take it out and pour the chocolate over the top, smoothing out for an even layer. The most important thing is to ensure the melted chocolate is at least 30 degrees before pouring onto the cold peppermint slice.
Place into the refrigerator for about 15 – 20 minutes then take out and cut into squares with a large knife for even slicing. Store in the freezer or return to the fridge, as the filling will hold firm between the base and chocolate layers, yet remain soft when eating 🙂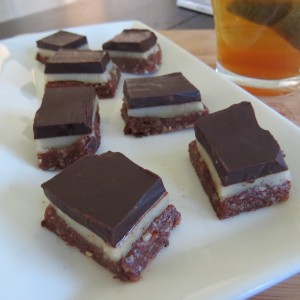 Enjoy!!
Viki  xo
Transformational Coach, Counsellor and Therapist
Freedom and Recovery from your Emotional, Weight & Eating Issues
Viki Thondley is a Rapid Transformational Therapist, Holistic Counsellor & Meditation Therapist specialising in self-worth, stress, mind-body connection, subconscious reprogramming, depression/anxiety, body-image & eating disorder recovery. She is Founder/Director of the

 MindBodyFood Institute

 & author of the

 Holistic Life Coach & Mind-Body Practitioner 

certification course, plus several coaching & whole food books.