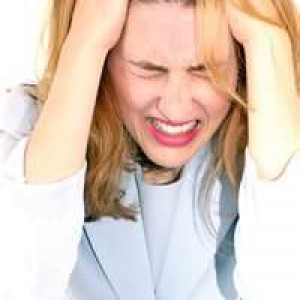 Worry Wars
In a recent post on Facebook, Cheryl Richardson – the original Personal Growth Coach – made a lovely confession about worrying:
"This morning I woke up worrying. It didn't start out that way. I opened my eyes to bright sunlight and smiled as I felt the warmth of Michael's body next to mine and the familiar weight of Poupon cuddled on top of my feet. My moment of bliss went to hell in a handbasket though, the moment my mind joined the party and created a racket!"
Worrying is something we all do, however it's usually at the cost of our precious time, energy and health.
I read Cheryl's post just after returning from the holistic chiropractor and uncovering some recent worrying of my own.
Driving home I was consciously focused on deep breathing and the relaxation of my shoulders, ribs and stomach – areas that had been constricted, restricted and tightened during the unconscious moments of my time spent worrying in my head recently.
I realised that with all my worrying thoughts and additional physical responses, my ability to relax and let things flow through me was weakened, right as the physical aches and pains increased.
This happens to many of us when we spend more time consumed by our thoughts than noticing our breath, the conversation, or the laundry piling up.
Worrying about our stress actually contributes to our stress.
We have a gift of self-perpetuating our emotional and physical responses to stress simply by worrying incessantly about them.
No matter how far we've evolved at creating machines, technology and gadgets to occupy our time, there is nothing so complex or primitive as our own human brains and what goes on within them.
Whether thinking or imagining a threat to our survival or comfort zones, the brain will respond as it is primitively designed to, by sending out stress hormones to instigate our fight or flight response, essentially our instinctive survival mechanism.
Whatever we think about in our minds, is creating physical and chemical reactions within the body. Therefore, if we are spending copious amounts of time overthinking and analysing our stress and worries, we are simultaneously removed from the present and the opportunities right in front of us, whilst our bodies are working overtime to process potential scenarios.
Additionally, we use up precious nutrients within our body, which places a larger requirement on how we nourish and support ourselves during stressful times.
Merely worrying about stuff does nothing to problem-solve it. We simply fall deeper and deeper into our own selfish stories, which become far removed from reality the more and more we continue to indulge them.
When Cheryl became aware of how her mind had taken over the present moment, she quickly regained mental control by doing the following:
"Ok, ok, I said to my mind in a firm, parental tone. Knock it off! I rolled over, cuddled closer to Michael, and wiggled my toes to include Poupon in the love. Then I closed my eyes and remembered… "All worry is an invitation to return to the present moment."
I forgot to remember that worry is my prompt. It's a signal. A request for my presence. A reminder to come home to where sanity lives. I breathed in slowly and repeated my mantra:
This present moment is peaceful. This present moment is powerful. This present moment is all there is.
And when that doesn't work, I just remind myself that any day now I could die and none of these thoughts will matter. At all. Morbid, I know. But it works."
As I was reminded in Cheryl Richardson's Facebook post, worrying doesn't have to be our enemy. Worry can in fact become our best friend, teaching and guiding us back towards the present moment where personal power and conscious living resides.
The moment we observe that we are in worry, we can immediately and gently take ourselves out of it, and return to present moment consciousness.
In the present moment breath, energy and inner quiet become our focus points.
Merely becoming aware that you are worrying is a pathway back to the immediate moment.
The act of being mindful – becoming observant, aware, conscious – is a break in habitual thinking, that when trusted and followed will return you back to conscious awareness and into this moment.
The state of conscious breathing promotes an inner calm that supersedes all worries and enables us the time to find or create solutions.
Often it can remind us that there is nothing worth worrying about if it's not already happening RIGHT NOW!
This is a handy piece of wisdom to remember, especially over the coming weeks when too many of us make worrying a full-time job… Here's to a festive season without the additional worry!
Wishing you inner peace,
Viki  xo