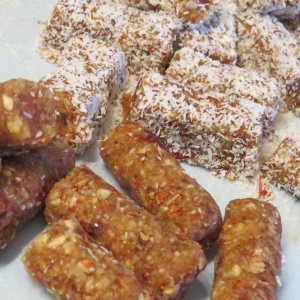 Sugar Free Goodness
Healthy and nutritious snacks for the kids using three ingredients. Yes! Only THREE!
You can buy a version of these snacks at the supermarkets and fruit shops but when it's so easy to make your own on demand and know exactly what's in them… why buy them?
These yummy Sweet Summer Rolls are naturally sweetened, full of fibre, minerals, vitamins, bit of protein and healthy fats. They're also vegan, raw, paleo and gluten free. An easy, ready snack to make healthy eating and whole-food nourishment a cinch!
You simply need a food processor and some baking paper.
Quick Nutritional Facts
Almonds:
high in magnesium, potassium, iron, zinc and copper
excellent source of heart healthy fats
helps lower blood pressure
helps control blood sugar
rich in antioxidants
Medjool dates contain a long list of vitamins and a bountiful amount of minerals: calcium, iron, magnesium, phosphorus, potassium, sodium, zinc, copper, and manganese. They are sweet, sticky and the perfect substitute for sugar in raw protein balls, brownies, cheesecake bases and smoothies.
Sweet Summer Rolls
1.5 cups soaked and rinsed almonds (I soak at least 4 hours)
1 firmly packed cup medjool dates – soaked in warm/hot water, rinsed and pitted
1-2 tsp vanilla extract (not essence)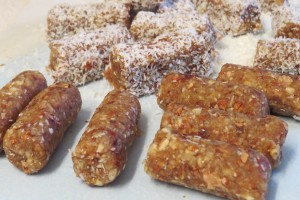 Method:
Pulse the almonds in a food processor until well broken down.
Add the pitted medjool dates and vanilla extract and process until combined and sticky.
Place the mix into the centre of a large piece of baking paper and fold it over. Use your hands to roll out into desired shape between the baking paper sheet. Slice into desired shapes.
To finish, roll in coconut, cacao nibs or chopped nuts.
Store in fridge or freezer and eat when tempted!
You are welcome to share this recipe, but please attach the ABOUT VIKI blurb at the bottom to it 😉 Thank you!
Enjoy 🙂
Viki  xo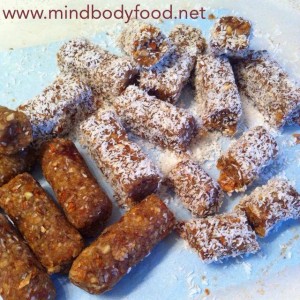 Transformational Coach, Counsellor and Therapist
Freedom and Recovery from your Emotional, Weight & Eating Issues
Viki Thondley is a Rapid Transformational Therapist, Holistic Counsellor & Meditation Therapist specialising in self-worth, stress, mind-body connection, subconscious reprogramming, depression/anxiety, body-image & eating disorder recovery. She is Founder/Director of the

 MindBodyFood Institute

 & author of the

 Holistic Life Coach & Mind-Body Practitioner 

certification course, plus several coaching & whole food books.