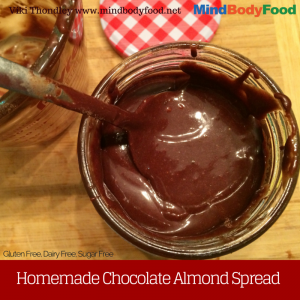 Healthy Homemade Chocolate Almond Spread! Super easy!
I wished I had have come up with this one sooner!
It's such an easy and indulgent chocolate flavoured nut butter, and a fantastic substitute to commercial spreads, conveniently targeted at children.
You won't experience an insulin high with this one, nor the cravings an hour later – unless of course you have a bit of a sugar addiction and are still weening your gut bacteria off of the sweet stuff!
This delicious homemade chocolate almond spread is a great raw food treat that doesn't require any cooking whatsoever – just a glass jar to mix everything in with a spoon, and a separate jar for storing.
You can swap the almond butter for cashew or brazil – completely up to you.
The kids will love this nutty-chocolatey combo!
And no doubt, so will you!
Enjoy!
V xo
Healthy Homemade Chocolate Almond Spread
(Gluten free, dairy free, fructose free, grain free, egg free) Vegan and Paleo
Ingredients:
1 cup rice malt syrup
1/2 cup raw cacao powder (add an extra 1/4 cup if you're a real choc lover!)
1/3 cup almond butter (also cashew – reduce amount if preferred)
1/8 cup melted coconut oil
1 teaspoon vanilla extract
pinch of pink himalayan or celtic sea salt
Method:
Mix all ingredients together in a pryex jug or similar until completely smooth and combined.
Store in an airtight jar in the cupboard.
EASY!!!
 Serving suggestions:
This yummy spread is a perfect replacement for store bought spreads and equally delicious as a dipping sauce, a pouring sauce over pancakes or as an accompaniment to a fruit and nut snack platter! Be creative! 🙂
For more healthy and nutritious, real food recipes that are gluten, dairy and refined sugar free, check out my popular
Healthy Chocolate Delights eBook
with over 60 raw, cooked, vegan, paleo, dairy free, gluten free, grain free and refined sugar free recipes.
Here's a sneak peak inside: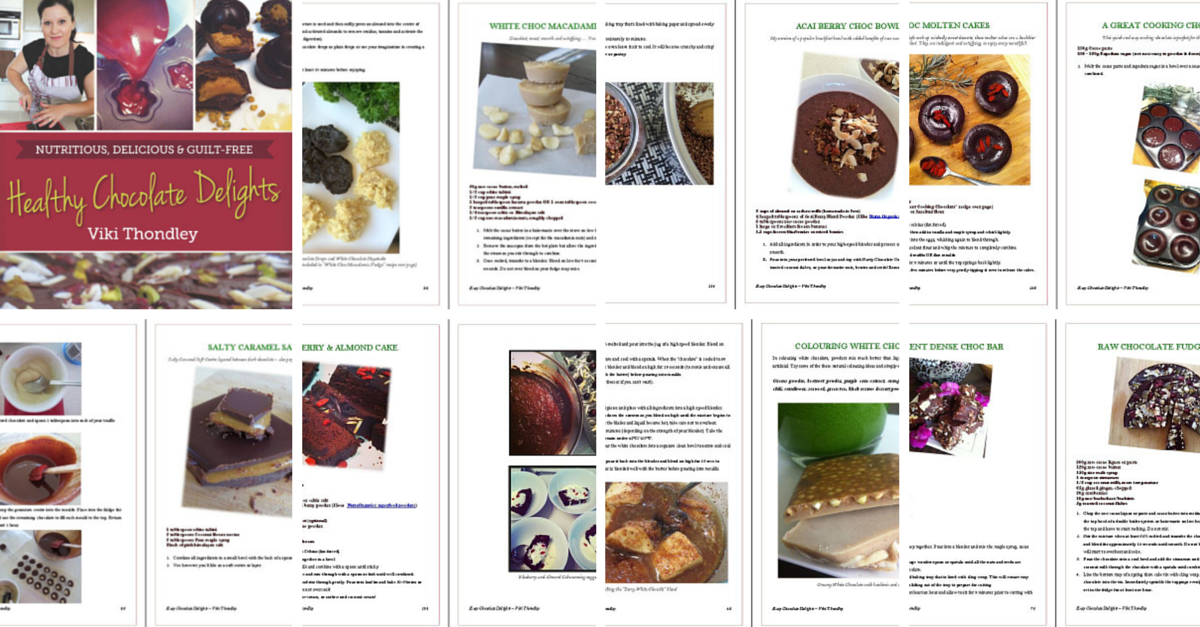 Transformational Coach, Counsellor and Therapist
Freedom and Recovery from your Emotional, Weight & Eating Issues
Viki Thondley is a Rapid Transformational Therapist, Holistic Counsellor & Meditation Therapist specialising in self-worth, stress, mind-body connection, subconscious reprogramming, depression/anxiety, body-image & eating disorder recovery. She is Founder/Director of the

 MindBodyFood Institute

 & author of the

 Holistic Life Coach & Mind-Body Practitioner 

certification course, plus several coaching & whole food books.