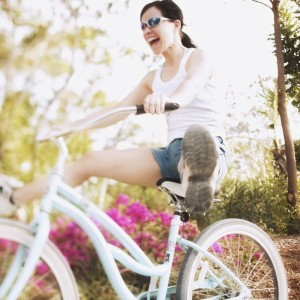 Assess Your Needs for Better Life Balance
Are you like many of my clients – struggling to have it all AND create life balance?
Life balance is an interesting term that many people use, especially when they realise that they don't have any!
Defining what life balance means, individually, can be quite difficult without first knowing your own needs and where you're lacking in fulfilling them.
The more stressed out, overwhelmed, exhausted and/or frustrated you feel at not having time for yourself to slow down and re-energise, the greater the disconnect between your mind and body – and your personal needs.
I don't think creating life balance isn't about controlling life. Obligations, commitments, challenges and bumps in the road can easily disrupt our plans and unbalance our lives every day!
It's more about knowing what you need and want, and incorporating these requirements into your daily life as an equally important priority as (maybe) going to work, getting dressed, or taking care of your children.
Let's face it; we are certainly not giving the best of ourselves when we're tired, wired and angry.
Have you lost sight of what you want or need because you've spent years either taking care of others, or pursuing the path that you thought you should be on (whether work, relationships or diets), only to discover that it's not really what you wanted or best for your mind and body, and it's now costing you your health and happiness?
[Tweet "To give the best of ourselves to others we really do need to give the best TO ourselves."]
If we don't, we keep our mind, body and spirit in a state of imbalance.
How we think about, talk about and treat ourselves will be the determining factor in how we feel after giving so much to others.
It's SO important to take care of yourself first. You'll then have so much more to give – without feeling overwhelmed, frustrated or resentful of it.
[Tweet "The trick in creating life balance is in recognising your needs and where they are not being met.."]
Attend to your needs as daily priorities. The focus then becomes on YOU and not what is happening around you.
If you know something is lacking in your life but you're not sure what it is, put aside some time now to look over these needs and identify which ones speak loudest to you at this particular stage of your life.
To help YOU start to take better care of yourself, it's helpful to first identify what you need! I've created a Needs Assessment chart to help you with this.
Download your free Needs Assessment Chart! Click the link to open and print.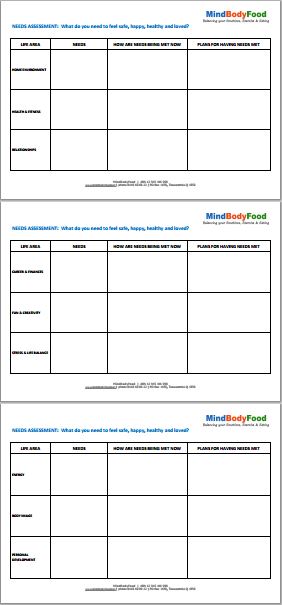 For each life area, ask yourself the question:
What do I need from this life area in order to be happy, healthy, safe and/or loved?
Spend some time considering what you would ultimately like to feel, have and experience.
Use this Needs Assessment sheet to clarify your needs: how they are currently being met, and identify where they are not.
Make some notes about how you can start to include or create action to fulfil these life areas in a positive way.
Start small – just doing one thing differently can make a huge difference!
Pick one thing every day to do for yourself in that area of your life.
As you stay in touch with your needs on a daily basis, your self-awareness will grow, and so too will your ability to attend to your needs.
Keep the focus within by listening to your self-talk, feeling your feelings and knowing when to choose differently for the sake of your health, happiness and well-being. Take some time to consider which areas of your life these needs most apply to and where you are feeling stressed, overwhelmed, exhausted and/or frustrated the most.
Allow this process to develop and nurture your self-awareness. Use meditation, exercise, creative outlets like drawing or painting, journaling, movement or simple contemplation to assist you in becoming clear.
Decide what one positive action you can take today that will help you to fulfil that need, and do it!
Viki  xo
About Viki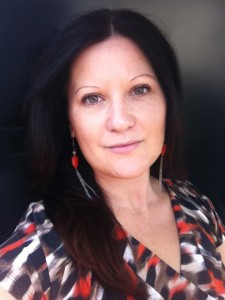 Viki Thondley is a Mind-Body Wellness Specialist and qualified Holistic Counsellor, Food, Stress & Lifestyle Coach, Meditation Therapist, and Eating Disorder Recovery Coach who inspires women to shift from dieting and restriction to whole-self nourishment, self-care and healing. Recovered from bulimia nervosa and the many years of hormonal imbalances, food prison and self-sabotaging behaviours', Viki is an inspiring coach, speaker and event host who also provides personalised holistic programs, workshops and retreats to instil self-love, happiness, body confidence and real food freedom. She is author of "Achieving Your Wellness: Create a Life You Love" and "Healthy Chocolate Delights: Real Food Sweet Treats".
Sign up to her Happy | Healthy | Confident newsletter for her free 43 page eBook "Break Up with Dieting: 10 Tips to Calm Your Mind, Relax Your Body & Eat With Pleasure" + weekly whole-self nourishment tips, inspiration and recipes!