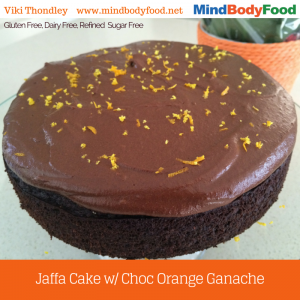 CHOCOLATE JAFFA CAKE that's healthy!
I'm pretty sure you all know how much I love to create whole food dishes to replace the store-bought and processed versions.
This one does not disappoint – it's bloody delicious!
I decided to have a play with the Chocolate Chia Berry Cake from my Healthy Chocolate Delights eBook that's always a winner.
By doubling the mixture and changing a few key items to achieve the flavour I was after, it's turned out to be a deliciously moist and rich cake with a beautiful aroma and flavour.
The chocolate ganache icing is a delightfully scrumptious and smooth addition over the top. It will set firmer the longer you leave it in the fridge.
For more healthy and nutritious, real food recipes that are gluten, dairy and refined sugar free, check out my popular

Healthy Chocolate Delights eBook with over 60 raw, cooked, vegan, paleo, dairy free, gluten free, grain free and refined sugar free recipes.
As always, ENJOY!
V xo
CHOCOLATE JAFFA CAKE with Choc Orange Ganache
(Gluten Free, Dairy Free, Wheat Free, Naturally Sweetened)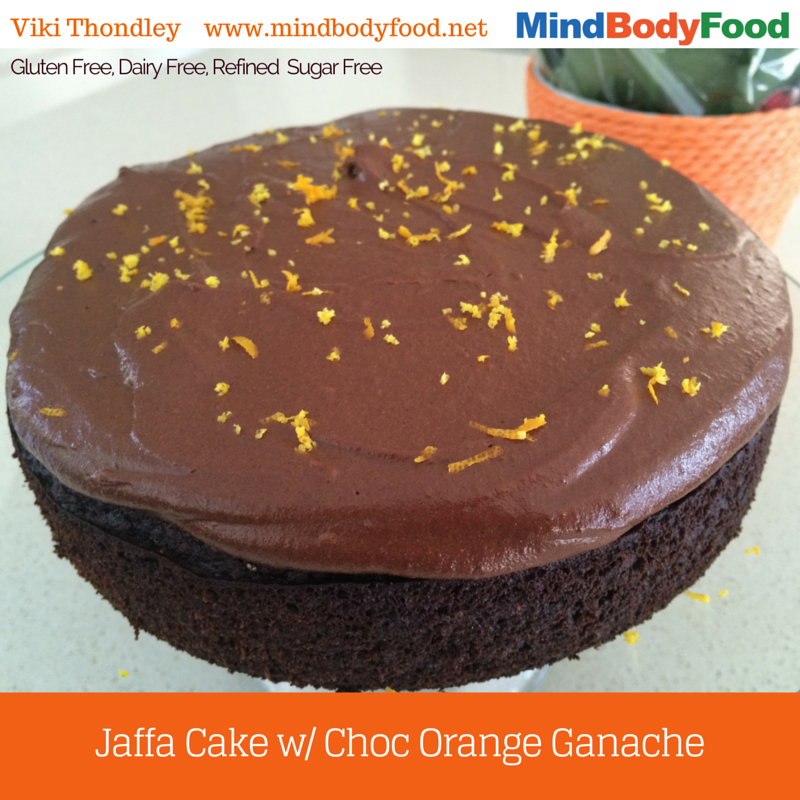 Ingredients:
• 1 cup raw cacao powder
• 1/2 cup coconut flour
• 1 cup coconut sugar (or Rapadura if preferred)
• 1/2 cup chia seeds (white and/or black)
• 1 teaspoon baking soda (Aluminium free)
• 1 teaspoon baking powder
• 4 eggs (or substitute)
• 400ml coconut milk
• Zest of 1 orange
• 10-15 drops of Orange Essential Oil, Therapeutic Food Grade (I use Young Living)
• 1 teaspoon vanilla extract (optional)
Ganache:
• 3/4 cups cashews (4 hours soaking)
• 1 cup (200ml) coconut cream
• 1/2 to 1 cup raw cacao powder (depending on richness)
• 10 medjool dates, pitted (softened in hot water)
• 3 tablespoons virgin organic coconut oil
Method:
Preheat oven to 180 degrees.

Sift the cacao powder, coconut flour and baking powder into a bowl. Add the sugar and chia seeds. Stir through well.

In a small jug, whisk the eggs. Shake or stir the coconut milk well and whisk into the eggs, then pour into the dry ingredients. Stir through to mix well, avoiding any lumps.

Lastly, add the orange zest and essential oil and stir well through the cake mix.

Pour into a lightly greased spring-form round cake tin with baking paper covering the bottom. Cook for approximately 20-25 minutes, until just cooked through and a skewer wipes clean.

The cake will be soft so best to cool for at least 5-10 minutes prior to removing from cake tin or mould.

To prepare the ganache, add all ingredients into a high-speed blender and process until smooth and creamy. When the cake is cool enough, pour and smooth over the ganache and place into the fridge to firm. 
Serve and enjoy!
Transformational Coach, Counsellor and Therapist
Freedom and Recovery from your Emotional, Weight & Eating Issues
Viki Thondley is a Rapid Transformational Therapist, Holistic Counsellor & Meditation Therapist specialising in self-worth, stress, mind-body connection, subconscious reprogramming, depression/anxiety, body-image & eating disorder recovery. She is Founder/Director of the MindBodyFood Institute & author of the Holistic Life Coach & Mind-Body Practitioner certification course, plus several coaching & whole food books.