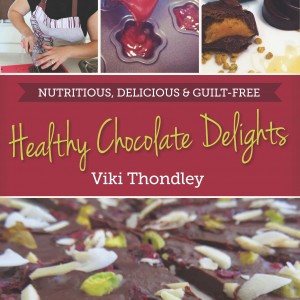 MY BRAND NEW EBOOK!
Do you love chocolate, but always have this guilty feeling associated with it?
Guilty pleasure. Guilty addiction. Equals shame.
Eating chocolate for me used to be a guilty pleasure. I was addicted to the false pleasure I experienced due to the massive sugar high in my brain. It triggered my reward centre to release a hormone called Dopamine – I felt FINE when I was eating chocolate. I even felt pretty damn fine after I ate chocolate….
But then after a little while, I felt low, lethargic, irritable…. and disgusted – with myself and my lack of willpower; with my body and the excess fat I was carrying – the same fat I'd just fed a dose of creamy, sickly sweet chocolate to.
Every time I ate chocolate or sugar, I would need to eat more to get the same sugar high, which made it very hard to stop craving it or eating it.
Needless to say, I had no idea what this was doing to my blood sugar imbalances, or my hormonal upsets due to dieting, restriction, low-fat everything else, and the constant stress and worry about it.
I loved chocolate but I believed it wasn't good for me. Even if I did eat 70% or higher…
Chocolate was a trigger food that coupled with my severe dieting and low self-esteem, was a convenient tool in my battle against an eating disorder for 18 years.
It was because of my recovery and making peace with my body and weight, that I wanted to learn how to enjoy my trigger foods in a healthful way, mindfully, with allowance and pleasure, yet without being overcome by them.
In combating my relationship with chocolate, I decided to learn more about where chocolate actually came from.
After years of associating chocolate with diets, guilt and shame, I traced my cravings back to the source of all chocolate and discovered some interesting facts.
I discovered that real and raw cacao contains
 highly beneficial nutrients

 that are largely destroyed when it is roasted and commercially processed.

This started me on a journey of learning and adapting the classic chocolate making techniques and turning them into an easy, modern method that would protect these nutrients and deliver quality results (smooth, snappy and glossy!).

I figured if I was actually nourishing my body with actual nutrients, healthy sugars and fats in moderation, then I wouldn't eventually lose the taste of the fake stuff and help my body to heal with real food.

And so I began experimenting and gradually making beautiful quality raw chocolate at home that retains it's nutritional qualities, tastes delicious, won't induce your cravings, and is nutritious for the whole family!

My relationship with chocolate now is one of respect. I eat it if I feel like it, but more often than not I could take it or leave it. When I do eat it, I really taste it, appreciate it and enjoy it more thoroughly in much smaller amounts.

It's a healthy relationship – no guilt, addiction, shame or craving.
Real and raw chocolate made with natural sweeteners, is a full-flavoured version of the real deal. You'll be amazed at never really knowing the true taste of chocolate when you finally try some compared to the usual packaged varieties.
It's been a HUGE process and learning curve for me to create, write, photograph and design this ebook for you all (my beloved constantly edited!). I can't wait to share it with you!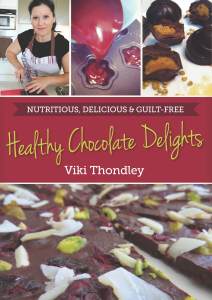 Originally designed as a free recipe accompaniment to my very popular Raw and Healthy Chocolate Workshops, this eBook also contains the history and benefits of raw cacao plus lots of nutritional information on the dangers of sugar, natural sweeteners and substitutes, with an introduction to every day super (nutrient dense) foods.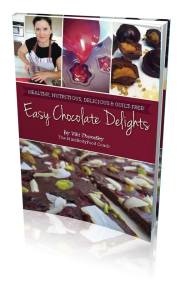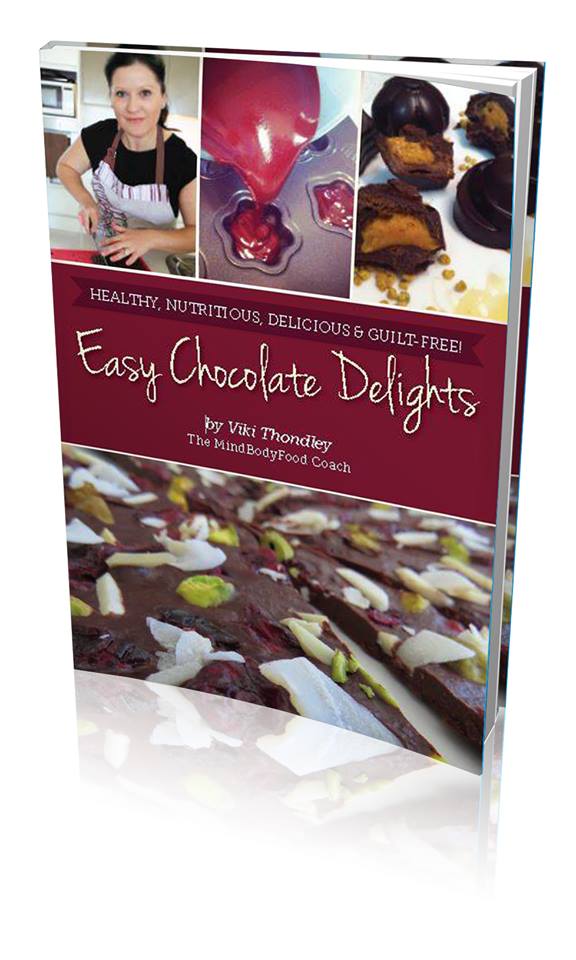 With cacao love and gratitude!
Viki  xo
About Viki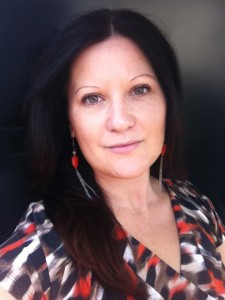 Viki Thondley is a Mind-Body Wellness Specialist and qualified Holistic Counsellor, Food, Stress & Lifestyle Coach, Meditation Therapist, and Eating Disorder Recovery Coach who inspires women to shift from dieting and restriction to whole-self nourishment, self-care and healing. Recovered from bulimia nervosa and the many years of hormonal imbalances, food prison and self-sabotaging behaviours', Viki is an inspiring coach, speaker and event host who also provides personalised holistic programs, workshops and retreats to instil self-love, happiness, body confidence and real food freedom. She is author of "Achieving Your Wellness: Create a Life You Love" and "Healthy Chocolate Delights: Real Food Sweet Treats".
Sign up to her Happy | Healthy | Confident newsletter for her free 43 page eBook "Break Up with Dieting: 10 Tips to Calm Your Mind, Relax Your Body & Eat With Pleasure" + weekly whole-self nourishment tips, inspiration and recipes!