Clarity, Energy, Healing…
Discover Your Inner Calm!
Viki creates and delivers inspiring Meditation, Stress and Personal Development Courses, Classes, Private Tuition Therapy and Workshops that are suitable for both genders of all ages and backgrounds. The beauty of Meditation is discovered in the journey of learning how to do it whilst developing a deeper relationship with your inner, authentic self.
Through conscious effort, you will experience noticeable improvements in your daily life towards greater health, wellness, happiness and resilience.
 "Meditation is not a way of making your mind quiet. It is a way of entering into the quiet that is already there – buried under the 50,000 thoughts the average person thinks every day." – Deepak Chopra
Meditation in the simplest of terms is developing a relationship with yourself. The pace of modern life frequently demands our attention and distracts us from our inner world. Meditation brings us back home, into ourselves, and allows us the space and time to reconnect, recharge and stay focused on our own path.
You need very little to get started in Meditation and you can easily implement simple techniques into your day to instantly change your physiology.
Scientists confirm that as little as 20 minutes of meditation daily can positively create mental, physical, emotional and biochemical benefits.
The size of these benefits will always be in direction proportion to the amount of time and regularity of your meditation practice.
One of the best things about Meditation is its' proven ability to elicit the relaxation response (the exact opposite of our stress response), which is perfect for quickly and effortlessly reducing the effects of stress and tension and increasing feelings of calm, peacefulness and confidence.
You don't need any special equipment although specially designed cushions (called bolsters and zafu cushions) are fantastic for sitting and laying comfortably in a supportive position, and can certainly help with your relaxation and creating a sacred space for practice. (Click here are our favourite cushions)
It's also highly beneficial if you suffer from high blood pressure, heart disease, rheumatoid arthritis, skin disorders or chronic pain from disease such as cancer.
Some of the benefits of regularly practicing meditation include…
Lowering blood pressure

Regulating weight

Increasing mental capacity

Assisting in pain management

A significant reduction in the effects of stress in your life

A greater sense of calm and peacefulness

A deeper sense of Self

Greater self-confidence and improved self esteem

A sense of physical, mental and emotional wellbeing

Better sleep

More physical energy

Increased motivation

Improvements in general health

Assistance in the treatment of illness and disease

Lowering high blood pressure

Easing anxiety and mild depression

Better sleep for insomniacs

Lower cholesterol along with stress levels

Decreased use of alcohol and cigarettes

Reducing chronic pain

Relieving tension headaches, irritable bowel and PMS

Mental calm, focus and clarity
And many more…
The benefits of meditation have been thoroughly researched and documented by the following world class research institutions:
• Harvard University
• University of Pennsylvania
• University of California
• Monash University
• University of Massachusetts
Just do a quick Google search on the 'benefits of meditation' for a fascinating and impressive list of praise and recommendation from both clinical study and direct experience: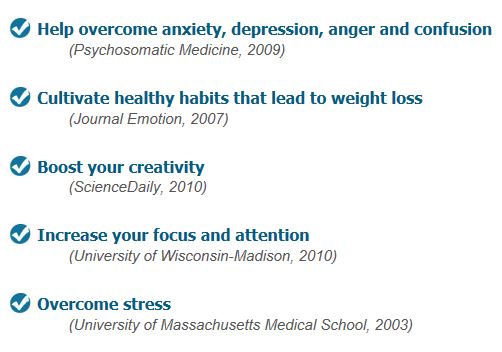 As Doctors and Health Practitioners continue to discover the increasing benefits on multiple layers of the human mind, body and spirit, Meditation is being introduced to all generations, old and new, to show how it can enhance, improve, heal and restore their health, wellness, balance, stress and happiness.