PRIVATE MEDITATION THERAPY with Viki Thondley
in-person or via Skype from the comfort of your home, anywhere in the world
Meditation and lifestyle management are exceptional tools in mind-body awareness, healing and health prevention.
Meditation is a powerful and personal way to enhance resilience, mental health, and immunity. It reduces heart-rate, breathing, muscle tension and symptoms of stress, anxiety and depression.
A daily meditation practice can enhance your health, wellness and sense of enjoyment on all levels of personal and professional relationships.
Meditation can noticeably make positive changes to your physical, mental and emotional states. It's the natural, drug-free method of reducing stress and living a calmer, more confident and conscious life.
When mindful living is combined with subconscious reprogramming, inner stress relief, natural movement and whole-self nourishment you find happiness, health and confidence from within.
I'm known as a generous, insightful and inspiring Meditation and Holistic Therapist who offers various options and tailored treatment plans for specific conditions from chronics stress through to anxiety, pain and depression.
I guide clients and students throughout a wide range of meditation styles, guided visualisations, mantras, affirmations and various breathing techniques to suit their individual learning style and personal journey. We also take a look at your current stress levels, give you a solid understanding of what the stress response is and what's personally triggering stress in your life so we can tailor a self-care plan to suit your needs.
Private tuition typically lasts between 1 and 4 sessions, depending on your prior experience, interest in different meditation styles, and your intention of including meditation and its' many benefits into your life. No pressure or judgement, only complete support, acceptance and guidance.
Private meditation therapy is offered as required for individuals living with cancer, pain, anxiety and stress related conditions and may include holistic counselling tools, insights, practices and exercises to assist you to get as much out of each session as possible to integrate into your home environment and lifestyle choices.
A Meditation Therapy Session utilises mind-body relaxation techniques alongside holistic tools for stress (symptoms and triggers), emotional release, pain and/or healing.
Your Meditation Therapy session is minimum 1.5 hours (90 – 100 mins) duration at $150 and includes tuition, use of essential oils PLUS ANY OR ALL of the following:
your choice of one MindBodyFood meditation CD

a safe personal space to express your concerns, fears or challenges

various worksheets to identify personal stress triggers and create a self-care plan of action

various relaxation and breathing exercises for immediate benefit

a brief history of meditation styles and benefits

instruction of correct postures and breathing techniques

15 minute progressive muscle relaxation exercise

2 x 15 minute meditation practices

a personal folder with informative resources

a cup of herbal tea (if in-person sessions)
One-on-one personally tailored meditation guidance are also perfect for shift workers, busy corporate professionals and overwhelmed students and parents. Children are welcome to enjoy a personalised session too, dependant on age and circumstances. One adult may sit in with the child at no cost, as long as their presence does not interfere with the child's focus or progress.
Sessions can be conducted in person or via Zoom (online meeting room via video) for your comfort and convenience.
BOOK YOUR SESSION NOW
[contact-form to='vikimaree@bigpond.com' subject='Private Meditation Therapy Booking'][contact-field label='Name' type='name' required='1'/][contact-field label='Email' type='email' required='1'/][contact-field label='Best Number' type='text'/][contact-field label='Tell Me What You Want to Work On' type='textarea' required='1'/][/contact-form]
Listen from the comfort of your own home via computer, device or headphones!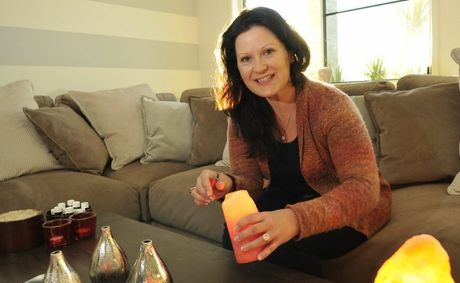 Your Meditation Therapist:
Viki Thondley has been meditating for over 25 years and is a certified with an Advanced Diploma in Meditation Therapy, Holistic Counselling & Human Development (Hons). Viki is a qualified Holistic Therapist (Counselling & Meditation), Life Coach, Wellness & Food Coach, specialising in Mental Re-programming, Self-Love, Body Confidence, Eating Psychology, and Eating Disorder & Binge Eating Recovery.
Viki holds memberships with several industry associations including the International Meditation Teacher Trainers' Association (IMTTA), and the International Institute for Complimentary Therapists (IICT).
---
Client Feedback:
"I couldn't recommend a more professional, understanding and insightful stress therapist then Viki. Words can't describe how her stress management techniques have helped to provide clarity and inner peace into my life. In the short time that I worked with Viki it has left lasting results that have now helped to transform my career, personal relationships and sense of self for the better. Life skills aren't always developed at child hood or adult hood and for that reason Viki has given me a gift that will stick with me always. Thank you Viki! What a relief to know your services are available."  Whitney K
"Over the 8 week sessions I learnt so much about myself that I wouldn't have even thought about. I am very grateful that someone recommended you, you really are amazing and very inspirational. I have taken on board the stress and breathing techniques and will continue my gratitude journal for a very long time. You have taught me so much about my thought process and how to enjoy living in the moment. Thank you for giving me the confidence, understanding, positive attitude and knowledge to continue on this journey. I can't thank you enough." – Lauren G
---
Viki's qualifications/memberships:
Advanced Diploma in Meditation Therapy, Holistic Counselling and Human Development
Postgraduate Certificate in Management of Depression and Anxiety
Postgraduate Certificate in Meditation for Weight Management
Postgraduate Certificate in Advanced Holistic Counselling
Postgraduate Certificate in Corporate Stress Management
Postgraduate Certificate in Trigger Point Therapy
Postgraduate Certificate in Elemental Movement Meditation
Postgraduate Certificate in Inner Child Therapy
Postgraduate Certificate in Meditation for Children
Postgraduate Certificate in Mind-Body Medicine
Advanced Diploma in Life Coaching
Diploma Freelance Journalism
Diploma of Justice (270 hours)
Certificate of Food Psychology
Certificate of Accredited Nutrition (Food Coach)
Certificate Wellness Coaching (Levels 1 & 2)
Certificate Law of Attraction Practitioner
Certificate Advanced Boxing for Fitness Trainer
Certificate Advanced Kick-boxing Instructor
Certificate Lifeline Crisis Counselling
Certificate 4 Training and Assessment
Certificate 3 & 4 Fitness (Master Personal Trainer, Fitness/Gym Instructor)
Certificate 3 Sports Massage Therapy Practitioner (Clinical Procedures, Sports, Trigger Point & Aromatherapy)
Registered Member:
International Meditation Teacher Trainers' Association
Australian Institute for Complimentary Therapists
Inner Voyage Holistic Human Development & Meditation Teacher's College
Australian Meditation Teachers Association