Be Happy. Love Yourself. Taste Freedom!
Regain Control, Confidence & Calm around your thoughts, feelings and eating habits so you can ditch the dieting mentality, stop shaming your body, reduce stress & trust yourself around food.
IF YOU ARE:
….exhausted from constantly fighting with yourself and your body over food….
….feeling overwhelmed, frustrated, not good enough, or not worthy….
….want more for yourself than feeling stressed and unhappy in a body you hate….
You're in the right place to start living your life, loving your body and eating with pleasure!
Welcome! My name is Viki and I help stressed out emotional eaters stuck in the dieting mindset learn how to relax, tune-in, and take charge of their negative self-talk so they can finally trust and accept their bodies, give up the guilt, break up with dieting, and clear out the mental clutter sabotaging their happiness.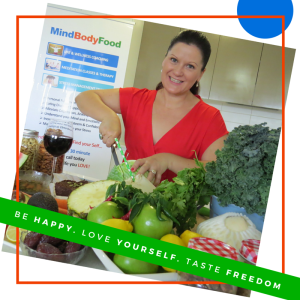 Have you lost control, confidence and calm around food?
My story may be familiar to you: from my mid teens to my early 30's every waking moment was spent hating my body, feeling unworthy, and blaming my weight. I spent years denying myself food, love, relationships and happiness. I struggled with people-pleasing, low self-esteem, sugar cravings, food addiction, hormonal imbalances, intense stress, depression, emotional eating and 18 years of Bulimia Nervosa.
Because I've recovered from my own past self-esteem, body and eating issues, I'm intimately acquainted with negative self-talk, guilt, body-shame and the never ending cycle of dieting, depriving, bingeing and purging. I know how self-defeating the fear of failure and feeling like a fraud is when you lose weight, only to put it back on again.
ARE YOU READY TO…
Stop dieting, depriving and denying yourself and allow more nourishment, connection and love into your life?

Swap stress for self-care and understand clearly what's driving your boredom, binging and over eating?

Replace willpower, over-exercising or the 'perfect diet' with mind-body wisdom and holistic nutrition?

Let go of food rules, rituals and disordered eating and finally experience the satisfaction of real food freedom?

Spend less time worrying about food and eating and more time consciously living and loving?
It starts with your most important relationship: the one you have with yourself…
It's time to get honest with yourself and start exploring what you're really hungry for. I know what self-sabotage, body hate and fear of eating feels like. I know what the negative self-talk can drive you to do. BUT I lived through it for nearly two decades and now I am FULLY recovered and the happiest I've ever been. It's your turn to heal your life and love the skin you're in!
Make yourself a priority in your own life.
RIGHT NOW, is always the best time to start! I'd be honoured to guide you into whole-self nourishment and holistic living to finally love yourself, appreciate your body and feel in control of your life!