Be Happy. Love Yourself. Taste Freedom.
Holistic Health, Mindset, Eating Disorder & Lifestyle Specialist,
 Viki Thondley
When you wake up feeling tired, heavy or worried about your weight, every thought, feeling and food choice for the rest of the day is affected by your biochemistry, which in turn causes increasing stress and struggle within your mind and body. BE FREE NOW!

I'll teach you about the mind-body-food connection to empower, energise, heal and improve every aspect of your health and wellbeing. You'll learn how to tune into the eternal wisdom of your own beautiful body and allow it to guide you.
You'll understand that who we are, what we think and how we feel affects our hormones, digestion, assimilation and metabolism, as well as our health, confidence and ability to heal.
E-motions = energy movement. Stress = negative and low energy.
Thoughts create our emotions. Emotions create our behaviours. If you're still holding onto anger, resentment or sadness from the past it's time to let those emotions go. Understanding mental programming, emotional physiology, maladaptive stress response, and mind-body nourishment creates a healthy relationship between you, your body and the food you eat. Learn how to release negative and stressful emotions before illness and disease arrives.
The MindBodyFood approach is unique in combining the philosophies and strategies of Holistic Counselling, Wellness Coaching, Eating Psychology, Neuroscience, EFT, Holistic Nutrition, Personal Development, Lifestyle Strategies, Hormone Balancing, Exercise & Movement, and scientifically proven techniques using Meditation & Stress Therapy.

 

Do you hate the thought of not being 'good enough, smart enough, pretty enough or thin enough'?
I spent years hating myself, blaming my weight and neglecting my needs. I was ashamed to be me and couldn't look in the mirror. I obsessed about food and covered it up by 'keeping up appearances'. I felt like a fraud and a horrible person. I couldn't go out in public without looking 'just so' because I didn't want anyone to see me as 'less than'.
I believed I didn't deserve what I wanted. I believed that: "If I was thinner everyone would like me / I would feel happy / my life would be better".
I was a perfectionist. I was so afraid of not being good enough. My obsession over food and dieting amounted to years of starving, depriving and restricting myself of love, comfort, safety, support, connection and belonging. Something had to change… 
STOP food, worry and anxiety from sabotaging your life!
Finally I realised that I already had everything I needed. It was time to stop looking outside of myself and make peace with the woman within.
Now it's YOUR turn! It's time to encourage your authentic self to come out of hiding and celebrate your inner beauty!
I help you navigate internal confusion and approach your life in a "whole" new way with self-love, purpose and passion – all while learning how to nourish your cells for improved energy, mood, sleep, concentration, digestion, health and hormone balancing.
While working with me you'll discover your strengths, listen to your thoughts, develop new skills, challenge limiting beliefs, respond to your feelings, release your fears, fulfil your needs and choose your behaviour… skills for long term health and happiness.

Connect with your Authentic Self. Find your way back home to YOU.
I'm known as a generous, insightful and inspiring Meditation Teacher and Stress Therapist who offers various options and tailored treatment plans for specific conditions.
I guide clients and students throughout a wide range of meditation styles and techniques to suit their individual learning style and personal journey. With my quick-wit and warm-heart, I'll quickly have you at ease and discovering your true inner self in no time!
No pressure or judgement, only complete support, acceptance and guidance.
Meditation can noticeably make positive changes to your physical, mental and emotional states. It's the natural, drug-free method of reducing stress and living a calmer, more confident and conscious life.
When mindful living is combined with natural movement, whole-self nourishment, corrected mental programming and inner stress relief, you find happiness, health and confidence from within.
STOP punishing yourself! You're already perfect.
"You've had the power all along my Dear!" said Glenda the Good Witch to Dorothy.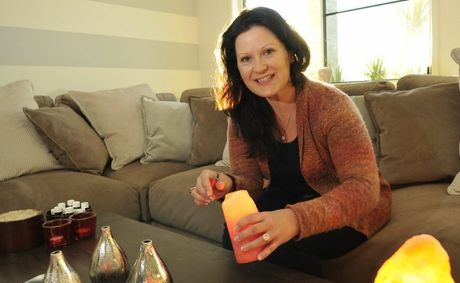 Make yourself a priority in your own life.
Live the life you imagine!