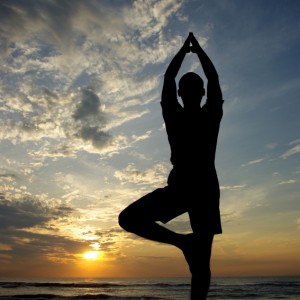 Yoga AND Meditation
How cool is breathing in alignment with your body moving?
And then sitting in stillness to allow the breath to flow through you?
I love meditation and I love yoga, having practised both for over 25 years.
At one stage, I was quite the yogini – practising regularly and feeling my whole outlook and body change as I bent, stretched, breathed and improved.
Whatever was going on in my life often stepped onto the mat with me, but by the time I was finished it had released off my shoulders, heart or mind and allowed me room to shift perspective, change direction or be at peace with it.
Meditation has always been my constant saviour – but only when I allowed myself to feel loved, supported, accepted and worthy. And this meant creating time and space for it, regularly.
Earlier this year I made the commitment to host my first Women's Wellness and Meditation Retreat, which I am so excited to share with 18 open-hearted ladies in just two short weeks!
I wanted to share my love of self-care practises, healing modalities, health and wellness coaching strategies, holistic counselling tools and mind-body medicine and nourishment wisdom to women in giving mode who need honouring, respecting and recharging of their own mind, body and spirit.
Of course I wanted to include yoga as well – not the chair yoga that I teach – a full traditional yoga class in helping the ladies, of all ages, sizes, backgrounds and ideologies to connect inward with their life-force energy and harness that power within themselves to love and accept themselves, exactly as they are.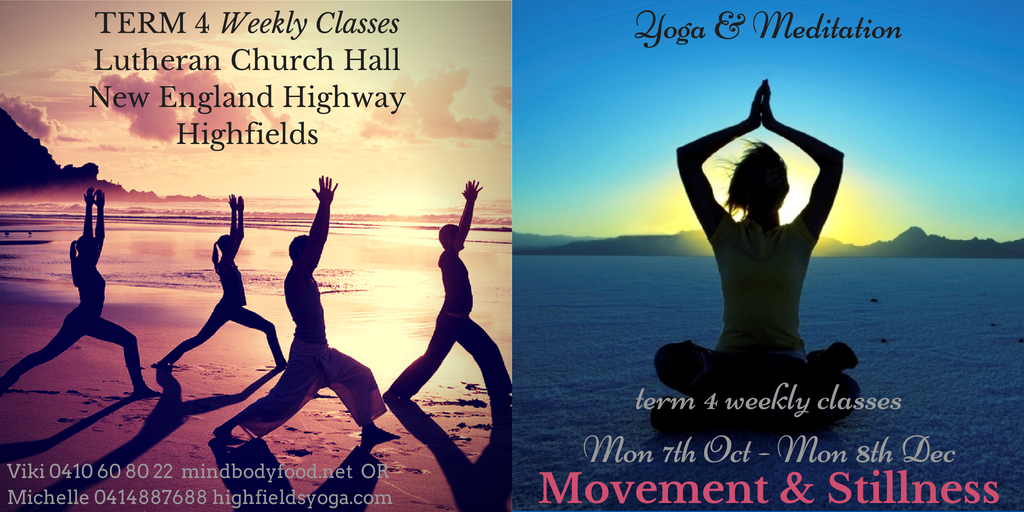 This is how I met Michelle of Highfields Yoga: a gentle, loving, kind hearted and open minded soul who loves yoga, philosophy and harmonious living as much as I do.
Michelle's motto is, "Yoga is for everyone" and I couldn't agree more. Which is why I asked her to be my guest presenter and teach yoga to my retreat ladies!
Throughout our conversations we decided to blend our expertise and offer a brand new weekly term class incorporating the best of both yoga and meditation. A full hour of movement and stillness that will explore various yoga poses, as well as breathing, relaxation and meditation techniques.
We wanted to introduce our busy, stressed out and overwhelmed students to various styles and traditions for relaxation, breathing, stress management, pain management, healing, confidence, visualisation, self-esteem and affirmations.
An evening a week to help deepen their practice and connection to self, and reinforce their learning with regularity, greater insight and promotion of the relaxation response.
If you live in the Darling Downs and crave some time for yourself, some peace and quiet, a moment to breathe and keep for yourself, then let me and Michelle show you how with plenty of simple techniques, ideas and postures to support you.
Here's a little video we put together for you all 🙂
Brand new Yoga and Meditation Term
If you'd like to come along and join us, we'd love to have you.
As there has been tremendous interest in this new weekly class, we require BOOKINGS to confirm your place. Priority will be given to those committing to the entire Term 4 over 10 weeks with us. If you would like to come along casually, simply get in touch with myself of Michelle (here) to confirm availability.
Check out all the details HERE.
Namaste
Viki xo
About Viki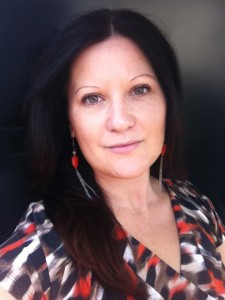 Viki Thondley is a Mind-Body Wellness Specialist and qualified Holistic Counsellor, Food, Stress & Lifestyle Coach, Meditation Therapist, and Eating Disorder Recovery Coach who inspires women to shift from dieting and restriction to whole-self nourishment, self-care and healing. Recovered from bulimia nervosa and the many years of hormonal imbalances, food prison and self-sabotaging behaviours', Viki is an inspiring coach, speaker and event host who also provides personalised holistic programs, workshops and retreats to instil self-love, happiness, body confidence and real food freedom. She is author of "Achieving Your Wellness: Create a Life You Love" and "Healthy Chocolate Delights: Real Food Sweet Treats".
Sign up to her Happy | Healthy | Confident newsletter for her free 43 page eBook "Break Up with Dieting: 10 Tips to Calm Your Mind, Relax Your Body & Eat With Pleasure" + weekly whole-self nourishment tips, inspiration and recipes!