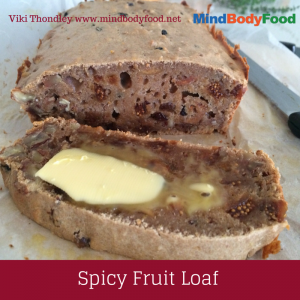 Spiced Fruit Loaf
As winter draws near, so does my desire for warm and spicy comfort foods like soups, casseroles and vegetables.
Oh, and hot chocolate… 🙂
I don't eat much bread although I do love a good traditional sourdough, toasted and topped with eggs, spinach, bacon and home made sauerkraut!
During winter I often want something a little more filling that has a lot of flavour and will perfectly compliment a cup of herbal tea on a cold afternoon.
I started dreaming of fruit toast, which the children often ask for around this time of year. But it doesn't often sit well in my stomach and digestive tract.
With my recent experience of making healthy hot cross buns using spelt flour, I decided to convert one of the recipes into a loaf today by making a few key changes.
Spiced Fruit Loaf Success!
I lifted the loaf out onto a bread board straight from the oven and we sliced it soon after to eat it warm with good quality butter – it was scrumptious!
I hope you like it too!
You'll find the original hot cross buns recipes here:
Orange, Fig and Pecan Hot Cross Buns
Gothic Fig and Double Chocolate Easter Buns
They're both quite delish, especially when eaten warm.
Viki xo
Spiced Fruit Loaf
Dairy Free, Refined Sugar Free, Wheat Free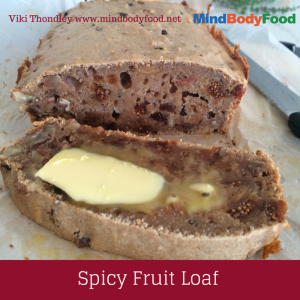 Ingredients
Dry:
2 cups wholemeal spelt flour
1 1/2 teaspoons cinnamon
1 teaspoon mixed spice
1 teaspoon ground ginger
2 teaspoon baking powder (aluminium free)
Wet:
150 ml almond or cashew milk
1 egg
1 teaspoon vanilla extract
1/3 cup raw honey (even though the enzymes will be reduced with heat I still like to start with raw)
50 ml coconut oil, melted (or can use extra virgin olive oil instead)
1 orange, juice of (grate the rind before juicing)
Texture:
6 roughly chopped dried figs
1/2 cup chopped pecans
1/4 cup black currants
Rind of 1 orange (keep for juice, above)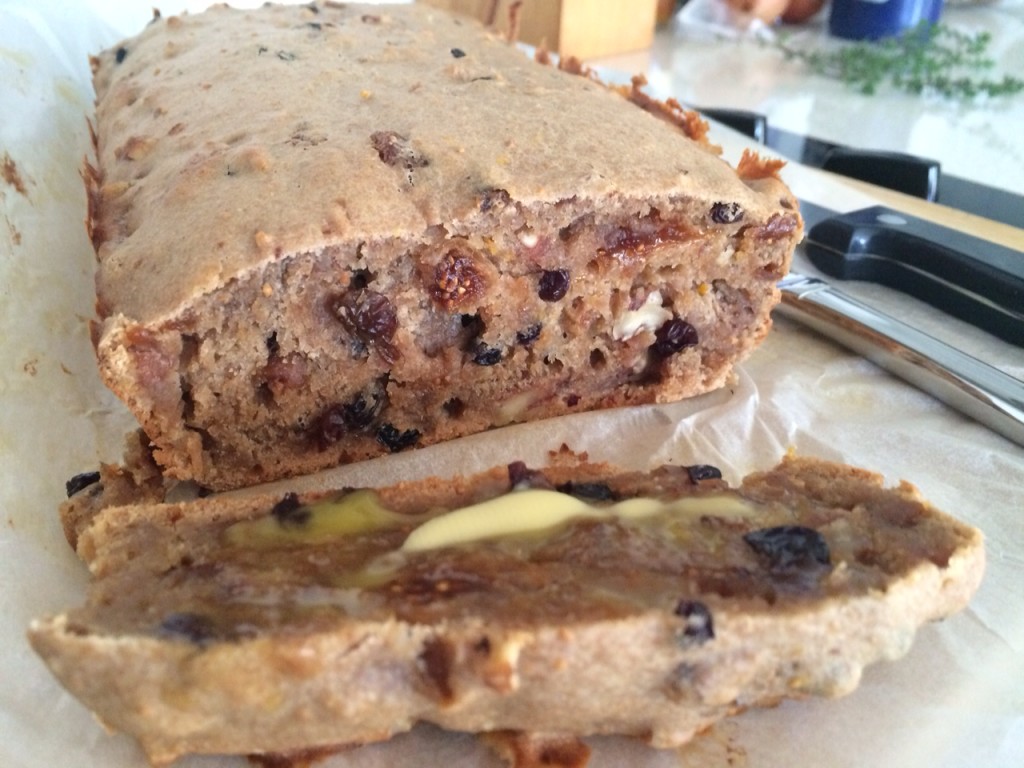 Method
Preheat (fan-forced) oven to 180 degrees celsius.
Combine the flour, baking powder and all the spices in a large bowl with a spoon.
Lightly whisk together the milk, egg, vanilla, coconut or olive oil and honey in a separate jug, then pour into the flour mix. Mix through loosely with a spoon.
Add the orange rind, orange juice, figs, pecans and currants and continue to stir through until the mixture becomes a soft and slightly sticky dough.
Pour dough into a loaf tin – lined with baking paper or lightly greased – your choice. Cook for approximately 20 minutes or until a skewer runs clean.
Best shared with loved ones and eaten when warm, with a little grass-fed butter if you like! Enjoy!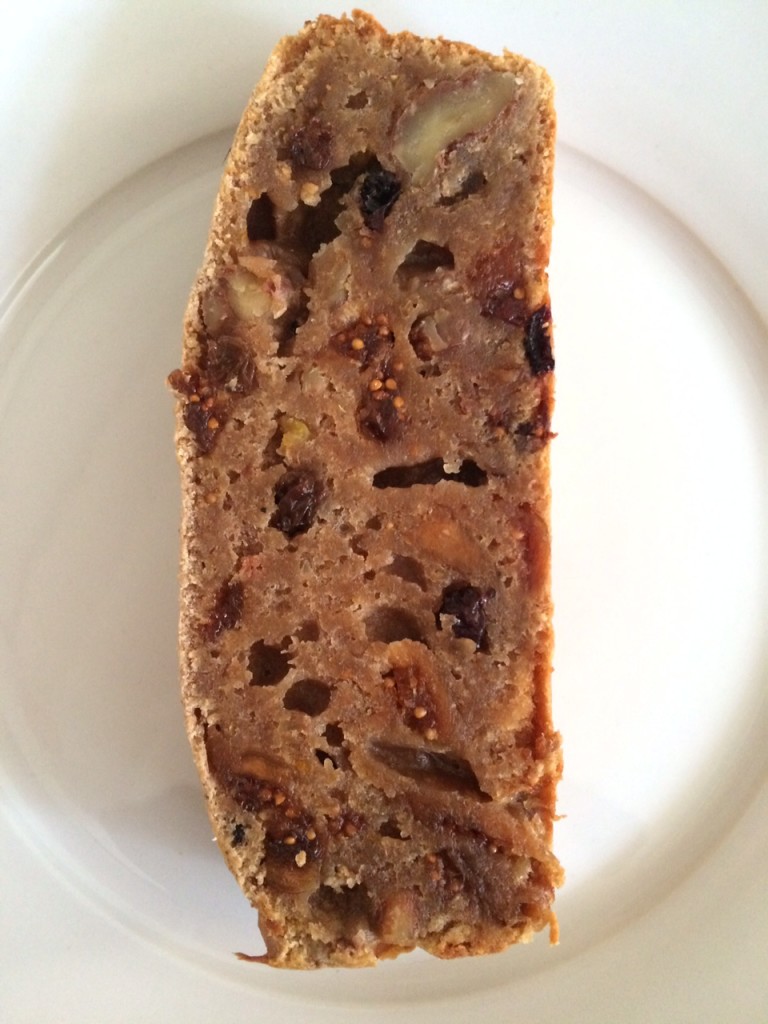 Enjoy!
Viki xo
About Viki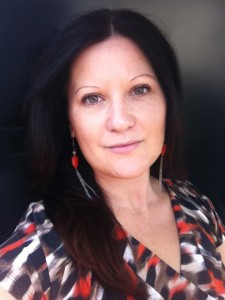 Viki Thondley is a Mind-Body Wellness Specialist and qualified Holistic Counsellor, Food, Stress & Lifestyle Coach, Meditation Therapist, and Eating Disorder Recovery Coach who inspires women to shift from dieting and restriction to whole-self nourishment, self-care and whole food healing. Recovered from bulimia nervosa and the many years of hormonal imbalances, food prison and self-sabotaging behaviours', Viki is an inspiring coach, speaker and event host who also provides personalised holistic programs, workshops and retreats to instil self-love, happiness, body confidence and real food freedom. She is author of "Achieving Your Wellness: Create a Life You Love" and "Healthy Chocolate Delights: Real Food Sweet Treats".
Sign up to her Happy | Healthy | Confident newsletter for her free 43 page eBook "Break Up with Dieting: 10 Tips to Calm Your Mind, Relax Your Body & Eat With Pleasure" + weekly whole-self nourishment tips, inspiration and recipes!