Raw Vegan Vanilla Cupcakes!
I am very happy to announce that Beloved and I have welcomed a new baby into our kitchen yesterday – The Breville Kitchen Wizz Pro!!! Yippeee!
I'm so excited – this baby is going to be extremely handy for my future Whole Food and Desserts Workshops in 2014 – and it's a Cranberry colour! LOVE!
Look what I got up to last night with the new food wizz:
Vanilla vegan cupcakes with lemongrass icing!!!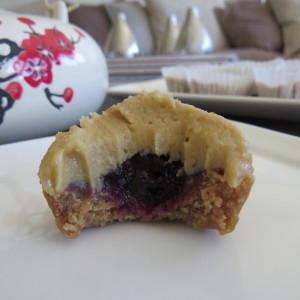 Oh what a mouthful of taste sensation! These beauties are the skilful design of Amy Levin, owner of Ooosha and one fantastically talented raw chocolatier! The following recipe is directly from her website which you can find HERE 🙂
Last night I slapped it all together because it was getting late and I mostly wanted to test out the new food processor and taste combinations – but piping the icing into little flower buds will be cute!
I have my own blueberry chia seed jam recipe so used that instead of the strawberry jam, then put the surplus into in a "Ball" glass preserve jar in the fridge to thicken – voila! Basil Blueberry Jam that's just delicious! (Here's the recipe!)
I don't like using agave nectar too much so I've omitted it from the original here.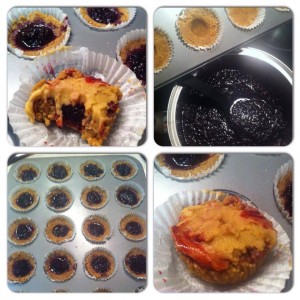 Raw Vegan Vanilla Cupcakes
(Recipe and method belongs to Amy Levin of Ooosha)
Cake:
200g Nut flour
1 tsp Vanilla Powder or 1 vanilla pod, de-seeded
100g Lacuma
50g Honey or Maple Syrup
50g Water
Jam:
400g Fresh or frozen Strawberries
100g Xylitol, powdered
2 tbsp Lemon juice
6 drops, Geranium essential oil
1 Vanilla pod, de-seeded and empty pod reserved
Frosting:
300g Cashews
30g Lemon juice
75g Water
50g agave
175g Xylitol or coconut sugar – powdered
1 tsp Vanilla powder
175g Coconut oil
Method (belongs to Amy Levin of Ooosha)
For the cake:
Pulse all dry ingredients in the food processor.
Add the liquid sweetener and water through the feed hole while the machine is running.
Once incorporated, about 5 seconds, turn the machine off and test the dough by squeezing a small handful into a ball. If it holds but is still slightly dry, this is perfect as this will result in a lighter dough. Also, bear in mind that you will be adding jam to it, so this will moisten the cake further.
Line a cupcake mould of your choice with cupcake papers or cling film and fill ¾ with the dough. Use your thumb and forefinger to make a hole in the center. Put to one side while you make the jam.
For the jam:
In a medium mixing bowl, combine all the ingredients and squeeze gently with your hands just to crush the berries and release their natural juices.
Put the entire bowl into the dehydrator on 115 for 12 – 15 hours or until it has reduced by ⅓ .
Put the jam to one side to cool for 15 minutes. When the jam is cool, it will be slightly thicker. Using a tea spoon, fill the hole you made in the cupcake.
For the frosting:
I (Amy) suggest making this first as it needs time to set.
Combine first 5 ingredients in the vita mix and blend on high speed, using the tamper stick to keep things moving. This will be a very thick mixture.
Once smooth, transfer to a food processor and add remaining ingredients, pulsing to combine.
From here, you can remove 1 cup of the frosting and colour it pink using 1-2tsp beetroot juice and an additional 1 tbsp powdered xylitol.
Transfer frosting to storage containers and put in the fridge to set, about 2 hours. Once thickened, and you have filled the cupcake with jam, use a pastry bag to pipe a nice design of frosting on top of the cupcake.
If you don't like strawberries or would simply like to try my blueberry chia seed jam, check it out here > Basil Blueberry Jam
Enjoy!
Viki  xo
About Viki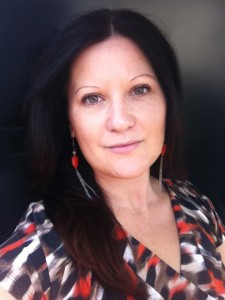 Viki Thondley is a Holistic Health Counsellor, Wellness Coach, Meditation Teacher, Stress Educator, and Eating Disorder & Lifestyle Specialist. Recovered from bulimia nervosa and the many years of hormonal imbalances, food challenges and self-sabotaging behaviours', Viki now provides holistic personalised programs and retreats to inspire self-love, healing, body confidence and wellbeing. Viki's passion is to help you balance your mindset, body and life to become happy, healthy, confident and free!
Sign up to her Happy | Healthy | Confident newsletter for a FREE comprehensive wellbeing assessment and weekly whole-self nourishment tips, inspiration and recipes.