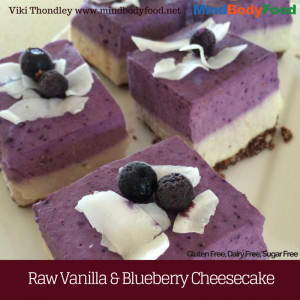 Raw Vanilla & Blueberry Cheesecake
(Gluten Free, Dairy Free, Refined Sugar Free)
Cheesecake growing up in the 70's and 80's was quite a regular indulgence in our house because my parents often hosted celebratory parties.
The cheesecakes were ALWAYS homemade back then, but even still, as a teenager I just didn't know that gobbling them up was a cause of my stomach upsets.
Now that I do, I've been making and teaching a VERY healthy and satisfying way to enjoy the mouthfeel, texture and flavours of cheesecake but without the components that make my digestive tract upset and unhappy.
This particular recipe is based on my original Sweet Cheesecake Three Ways from my whole food cookbook, Healthy Chocolate Delights. It's a huge hit at my raw desserts workshops – students just LOVE it!
This base is gluten free with the ability to stick together in preparation, yet be light and crumbly when eating! Perfect.
It's dairy free with healthy fats and uses fructose free rice malt syrup, a good unrefined sweet alternative.
Eat it and enjoy!
V xo
PS – For more healthy and nutritious, real food recipes that are gluten, dairy and refined sugar free, check out my popular Healthy Chocolate Delights eBook with over 60 raw, cooked, vegan, paleo, dairy free, gluten free, grain free and refined sugar free recipes.
Raw Vanilla & Blueberry Cheesecake
Gluten Free, Dairy Free, Sugar Free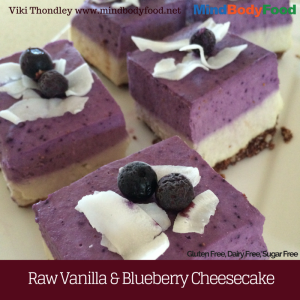 INGREDIENTS
Base:
2 cups hazelnut meal
1/2 cup cacao powder
1/4 teaspoon rock or Himalayan salt
10-12 medjool dates (soaked and pitted)
1 tablespoon melted coconut oil OR filtered water
Filling (for both vanilla and blueberry layers):
Effectively you will need to make this filling twice to make the two layers, so starting with two separate bowls of soaking cashews will make it a lot easier to make them one after the other while the first layer firms in the freezer.
2 cups cashews (soaked for minimum 4 hours and rinsed well)
1 cup coconut milk (contact us for beautiful organic Banaban products in the Darling Downs)
1/2 cup Rice Malt Syrup (I find this sweet enough but you can up it to 2/3 cup if you prefer or are transitioning tastebuds)
Juice of one lemon
Pinch of himalayan or celtic sea salt
1 ½ heaped teaspoons vanilla powder – extract is also fine (for vanilla layer only)
1 cup frozen or fresh blueberries (for blueberry layer only)
Base:
Make the base by blending all ingredients in a food processor until well combine. Press into a square or rectangular slice tin. Line the bottom with good quality baking paper as it will help you lift out the frozen cheesecake once set. Ensure you have enough overlap to grab onto – this will be important when lifting out the finished cheesecake as it will have some weight to it!
Place into the fridge while you whip up the first filling!
Filling (you will do this twice for each vanilla and blueberry layer):
Rinse the cashews well from their soaking water and place into a high-speed blender. Add the coconut milk, rice malt syrup, juice of one lemon, salt and vanilla powder for a lovely speckled vanilla look.
You may need to use a tamper stick if your blender is lacking a bit of oomph! Otherwise, blend on low to medium, then high until the mixture is smooth, creamy and slightly warm.
Pour the "cheesecake" mixture into the base and place the first layer into the freezer to firm, approximately 1 hour.
In the meantime, repeat the filling process with your second bowl of soaked and rinsed cashews, adding in the blueberries in place of the vanilla on the final blending process.
Ensure the first vanilla layer is firm enough prior to gently pouring over the blueberry layer on top, then returning to the freezer for 2 hours to set.
Once ready to serve, lift the entire slab of cheesecake out of the slice tin with the baking paper and place onto a cutting board – you will be so glad you used the baking paper to do this easily!
Allow to sit for 5-10 minutes prior to slicing with a large, hot knife.
Serve with extra blueberries and nuts. 🙂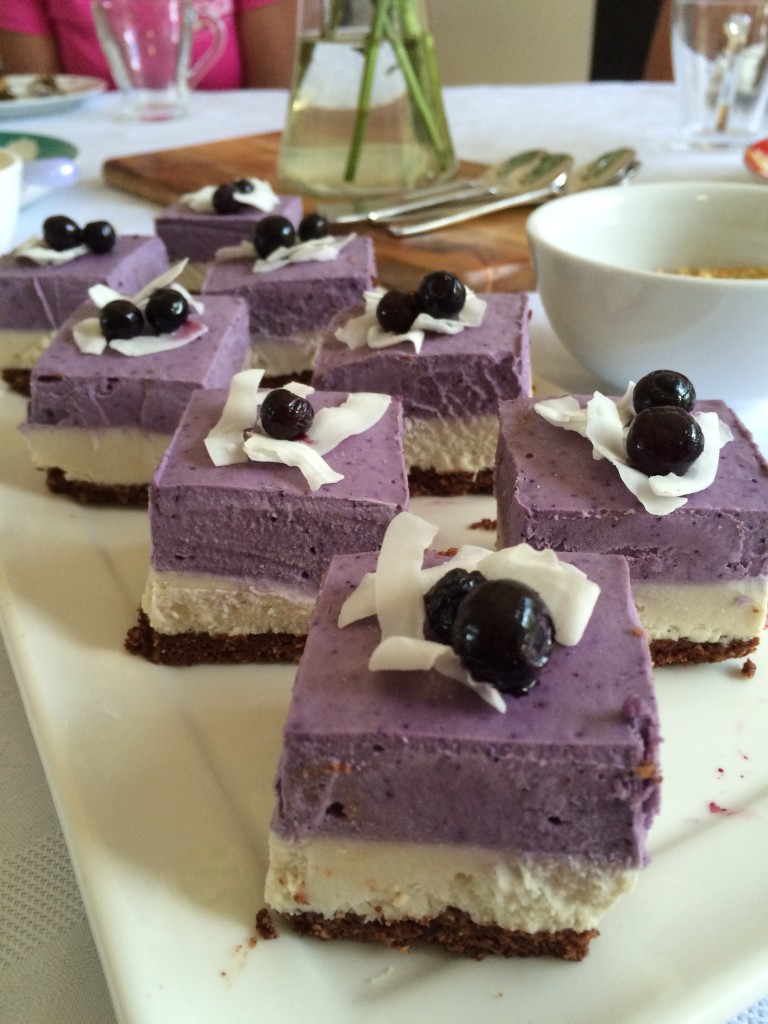 ENJOY!!!
Happy whole food love,
Viki  xo
About Viki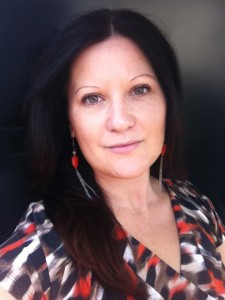 Viki Thondley is a Mind-Body Wellness Specialist and qualified Holistic Counsellor, Food, Stress & Lifestyle Coach, Meditation Therapist, and Eating Disorder Recovery Coach who inspires women to shift from limited thinking, low self-esteem and restriction to whole-self nourishment, body confidence and whole food healing. Recovered from bulimia nervosa and the many years of hormonal imbalances, food prison and self-sabotaging behaviours', Viki is an inspiring coach, speaker and event host who also provides personalised holistic programs,workshops and retreats to instil self-love, happiness, body confidence and real food freedom. She is author of "Achieving Your Wellness: Create a Life You Love" and "Healthy Chocolate Delights: Real Food Sweet Treats".