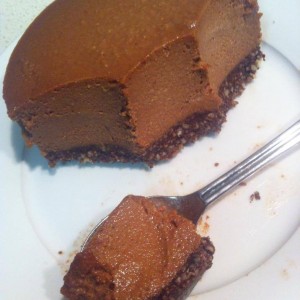 Macadamia Cheesecake!
For those times when you just wish you had something a little creamy without being dairy, a little sweet without spiking your blood sugar, and a little chocolate-y but the "healthy" kind… here is your decadent little macadamia chocolate cheesecake with a healthy and very easy seed base!
I wanted to use something different from the usual go-to filler, cashew nuts, yet still create a naturally sweetened and healthy version of a cheesecake.
Macadamia nuts have always been a favourite since I was a kid and we'd visit the Macadamia Nut factory next door to the old Big Pineapple on the Sunshine Coast (now sadly devoid of life).
The texture isn't as creamy smooth as you may be accustomed to with cashews, but it's still a very satisfying "cheesecake-y" texture.
Main ingredients and their health benefits:
Macadamia Nuts – Contain high levels of selenium needed to build the body's most powerful enzyme. The macadamia nut's overall combination of fatty acids and zinc makes it a wonderful skin beautifier.
Pumpkin Seeds – A wonderful source of B vitamins, many minerals (including zinc), phytonutrients and fatty oils. All of these contributing to their ability to produce clear and glowing skin. They also have anti-parasite properties.
Coconut Oil – Contains a number of health giving properties including being high in antioxidants, control of blood sugar levels, assisting the thyroid gland and repairing the skin. You can eat it straight, blend into smoothies, use in cooking and on the skin.
(Source: David Wolfe "Eating for Beauty")
Raw Macadamia Chocolate Cheesecake with Pepita Seed Base Recipe
This recipe is fairly easy and quick to make. I chose to make two mini cheesecakes in the small spring form tins and had a bit of base and filling left over. You can simply make one medium – large cheesecake though for convenience – all depends on the size of your cheesecake tin or pyrex dish.
NB: You'll need a food processor, spring form tin/s, baking paper and spatula or spoon.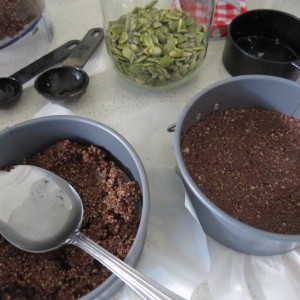 Base:
1 cup pepita seeds
2 Tbsp Cacao powder
1 Tbsp Coconut Oil
1 Tbsp Maple Syrup
Pinch Pink Himalayan Salt
Pulse pepita seeds into a course crumb then add remaining ingredients and process until sticky. Press your thumb and forefinger together to test.
If using a pyrex dish, press mixture directly onto the glass.
If using a spring form tin, line the bottom of the base with baking paper first, then press mixture down with a spatula or back of a spoon.
Cheesecake Filling:
2 cups macadamia nuts (do not need to be soaked unless you have issues with lectins, phytates and enzyme inhibitors)
8 pitted and soaked medjool dates (soak in hot water for 5mins prior to use)
1/2 cup melted coconut oil (you can omit this or reduce to 2 Tbsp if you choose)
1 Tbsp lemon juice
1 cup coconut milk
2 Tbsp tahini paste
3 Tbsp Cacao powder
4 Tbsp Maple Syrup (depending on your sweet tooth!)
Pinch of pink Himalayan salt
Pulse macadamia nuts and soaked pitted medjool dates into a fine sticky crumb.
Add melted coconut oil, lemon juice, coconut milk and tahini and process well.
Add cacao powder and salt and continue processing until smooth and creamy texture. Remember that by using macadamia nuts over cashew nuts, you won't get as smooth a texture, so expect this and have an open mind about the mouth-feel!
Finally, add the maple syrup and adjust/add more if necessary, according to your taste.
Place in the fridge for at least 2 hours to set. You can eat directly from the fridge without waiting.
You can put it in the freezer to set and then transport to the fridge, OR simply keep it in the freezer – just allow 20 minutes or so before serving if you do!
Come to FACEBOOK and let me know how you go!
If feedback is positive I will add this recipe into the upcoming Easy Chocolate Delights ebook
ENJOY!
Viki   xo
PS:  You are welcome to share this recipe, please use this link along with it:
>> Recipe by Viki Thondley, The MindBodyFood Coach