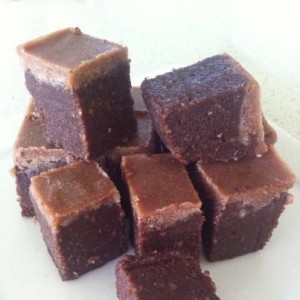 Easy Chocolate Delights Workshop!
Come join me in learning how to make 5 easy and yummy chocolate treat recipes, made with REAL and RAW Cacao – the number ONE antioxidant food in the world! 
I will demonstrate with your help and everyone will sample! The recipes will be compiled into a small booklet for you to take home and create for yourself, complete with nutritional information on all ingredients used, AND along with your own personal goodies bag of Easy Chocolate Delights! YUM!
Learn how easily you can make and incorporate delicious, healthy and nutritious chocolate delights into your eating plan with the help of one of the worlds best sources of magnesium, iron, manganese, chromium, zinc and copper! It's the number one antioxidant food in the world!
Saturday 11th May @ 1 – 4pm. Cost $120. Please confirm your interest asap.
Places are limited and the class is 1/3 full already! Additional workshops will be added soon 🙂
Visit the website for details: http://www.mindbodyfood.net/workshops/
---
Super Food Nutrition
This year I've been studying David Wolfe's Raw Food Nutrition certification to compliment my nutritional knowledge (the rock star of the nutrition world is actually coming to Brisbane in May if you're interested!). I've taken an immense personal interest in REAL and LIVING foods for my own personal health and ongoing journey of mind, body and food healing.
Yesterday I enquired at 3 major organic health food shops in my local area (Toowoomba, QLD) about a couple of very important and highly nutritional super foods, only to discover that NONE of them had any in stock, and only 1 had actually even heard of these super foods before! One shop didn't even know what I was talking about!
I was totally surprised – how can so-called "Health and Organic" shops not be aware of important super foods in helping to educate their customers in easy ways to enrich their nutritional content and longevity?
This inspired me to inspire YOU with a brand new MindBodyFood TV episode on the subject!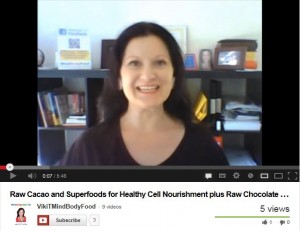 ---
MindBodyFood TV on YouTube!
That's right! As you've just seen above, I now have my very own TV channel on YouTube! Feel free to check out the video episodes on the MindBodyFood TV channel so far. I add at least one a week, and there is a brand new interview series which I am adding to next week!
If you have a specific topic that you'd like to know more about, or if you think you've got something to share that will inspire others to nurture their mind, body, spirit or relationship with food, please get in touch. I'd love to hear from you!
Interviews with both professionals and everyday people are lined up for topics on: women's hormonal issues, aromatherapy, holistic chiropractic, muscle testing, kinesiology, brain chemistry, food addiction and MUCH MORE!
---
Inspirational Affirmations:
I LOVE AND ACCEPT myself, TODAY and EVERY day!
For more tips, motivation and guidance LIKE MindBodyFood on Facebook and stay informed, updated and inspired!
Take care,
Viki   xo