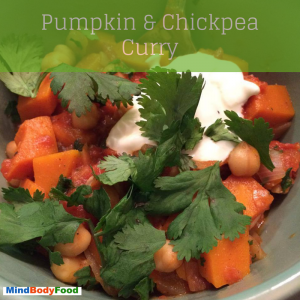 Hearty Pumpkin & Chickpea Curry
It's Foodie Friday!
I just love a comforting, hot soup that tastes delicious, a little spicy, is easy on my digestion, and packs a big dose of true real food nourishment.
This one is adapted from a Coles catalogue! I simply changed a few key ingredients to more healthful ones and opted for fresh where possible.
Fairly easy, with a small amount of prep work (mostly chopping pumpkin) you'll be able to get this nourishing bowl of goodness to the table in a short amount of no fuss time!
When my Beloved Craig first made the original recipe and I posted it on my Facebook Page – it was a real crowd pleaser! Seems many of you beautiful people just love your curries!
We since made it several times now and with the substitute ingredients. It's absolutely delicious, satisfying and hearty!
Chickpeas are a great source of protein and fibre. In one cup of cooked chickpeas you'll find a variety of beneficial nutrients like manganese, folate, fibre, tryptophan, protein, copper, phosphorus and iron!
I love making my own hummus with them!
Get my easy and delicious Spicy Hummus Recipe HERE.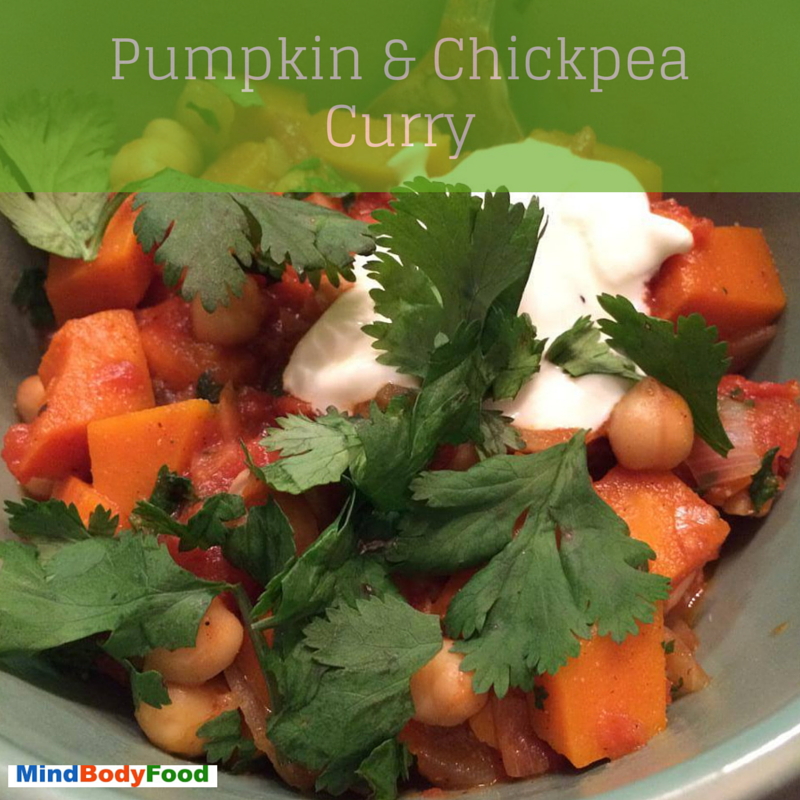 Spicy Pumpkin and Chickpea Curry
Ingredients:
1 tablespoon coconut oil
1 onion, chopped
550g butternut pumpkin, pealed and cut into cubes
2 garlic cloves, crushed
2 1/2 teaspoons ground organic cumin powder
1 1/2 teaspoons garam masala
2 cups vegetable stock (GMO and gluten free)
400g diced tomatoes (you may opt for a can but ensure the inside coating is protective)
400g cooked chickpeas (can is the most convenient, but again check the lining)
1/4 cup chopped coriander, plus extra sprigs to serve
1/3 cup organic Greek yoghurt, plain
Method:
1. Heat the coconut oil in a large saucepan over medium heat. Cook the onion, stirring, for 2-3 minutes or until softened. Add the pumpkin, garlic and spices. Cook for 1 minute or until fragrant, stirring throughout.
2. Add the stock and tomato. Bring to the boil. Reduce heat and add the chickpeas then simmer uncovered for 10 minutes or until the pumpkin is just tender. Add coriander and season.
3. Spoon the curry into bowls. Top with yoghurt and extra coriander. Yum!
Enjoy!
Viki  xo
About Viki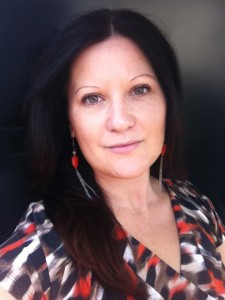 Viki Thondley is a Mind-Body Wellness Specialist and qualified Holistic Counsellor, Food, Stress & Lifestyle Coach, Meditation Therapist, and Eating Disorder Recovery Coach who inspires women to shift from dieting and restriction to whole-self nourishment, self-care and healing. Recovered from bulimia nervosa and the many years of hormonal imbalances, food prison and self-sabotaging behaviours', Viki is an inspiring coach, speaker and event host who also provides personalised holistic programs, workshops and retreats to instil self-love, happiness, body confidence and real food freedom. She is author of "Achieving Your Wellness: Create a Life You Love" and "Healthy Chocolate Delights: Real Food Sweet Treats".
Sign up to her Happy | Healthy | Confident newsletter for her free 43 page eBook "Break Up with Dieting: 10 Tips to Calm Your Mind, Relax Your Body & Eat With Pleasure" + weekly whole-self nourishment tips, inspiration and recipes!