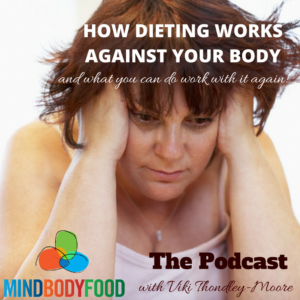 How Dieting Works Against Your Body
and What You Can Do to Work With it
Have you been doing EVERYTHING "right" but your body doesn't seem like it's doing what you want?
Don't lose faith in it, learn to trust it again so your body can learn to trust YOU again!
It's an interesting concept that most people don't even consider – that your body might lose trust with you after all your efforts to make it weigh less and feel healthier.
The thing is most of these efforts are done without consulting the body. Instead of turning inward, asking and listening to your body's inner wisdom and naturally occurring hunger and satiety cues, we follow the diet of this way or that way, this time or that time, this amount or that amount. The body isn't even consulted.
Continuing to feed, or not feed, yourself in this way encourages black and white thinking and decreases your body's ability to do what you want it to, in favour of doing what it's programmed to do.
When you're over eating because you're so hungry and miserable following a plan or way that doesn't honour or respect your unique bio-individuality, you're effectively telling your body that you're not to be trusted, which encourages your natural survival instinct to kick in and do what it necessary to protect you and keep everything functioning – in some cases that translates as, keeping the weight on!
[soundcloud url="https://api.soundcloud.com/tracks/309070547″ params="color=ff5500&auto_play=false&hide_related=false&show_comments=true&show_user=true&show_reposts=false" width="100%" height="166″ iframe="true" /]
OR WATCH BELOW 🙂