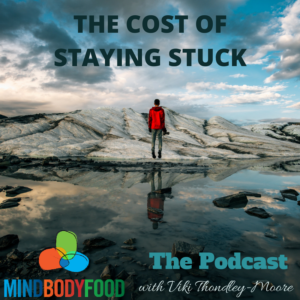 The Cost of Staying Stuck
If you've ever tried to reach out for help but at the last minute retreated back into the safety and comfort of what you know – even though it might be painful or uncomfortable – have you ever thought about how much it costs you to stay there?
The nature of human behaviour is that we want change, but often are unwilling to do the changing!
When I receive an enquiry from someone, they usually send it at a time when they can't take it anymore. When the pain is too intense, when the discomfort is so unbearable.
I can't do this anymore!
I don't want to be like this anymore!
I'm so sick of living this way!
While this emotional climax is helpful in driving someone's initial call out for help, when the emotions have settled, when the numbness has returned, when it doesn't feel so bad because things have calmed down… life is back to "normal".
The problem with this scenario, is that by not continuing on that leap forward away from the pain and discomfort – FOR GOOD – the person ends up doing nothing… or going back to an old method of coping, another new diet, an old diet, a new hobby or other form of distraction in an attempt to cope with what they've been coping with for years already…
This is the brain getting caught up in the fear of the "unfamiliar". Quite simply, it feels comfortable and safe staying the same.
In this scenario I ask the question:
What is surviving like this, living like this actually costing you?
Is it preventing you from having deep, connected and fulfilling relationships?
Is it making social situations an anxiety inducing affair?
Is it affecting your relationship with your children?
Are you able to look forward to get-togethers, feel relaxed at social occasions, get a decent night sleep, or feel relaxed around food?
[Tweet "Staying stuck is costing you FAR MORE than doing something about it. "]
I'm not talking financial cost, although of course it costs to work with someone qualified to help you. But that's a short term investment for a LONG TERM gain.
I'm referring to the cost of your health, relationships, social interactions, sanity, stress levels, relationship with your children….. 
It all adds up. And it costs you long term.
I recorded a short "Food for Thought" podcast episode to help you get clear on whether you're stuck somewhere you don't want to be and what it's COSTING YOU so you can then make a more conscious decision if that's really where you want to be.
It's a short yet punchy, inspiring 7 minutes 20 seconds audio. I hope it helps to remind you of what you really want in life and give you a clear view of how you can go about changing it.
CLICK BELOW TO LISTEN OR HEAD TO SOUNDCLOUD DIRECT. IT WON'T COST YOU A THING! 😉
[soundcloud url="https://api.soundcloud.com/tracks/306862787″ params="color=ff5500&auto_play=false&hide_related=false&show_comments=true&show_user=true&show_reposts=false" width="100%" height="166″ iframe="true" /]
OR WATCH HERE 🙂