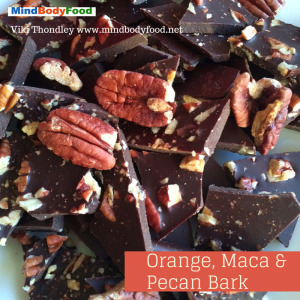 Orange, Maca & Pecan Milk Chocolate
Raw and Healthy !
So you all know by now (unless you're new to MindBodyFood) that I love making my own raw and healthy chocolate with nutrient dense, organic raw cacao powder and butter (that's sourced ethically and sustainably).
Where once I was addicted to sugar and chocolate, I have established a much healthier relationship with food and can enjoy chocolate whenever I feel like it, without the worry or guilt.
The best part is that my sugar cravings are gone along with my food addiction.
I don't obsess and worry over food any more and it really did begin with choosing quality food over processed food, for me that started with chocolate.
Real and raw chocolate made with natural sweeteners, is a full-flavoured version of the real deal. It's a healthy relationship – no guilt, addiction, shame or cravings.
Just real food enjoyed with pleasure – as it should be!
I love coaching others to heal their own sugar cravings alongside teaching them how to make quality raw chocolate that retains its nutritional profile, tastes delicious, won't induce cravings, and is nutritious for the whole family.
If you live in the Darling Downs you can start now by attending one of my real food workshops: raw & healthy chocolate and raw & healthy desserts.
I've been running them for well over 2 years now and they're always an enjoyable and delicious education!
If you don't live nearby start with my popular Healthy Chocolate Delights eBook containing a beautifully designed combination of over 60 raw, cooked, vegan, paleo, dairy free, gluten free, grain free and refined sugar free recipes. Healthy chocolate for everyone!
Orange, Maca and Pecan (Raw Milk Chocolate) Bark
Maca powder comes from a root grown in the foothills of Peru. It is very low in Saturated Fat, Cholesterol and Sodium. It is a good source of Vitamin B6, Potassium and Manganese, and a very good source of Vitamin C, Iron and Copper. It's a little high in sugars, but with a strong flavour, just one tablespoon delivers a boost to your nutrition without being excessive by any means.
Benefits of Maca range from skin, energy, mood balance and hormones. It is known for helping relieving menstrual issues and menopause. It helps alleviate cramps, body pain, hot flashes, anxiety, mood swings, and depression. If you are pregnant or lactating you should avoid taking Maca.
If you'd like to learn more or compare various brands of Maca, you can do so by exploring this link -> Maca Powder
Ingredients:
250g Raw Cacao Butter
95g Raw Cacao powder
95g Coconut Sugar
1 heaped Tablespoon Maca Root powder
1 heaped Tablespoon Lucuma powder
1 -1.5 cups or roasted pecans, chopped
4-5 drops Orange Therapeutic Grade Essential Oil
TIP: Use your high powered blender or coffee grinder to powder the coconut sugar before adding for a smoother quality chocolate.
Method:
Place cacao butter, cacao sugar and coconut powder (in that order) in a glass bowl and slowly melt in a double boiler system or bain-marie on low heat. Combine through with a wooden spoon or spatula only when the mixture is at least 50% melted, with a few chunks of cacao butter still solid.
Removed the chocolate from the heat at this time, wiping the underneath of the hot bowl with a tea towel to remove the moisture.
Pour carefully into a high speed blender. Blend on low for 5 seconds, medium for 5 seconds, then high for 30 seconds. Monitor your blender jug with the back of your hand to ensure your chocolate does not overheat. (You may like to use a candy thermometer to keep your chocolate below 43 degrees. I don't any more as I've become accustomed to the texture as it tempers, but it's useful as you learn).
Once blended, pour into a cool, clean bowl and add in the maca and lucuma powders, stirring them through thoroughly.
Aerate your chocolate with a wooden spoon or spatula until it comes down in temperature to approximately 31 degrees. Your chocolate will naturally start to thicken as the delicate crystal structure becomes stable so that your chocolate will be tempered. Tempering encourages your chocolate to contract as it cools and solidifies so that you end up with a glossy chocolate and a loud, clean snap when breaking – heaven to a chocolate lovers ears!
Finally, add in the Orange Essential Oil and stir through to combine well.
Pour onto a large baking tray or two square slice tins. Up to you how thin or thick you like your bark. Evenly sprinkle over the chopped pecans to decorate.
Place into the fridge for one hour to set, then break into pieces and enjoy!
Note: If you do not have a high speed blender, remove from heat when the mixture is just completely melted and stir through with a spatula until completely smooth and creamy, continuing on then with the remaining steps.
Love this whole food, nutrient dense, dairy, gluten and refined sugar free recipe?
Try out my Raw and Healthy Chocolate Delights eBook HERE!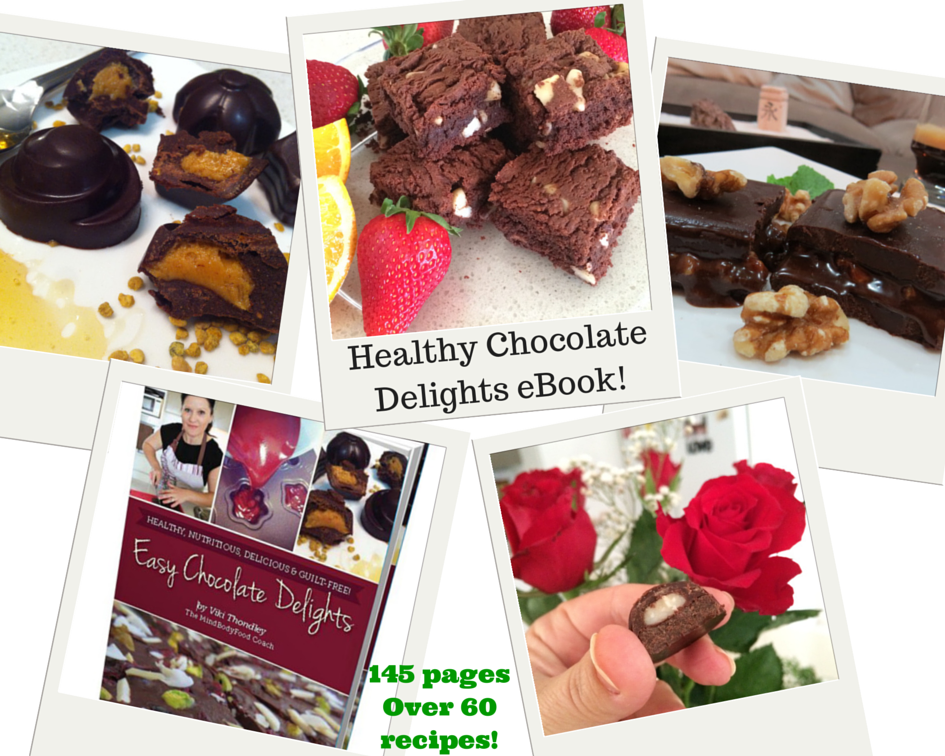 Cacao Love
Viki  xo
About Viki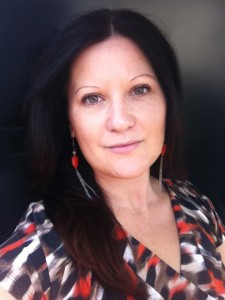 Viki Thondley is a Brain-Body Wellness Specialist and qualified Holistic Counsellor, Meditation Therapist, Wellness Coach and Eating Psychology expert who inspires women to rewire their mindset from dieting and restriction to whole-self nourishment, self-care and whole food healing. Recovered from bulimia nervosa and the many years of hormonal imbalances, food prison and self-sabotaging behaviours', Viki is an inspiring speaker and passionate coach who empowers clients with self-love, internal happiness, body confidence and real food freedom.
She is author of "Achieving Your Wellness: Create a Life You Love" and "Healthy Chocolate Delights: Real Food Sweet Treats".
Sign up to her Happy | Healthy | Confident newsletter for her free 43 page eBook "Break Up with Dieting: 10 Tips to Calm Your Mind, Relax Your Body & Eat With Pleasure" + weekly whole-self nourishment tips, inspiration and recipes!