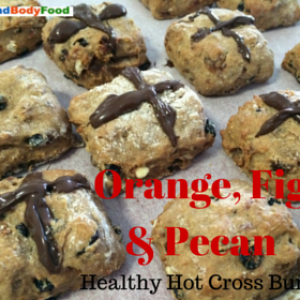 Healthy Hot Cross Buns – Orange, Fig & Pecan
Dairy Free, Refined Sugar Free, Egg Free
It's Good Friday 2015 as I type this and I've spent the morning with my Beloved in the kitchen, baking two versions of my Spelt Hot Cross Buns.
The first is my Orange, Fig and Pecan Buns below, the second, my Gothic Fig and Double Choc Buns here. (Honey thought they looked a little dark and Gothic with the melted chocolate crosses over the top!)
Whether you celebrate Easter or not, love the family get-togethers, or simply look forward to 4 days away from work, it's definitely a time when the Hot Cross Buns are out in force!
Actually let's face it, I'm usually over Easter in January when I start seeing Hot Cross Buns and Easter eggs on the supermarket shelves!
I used to like eating Hot Cross Buns by the dozen when I was a kid – well, probably not the dozen but it sure felt like it back then, stuffing myself full on them.
Here I've experimented with Spelt flour. There's no dairy and no refined sugar as I've chosen nut milks and raw honey, with a touch of maple syrup for flavour. The rest is all spices and a little fruit.
I hope you enjoy eating and making these healthy hot cross buns – something that you could easily make into a loaf and enjoy at any time of the year! Hmmm, that's giving me ideas….. 😉
Happy Easter Weekend,
Viki  xo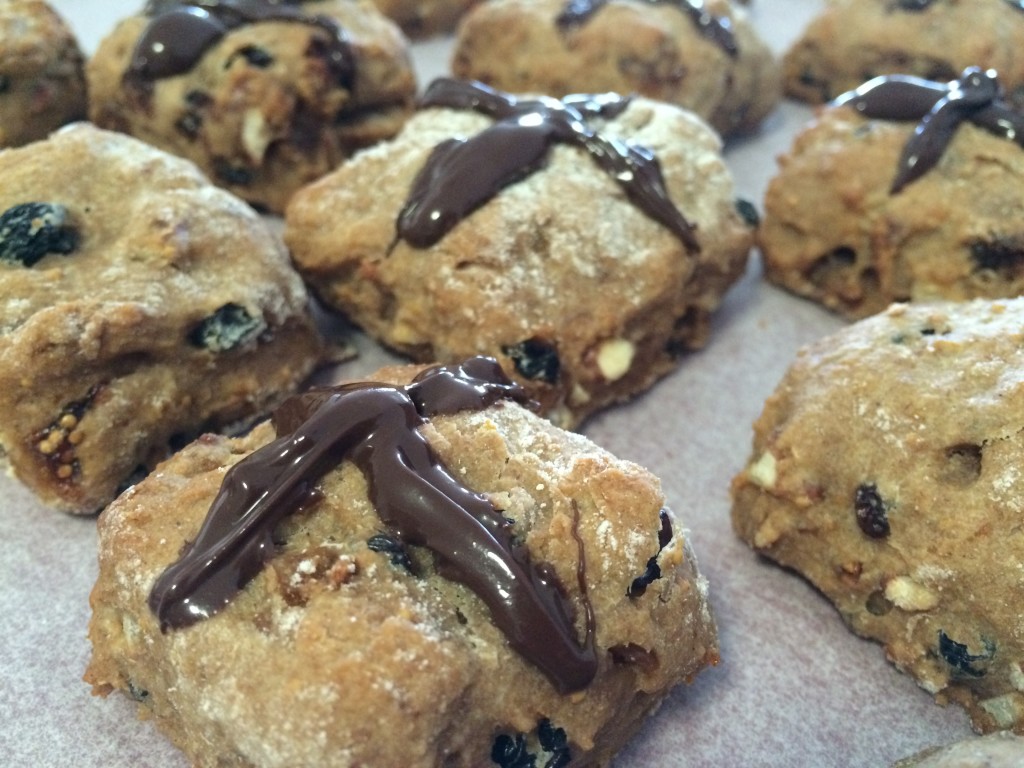 Orange, Fig and Pecan Healthy Hot Cross Buns
Ingredients
Dry:
2 cups wholemeal spelt flour (white spelt also works well – I use it with my Gothic Fig & Double Choc Buns)
1 1/2 teaspoons cinnamon
1 teaspoon mixed spice
1 teaspoon ground ginger
2 teaspoon baking powder (aluminium free)
Wet:
1/3 cup raw honey
1 tablespoon maple syrup (molasses also works well)
50 ml coconut oil (can use extra virgin olive oil too)
180 ml almond or cashew milk
Texture:
1/2 cup finely chopped dried figs
1/2 cup chopped pecans
1/4 cup black currants
Rind of 1 orange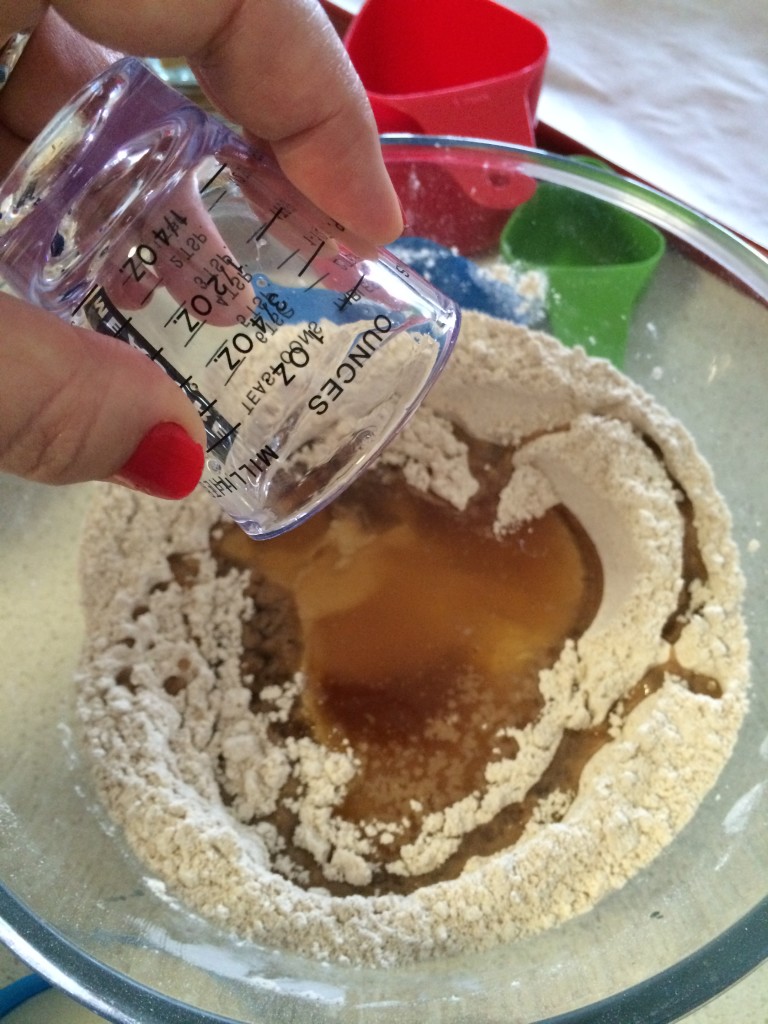 Options for crosses:
melted dark chocolate (or my easy peasy raw chocolate sauce below)
a mix of flour and water combined to make a white paste, piped over the top prior to cooking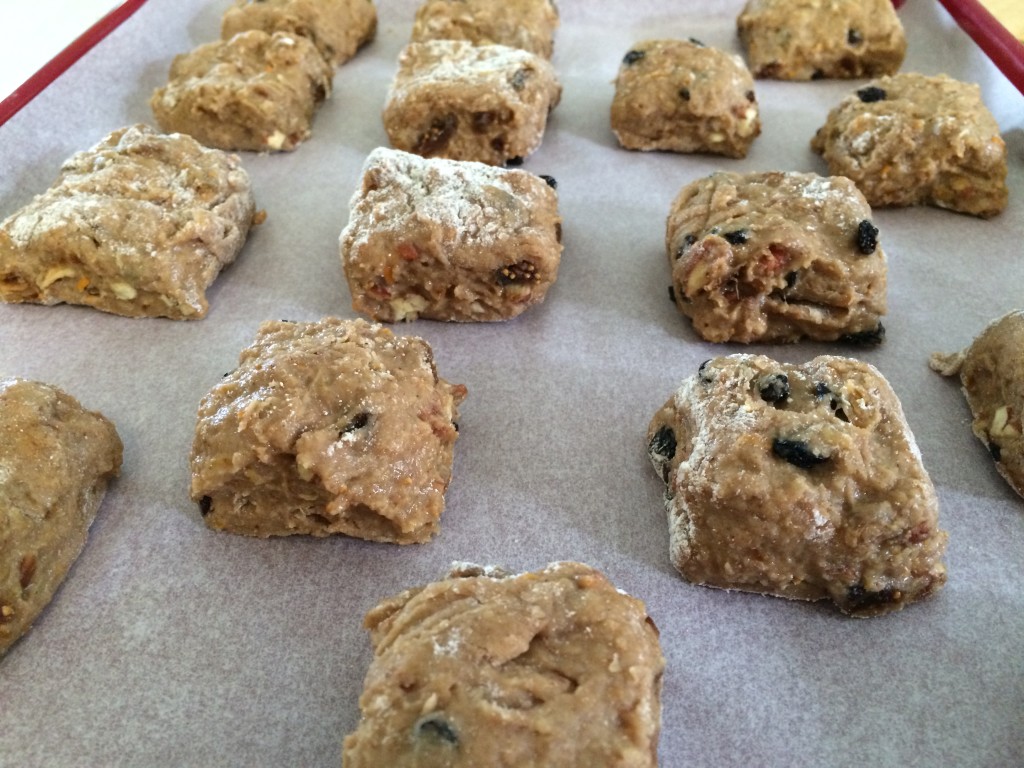 Method
Preheat oven to 180 degrees celsius.
Combine the flour, baking powder and all the spices in a large bowl with a spoon.
Mix together the honey, melted coconut (or extra virgin olive) oil, maple syrup in a jar and pour into the flour mix. Stir through loosely.
Add the milk, figs, pecans, currants and orange rind and continue to stir through until the mixture becomes a soft and slightly sticky dough. Add a little more spelt flour if it's too sticky.
Sprinkle a touch of flour onto a large chopping board and lightly spread with your hand. Spoon the large dough mix onto the board and with clean hands, knead gently before patting the dough out into a big square slab and cutting it evenly into smaller squares. Completely up to you how big or small, and thick or thin you'd like your hot cross buns to be.
Place each square onto a baking tray lined with baking paper. If using the white flour paste for crosses, mix the flour and water together now and pipe the crosses over the top before putting into the oven. Otherwise, place the tray straight into the oven and cook for approximately 17 minutes (fan forced) – as soon as a skewer comes out clean.
If making chocolate crosses, allow the buns to cool to warm before drizzling the melted chocolate over the top for the crosses.
Best shared with loved ones and eaten when warm – with a little (grass-fed) butter if you like!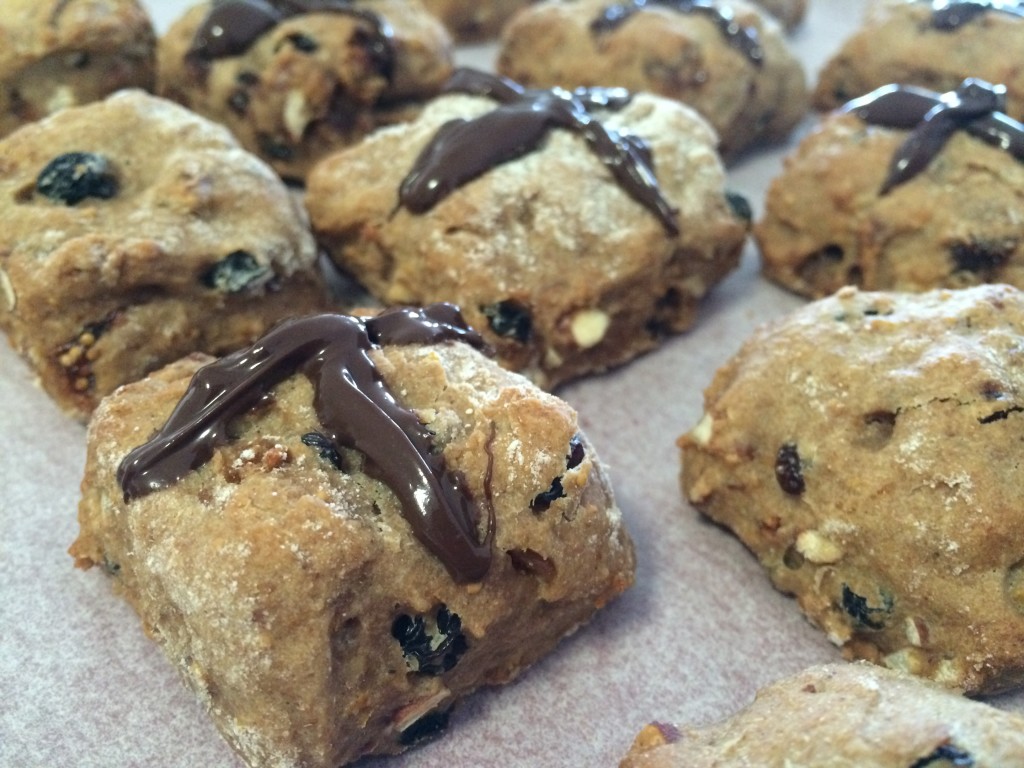 Easy Peasy Rich Chocolate Sauce:
1/2 cup just liquid coconut oil
1 cup raw cacao powder
4-5 Tablespoons Pure Maple Syrup
Add all ingredient in order into a glass or pouring jar. Mix through with a spoon until smooth, creamy and well combined. Taste test for any amendments.
Love and Whole Food
Viki  xo
About Viki
Viki Thondley is a Mind-Body Wellness Specialist and qualified Holistic Counsellor, Food, Stress & Lifestyle Coach, Meditation Therapist, and Eating Disorder Recovery Coach who inspires women to shift from limited thinking, low self-esteem and restriction to whole-self nourishment, body confidence and whole food healing. Recovered from bulimia nervosa and the many years of hormonal imbalances, food prison and self-sabotaging behaviours', Viki is an inspiring coach, speaker and event host who also provides personalised holistic programs,workshops and retreats to instil self-love, happiness, body confidence and real food freedom. She is author of "Achieving Your Wellness: Create a Life You Love" and "Healthy Chocolate Delights: Real Food Sweet Treats".