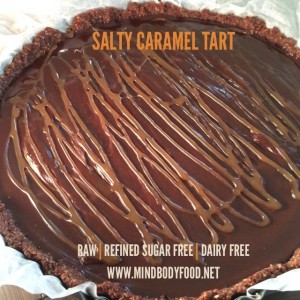 Salty Caramel Tart OR Slice!!
NB: This post was originally created for my 40th Birthday give-away in 2014.
Time for a joyous celebratory recipe in the form of my 
Raw Salty Caramel Tart (or Slice) 
Recipe taken from my popular raw, dairy, gluten and refined sugar free, "Healthy Chocolate Delights" whole food sweet treats eBook! YUMMY 🙂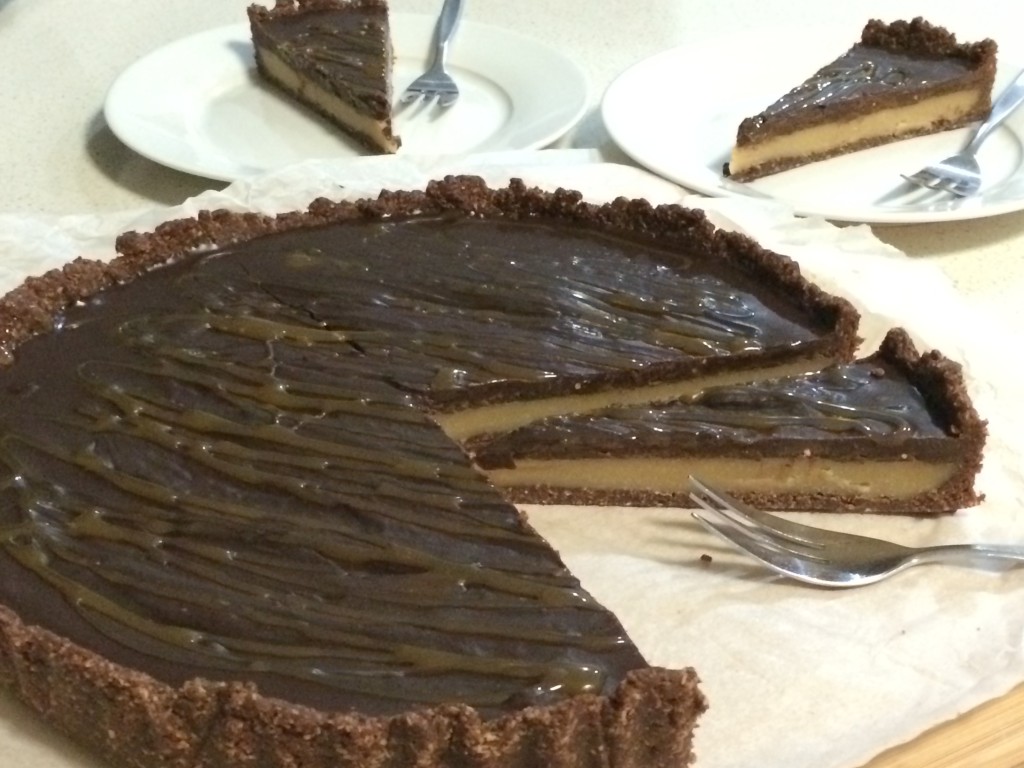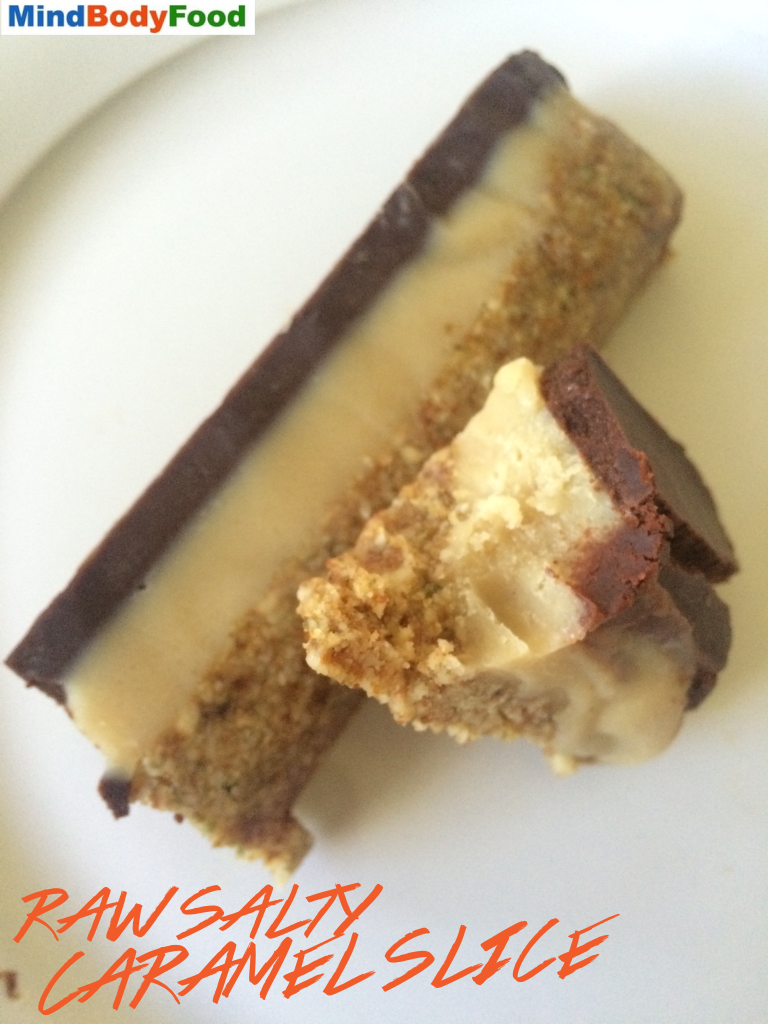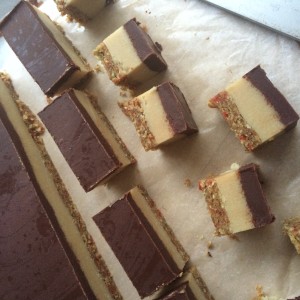 Base:
1 1/2 cups hazelnut meal

1/3 cup cacao powder

1/4 teaspoon rock or Himalayan salt

8-10 medjool dates (soaked in hot water for 5 mins and pitted)

1/4 cup desiccated coconut

Alternative Non-Chocolate Base:
1 cup almonds

3/4 cup pepita seeds

1/4 teaspoon rock or Himalayan salt

8-10 medjool dates (soaked in hot water for 5 mins and pitted)

1/4 cup desiccated coconut 

A little water if necessary
Method:
Use a 24 cm flan dish and line with baking paper OR if making into a slice, a large square slice dish approximately 24cm x 24cm.
Process all the base ingredients together in a food processor until well combined. It's ready when it sticks together between your fingers. Press the base evenly across the bottom with your fingers or the back of a spoon. NB: If making the alternate base, process the almonds and pepita seeds first to break down into rough crumbs, depending on the texture you're looking for. Then add the remaining ingredients and process until sticky.
Place in the fridge while you make the filling.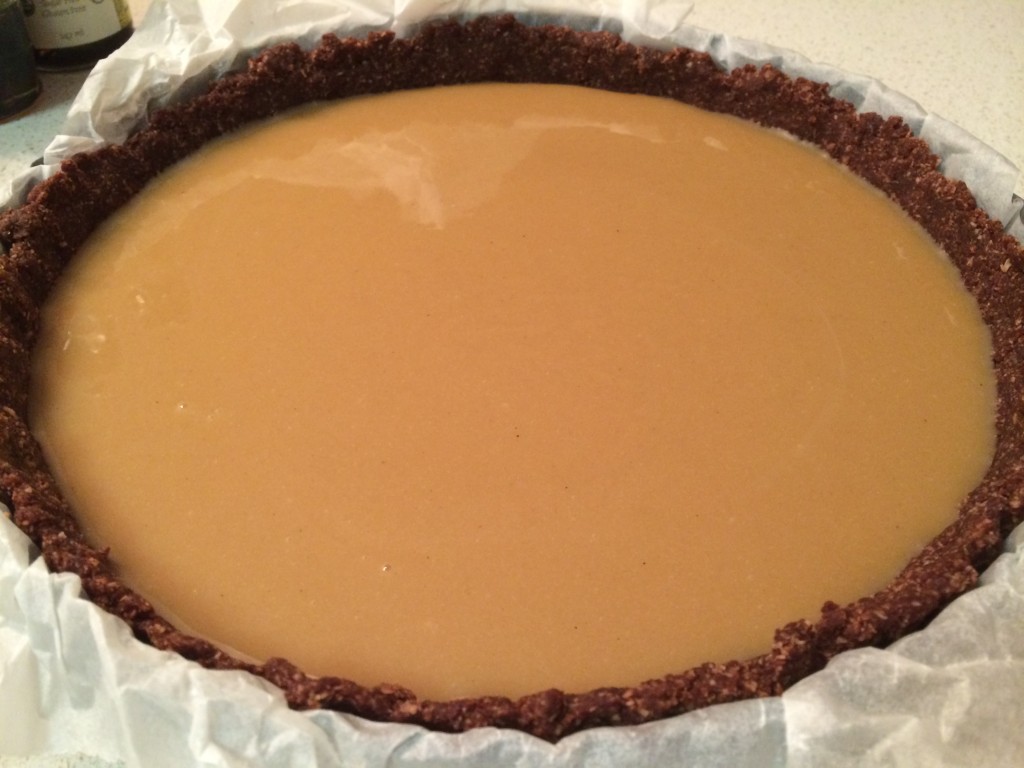 Filling:
3/4 cup coconut oil

3/4 cup white tahini paste

1/2 cup pure maple syrup

1 Tablespoon Coconut Flower Nectar

2 Teaspoons Vanilla extract

1/2 teaspoon pink himalayan salt (adjust according to your preference)
Method:
Melt the coconut oil into a glass pouring jar (I use a pyrex measuring jar).
Stir in the tahini paste, maple syrup, coconut flower necter, vanilla and salt and stir through well with a spoon until smooth and creamy.
Pour into the tart base and place in the fridge to set while you make the chocolate topping. (Sets within a half hour so can easily make this a day prior if you're short on time).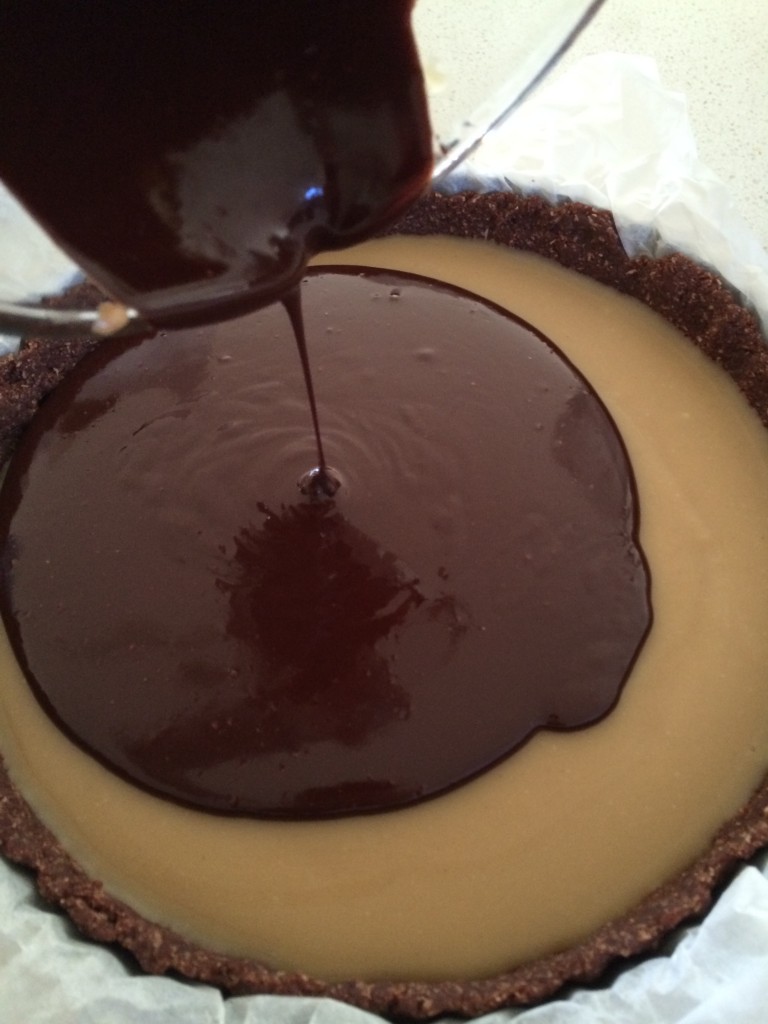 Topping:
1/2 cup just melted coconut oil

1 cup raw cacao powder

1/4 cup pure maple syrup

1 tablespoon cashew butter
Method:
Again using a glass pyrex jar melt the coconut oil and add the remaining ingredients, stirring thoroughly until smooth, creamy and divinely combined!
Pour over the cold filling and smooth around with the back of a spoon.
For added appeal, I finished our salty caramel tart with a few sideways drizzles of Coconut Flower Nectar (Coconut Magic brand). I thought about serving with toasted coconut flakes, almonds flakes or fruit, like strawberries, but in the end I wanted to keep it simple yet eye-popping!
When serving, allow to sit for a couple of minutes before slicing gently from the middle point downward.
Serve and give your taste buds a party!!
Enjoy 🙂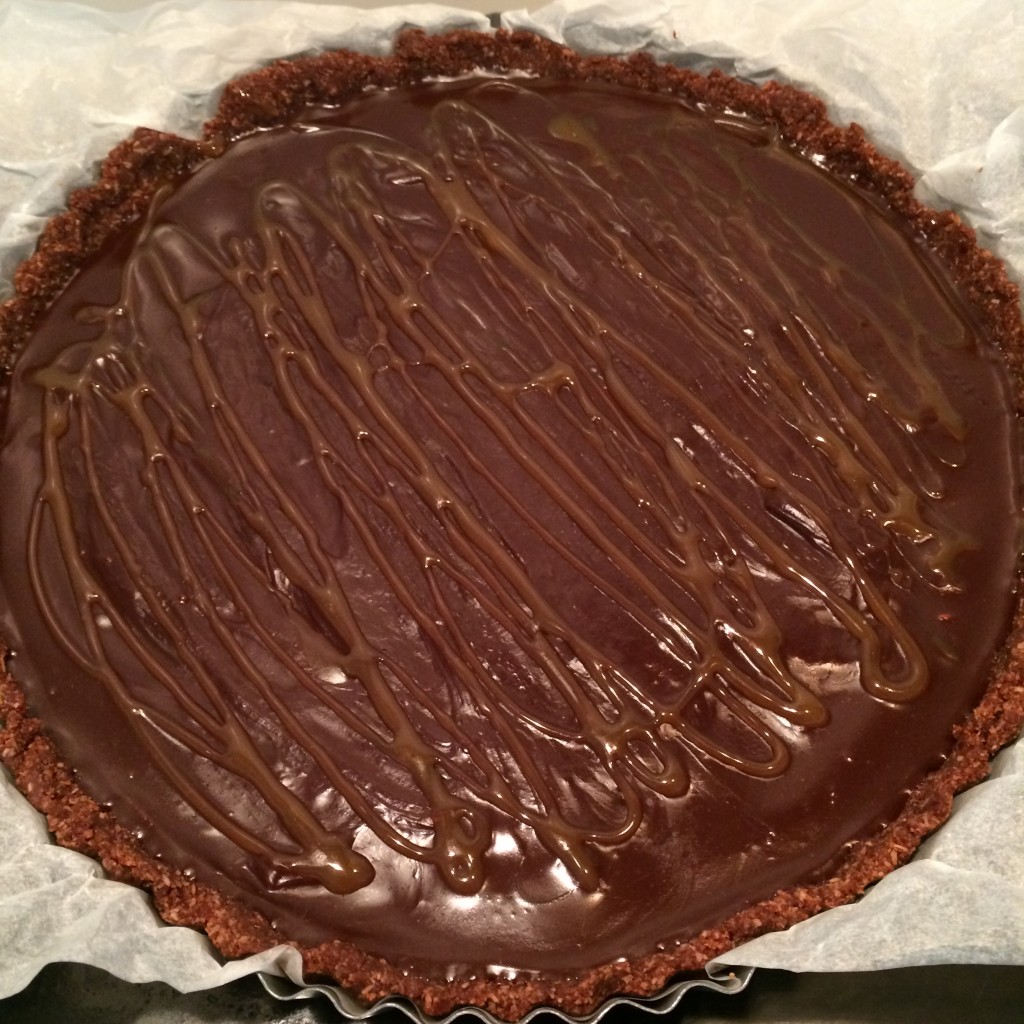 NB: You are very welcome to share this recipe but please credit it to Viki Thondley – The MindBodyFood Coach, with links back to this recipe page. Namaste xo
About Viki

Viki Thondley is a Mind-Body Wellness Specialist and qualified Holistic Counsellor, Food, Stress & Lifestyle Coach, Meditation Therapist, and Eating Disorder Recovery Coach who inspires women to shift from limited thinking, low self-esteem and restriction to whole-self nourishment, body confidence and whole food healing. Recovered from bulimia nervosa and the many years of hormonal imbalances, food prison and self-sabotaging behaviours', Viki is an inspiring coach, speaker and event host who also provides personalised holistic programs,workshops and retreats to instil self-love, happiness, body confidence and real food freedom. She is author of "Achieving Your Wellness: Create a Life You Love" and "Healthy Chocolate Delights: Real Food Sweet Treats".