My Signature (& most popular!) Program
WELLNESS OVER WEIGHT LOSS
3 and 6 month individually tailored programs (in-person, via Phone or Skype) from anywhere in the world!
---
Have you tried every approach out there but still stress, obsess & struggle with food & body issues?
Do you:

skip meals

eat on the run

struggle with cravings

worry about your weight

hate your body

have digestive upsets

lack energy

feel unmotivated to exercise

struggle to concentrate

wake up through the night

have excess body fat (especially around the belly)

suffer from stress and worry/overwhelm

can't seem to reduce your weight no matter what you try
ARE YOU SICK OF FOOD RULES, DIETING, STARVING & THE CONFUSION AROUND
WHAT TO EAT, WHEN & HOW MUCH?

Every time I started to HATE my WEIGHT and feel uncomfortable in my body, I'd turn to dieting, which made me more miserable and 'sorry-for-myself' sad. But when I STOPPED dieting and started confronting the beliefs and thought patterns I had about myself UNDERNEATH the dieting mindset (root cause), my feelings and behaviours began to transform my body and life! It was effortless, enjoyable and sustainable.
NO diet was EVER sustainable! (or enjoyable)
You can't just put all your energy into changing your behaviour and focus on a diet until your willpower gives out. You're just repeating the same old pattern of behaviour. You HAVE to uncover and erase the limiting beliefs you have about yourself; those fearful beliefs that drive your feelings of helplessness, hopelessness and low self-worth right into a binge of all or nothing.
You have to CHANGE your pattern of THINKING first! Do the INNER work and the outer shape of your body will automatically shift as your thinking and self-talk does.
CHOOSE WELLNESS OVER WEIGHT LOSS.
My signature program uses neuroscience, positive psychology and energy wisdom to transform your mind and body from the inside out to get YOU results long term. 
That's why I work holistically to help you get to the

root cause

of why you diet and deprive yourself only to struggle 
with bingeing and overeating leading to guilt and shame – y
ou can't change the outside until you look within.
It's time to personalise an
approach that works for YOU by first learning how your mind and body work together and 
how food and stress
play a huge part in your success! 
---
YOU'LL LEARN HOW TO…
Stop dieting, depriving and denying yourself and allow more nourishment, connection and love into your life
Swap stress for self-care and understand clearly what's driving your boredom, binging and over eating
Replace willpower, over-exercising or the 'perfect diet' with mind-body wisdom and holistic nutrition
Let go of food rules, rituals and disordered eating and finally experience the satisfaction of real food freedom
Spend less time worrying about food and eating, and more time consciously living and loving yourself

The keys to living in mind-body freedom are within you. I'll show you how to work through them:
MIND = The beliefs and values behind your thoughts, behaviours and emotions
BODY = How you talk to your body, nourish it and move it
FOOD = The quality of nutrients you consume and HOW to balance your hormones
STRESS = If you understand and effectively manage your personal triggers and responses
EMOTIONS = If you can identify and process emotions to unblock negative energy (shame, blame, guilt)
SUPPORT = Encouragement, motivation, guidance and accountability
---
IMAGINE YOURSELF FEELING RELAXED, CONFIDENT AND CALM AROUND FOOD WHEN….
You've finally overcome your fear of food and discovered what you're really hungry for! (No guess work, no confusion, and no more dieting programs)
You've discovered how to trust your gut wisdom and can easily choose foods that feel best to your body! (Instead of losing weight only to put it back on..)
You wake up feeling happier, healthier and lighter – even 2 years down the track! (Without constant calorie counting or obsessive workouts at the gym!)
THAT WILL HAPPEN WHEN YOU FINALLY CHOOSE YOUR WELLNESS OVER WEIGHT LOSS!

My Whole-Self Wellness Program is tailored specifically to YOUR health, wellness, healing and lifestyle goals.
That's important because…
You Are a Unique Bio-Individual
Who we are, what we think and how we feel affects our hormones, digestion, assimilation and metabolism, as well as our eating, stress and lifestyle habits. Every thought, feeling and food choice creates or breaks down your biochemical balance, which can increase stress and struggle between your mind, body and weight.
You are a unique individual with specific nourishment needs. It's called Bio-Individuality. Therefore your lifestyle, diet, stress, mindset and both internal and external environments will be individual to you. Work with your unique self to create lifelong healthy habits.
Together we'll look at your nutrition and lifestyle habits, stress triggers and responses

We'll sort through your limiting beliefs and challenge the mental programming that's keeping you stuck

You'll become aware of your own eating psychology, and learn about mind-body nutrition and whole food healing
Happiness Begins with Permission

Unless you allow yourself to be happy, negative thinking will sabotage your feelings and choices. Throughout your program I'll teach you about the mind-body-food connection to understand the powerful role your body-mind plays in your health.
You'll become aware of how stress can impact your mood and digestion in all kinds of ways, and how breathing, relaxation and stress management techniques can help you design a more balanced and supportive lifestyle.
Make peace with your past and replace negative and outdated beliefs

Love yourself from the inside out

Free yourself from unnecessary stress and anxiety

Bring the pleasure back to food and eating

Finally give your mind, body and spirit the nourishment they deserve

Tune into your internal wisdom and NEVER diet, starve, deprive or restrict again
With over 20 years of personal and professional experience I know that true healing and recovery starts from the inside out – from your thoughts and mental programming, your feelings and emotions, to your behaviours and reactions.
To truly heal your food and body issue, we need to holistically address your beliefs, fear and needs on all levels of your being. Self-awareness is key between your thoughts, feelings and food choices!
I regularly receive the MOST amazing feedback and client love that always humbles me and reminds how important and necessary this unique and integrative approach is. Here is a collection of client testimonials.
Trained in strategies and techniques across 

Holistic Counselling, Wellness Coaching, Holistic Nutrition, Eating Psychology, Neuroscience, Psycho-physiology of Stress, EFT, Transformation & Lifestyle Coaching, Mind-Body Medicine, Exercise & Movement, and scientifically proven mindset techniques using Meditation, Visualisation & Stress Therapy,

 I'm armed with tools, experience, knowledge and

plenty of humour!
---
Are You Ready to Feel Calm, Confident & In Control of Your Life and Eating?

Choose from 3 or 6 months of my complete support and knowledge to guide you.
A complete holistic coaching program personally tailored to your unique and individual health, healing and wellness goals that focuses on wellness over weight loss. Together we'll design a weekly pathway to create a powerful connection between mind and body, and a healthier relationship between you, your body and food.
We'll meet every week (in-person, over the phone or online via Zoom) and work through a customised, micro-step program of daily self-care, nourishment, lifestyle and stress reduction practices to support your mind and body into whole self-loving alignment.
Together we will address and release what no longer aligns with your needs and wants, and create healthy mindsets, behaviours and habits to support your best self, now and in your future. I'm with you every step of the way!
Your Personally Tailored Program Includes:
Initial 1.5 hour consultation session to identify your needs, challenges and strengths

1 hour weekly coaching session OR call + specific and attainable action steps

Unlimited email support and inspiration between sessions

Whole food recipes to support your health, healing and wellness

A personalised resource kit of my favourite books, routines, products and other treats to complement your goals

Meditation, Mind-Body Medicine and Healing techniques

Principles of Eating Psychology, self-talk, food rules and emotional eating

Positive thinking skills to create a successful mindset, increase personal awareness & gain self-confidence

Relaxation techniques to reduce stress, mental overload & muscle tension

Stress management techniques and strategies to restore energy flow & motivation

Journaling techniques for gratitude and problem-solving

Recognise & fulfil ALL areas of your life with proactive self-management

Holistic Whole-Self Wellness approach (Mind, Body, Spirit, Emotion)
Sessions may also include these Tools and Resources:
Comprehensive Wellbeing Assessment

Creating your Health Vision

Understanding Stages of Change

Strengths audit

Values Identification

Life Charting exercise to envision your preferred lifestyle

Personal needs assessment

Creation of personal boundaries

Personalised meditations written and recorded especially for you

Additional resources tailored especially for you!
For Eating Issues and Body-Image:
Education on biochemistry, hormones and stress

Eating psychology concepts and behaviours

Mind-Body Nutrition approaches

Nutritional endocrinology and adrenal assessment

Meditation, Mindset and Neuroplasticity

Exercise and movement
Your Happiness, Health and Confidence can START NOW!
CHOOSE WELLNESS OVER WEIGHT LOSS!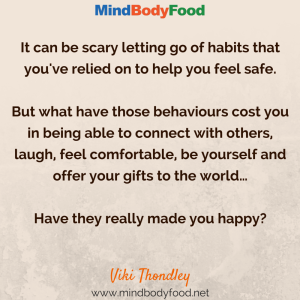 Let's Get Started Creating Your New Mindset, Body & Life!
---
Client Testimonials:
"Meeting Viki has saved my life. I am recovering from bulimia after 20 years from a disease that took control of my life!
I had found Viki's website and I had saved it into my favourites but never got around to contacting her. One day I had such a bad episode, overeating and purging, and something inside said enough. I knew the harm this was doing to my body, mind and soul. So as embarrassed as I was to admit to someone again (yes I tried psychologists, which were no help to me) that I had an eating disorder, I finally called.
My first phone call with Viki gave me such hope. Viki was warm, understanding and very empathic. Knowing that she had recovered from the exact same disorder made it so much easier to trust and relate to her.
I spent many weeks with Viki and gained so much insight that I could not possibly write it all down. I learnt to love myself for the strong, intelligent, courageous, resilient and loving person that I am. I learnt to breathe. I learnt to love food as it is not the enemy. Most importantly I learnt to stop blaming and hating myself.
As I continue to recover from my eating disorder, I still think of moments or sayings I shared with Viki during my sessions. She is a beautiful woman on the inside and out and I am so grateful I have met her. Lastly she has a wicked sense of humour which I loved. As they say laughter is the best medicine." – Julie
---
"Thank you so much for the emails and inspirational sayings and ideas to follow up on. You are an inspiration to me. I know we have only met face to face once, but that was enough to put me on the right track towards recovery and a healthy life. It has been a week and one day now that I have been seeing "me" in the mirror. Not every day of the last 8 days has been stress free, but I have been positive that I am going to come out of the dark hole. Thank you for being there for me." – Stacey
---
"Before I came to you I was struggling with severe depression & an eating disorder. I hated myself completely, at only 18 years old. My life hadn't even started and I already wanted it to end. Doing the 12 weeks wellness course with you allowed me to change my habits and create new ones. I had learned to love myself, which about two months later, I truly do. I have learned so much more about nutrition, and looking after myself. I have a full understanding of things I didn't understand before.
[Your program] has changed my life completely, helping me to learn healthy eating habits, and to help me start my life. I have so many plans set in place now. I never would have done any of these things without your help. I didn't have the motivation to do anything but mope and hate myself. I didn't understand how to pull myself out and CHANGE the way my life was going. I am so thankful I decided to get in contact and do the course with you, as it has changed my outlook on life. The diary I wrote my weekly goals in – I still continue to write goals in.
I have been feeling great! I have not had any relapses with my eating problems, I have learnt the proper way to control myself around food and have a stable routine. I am working on myself daily, and enjoying life the way I should be at 18.
I took a photo a few weeks ago and compared it to my "sexy" viewpoint when I was struggling, and I believe that NOW my body is beautiful, not the unhealthy-weakly-thin body I once had. I cannot put into words how thankful I am for your help, as I have a completely different viewpoint on my entire life now.
I know everybody around me has seen the changes and is also thankful. I am so appreciative of all of this, thank you thank you thank you." – Tahlia
---
GET STARTED NOW
Initial 1.5 hour consultation session to identify your needs, challenges and strengths
Whole food recipes to support your health, healing and wellness
Relaxation techniques to reduce stress and muscle tension and promote healing
Personalised resources and educational information
And my dedicated support and guidance throughout your transformation!
 Experience Whole-Self Nourishment to Be Happy, Love Yourself and Taste Freedom!
CHOOSE WELLNESS OVER WEIGHT LOSS 

TODAY
---
Grateful Words:
"I just wanted to say thank you so much for all that you did for our daughter. Helping her conquer her eating problems and depression. She now is able to set herself goals and is a happy, healthy young lady. We are really appreciative of all that you did for her. I will also be recommending you to others if their child is having difficulties as well.  Thank you so much." – I. and H. Hedges
---