FREE Mini Mantra Meditation!
A great way to start or end your day, or even to reduce your mental, emotional and physical tension throughout – just sit back, breathe and relax!

What you think, you create!
What we're thinking in any one moment plays a huge role in how we interact and respond to the world in that moment. When practised regularly, repeating mantras over in your mind helps to rewire your neural pathways – especially when you are doing so in the relaxation response.
Meditation is scientifically tested and documented by Dr Herbert Benson in his ground-breaking 1975 book, The Relaxation Response, to induce a relaxation response – the exact opposite of the Stress Response. When in this state, meditation helps to access the subconscious mind, where the use of Mantras can be most powerful in creating positive change in your states of being.
About: 
Mantras are effective in speaking directly to your subconscious mind to create powerful, positive changes to your beliefs and thoughts.
Mantra Meditation is similar to Transcendental Meditation (TM), it's simply a non-religious approach.
Mantra uses a positive word, phrase or sound to create a focused mind and improve your perspective, attitude and mood immediately.
Here's a short (under 9mins) Mantra Meditation for you to practise with!
Sit and listen first thing in the morning or last thing at night to help you focus your mind, relax your body and uplift your mood!
Or Right Click below link to "Save Target As" and download
Try my healing and restorative Meditation Albums:
Or SAVE with a bundle deal!!!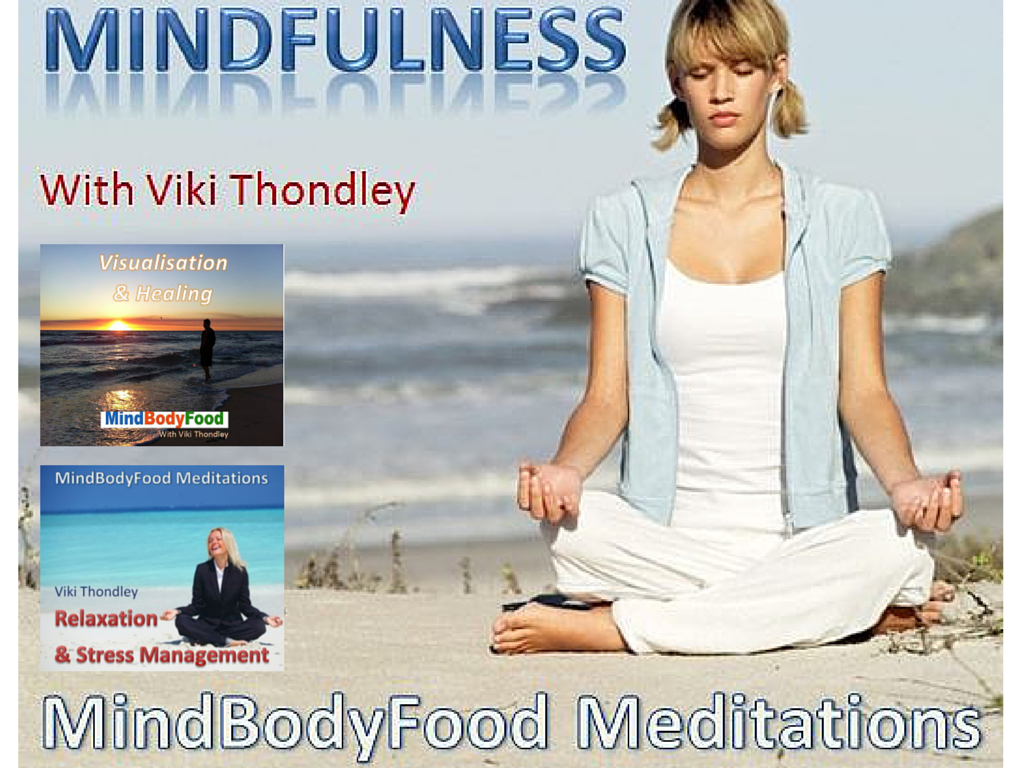 Your Meditation Therapist:
Viki Thondley has been meditating for 25 years and is a registered Inner Voyage Practitioner with an Advanced Diploma in Meditation Therapy and Holistic Counselling & Human Development (Hons). Viki is a qualified Holistic Therapist, Empowerment Coach, Wellness & Whole Food Coach, specialising in Mental Re-programming, Self-Love, Body Confidence, Eating Psychology, and Eating Disorder & Binge Eating.
Viki holds memberships with Fitness Australia, the International Meditation Teachers' Association (IMTA), and the International Institute for Complimentary Therapists (IICT).
---
Client Feedback:
"I couldn't recommend a more professional, understanding and insightful stress therapist then Viki. Words can't describe how her stress management techniques have helped to provide clarity and inner peace into my life. In the short time that I worked with Viki it has left lasting results that have now helped to transform my career, personal relationships and sense of self for the better. Life skills aren't always developed at child hood or adult hood and for that reason Viki has given me a gift that will stick with me always. Thank you Viki! What a relief to know your services are available."  Whitney K
"Over the 8 week sessions I learnt so much about myself that I wouldn't have even thought about. I am very grateful that someone recommended you, you really are amazing and very inspirational. I have taken on board the stress and breathing techniques and will continue my gratitude journal for a very long time. You have taught me so much about my thought process and how to enjoy living in the moment. Thank you for giving me the confidence, understanding, positive attitude and knowledge to continue on this journey. I can't thank you enough." – Lauren G
---
Viki's qualifications/memberships:
Advanced Diploma in Meditation Therapy, Holistic Counselling and Human Development
Postgraduate Certificate in Management of Depression and Anxiety
Postgraduate Certificate in Meditation for Weight Management
Postgraduate Certificate in Advanced Holistic Counselling
Postgraduate Certificate in Corporate Stress Management
Postgraduate Certificate in Trigger Point Therapy
Postgraduate Certificate in Elemental Movement Meditation
Postgraduate Certificate in Inner Child Therapy
Postgraduate Certificate in Meditation for Children
Postgraduate Certificate in Mind-Body Medicine
Advanced Diploma in Life Coaching
Diploma Freelance Journalism
Diploma of Justice (270 hours)
Certificate of Food Psychology
Certificate of Accredited Nutrition
Certificate Wellness Coaching (Levels 1 & 2)
Certificate Law of Attraction Practitioner
Certificate Advanced Boxing for Fitness Trainer
Certificate Advanced Kick-boxing Instructor
Certificate Lifeline Crisis Counselling
Certificate 4 Training and Assessment
Certificate 3 & 4 Fitness (Master Personal Trainer, Fitness/Gym Instructor)
Certificate 3 Sports Massage Therapy Practitioner (Clinical Procedures, Sports, Trigger Point & Aromatherapy)
Registered Member:
Fitness Australia
Inner Voyage Holistic Human Development & Meditation Teacher's College
Australian Institute for Complimentary Therapists
Australian Meditation Teachers Association
Your mental wellbeing starts here: A (FREE) Emotional Eating Triggers Kit.
Plus, I'll send you weekly inspiration, recipes and support to help you create your healthiest, happiest life!