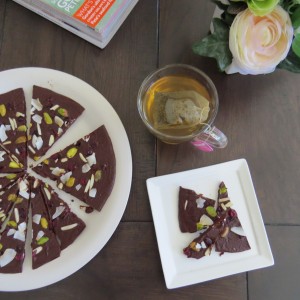 Raw Chocolate Pizza
The Christmas Version!
Pizza was never my favourite food. In fact a homemade group effort pizza was the first food item that contributed to my inaugural Bulimic offering when I was much younger.
I've since made peace with it by making my own gluten free and cauliflower versions, decorating with fresh, whole, natural and colourful toppings that are nutrient dense and pack a punch of flavour. Yummy clean eating that doesn't cause digestive (or emotional) upsets.
Being the raw chocolatier and recipe creator that I am, it was only time that I came up with a raw chocolate version. And here it is! Just in time for Christmas 🙂
Quick points:
Don't forget my 

Basic Dark Chocolate

with my updated recipe for a smooth, snappy and polished raw chocolate!
All these plus many, many more healthy, delicious and nutritious recipes are included in my upcoming Easy Chocolate Delights eBook!
If you're interested in learning how to make smooth, good quality raw chocolate you can take a look at my Easy Chocolate Delights or Specialty Chocolate Making workshops.
Raw Chocolate Christmas Pizza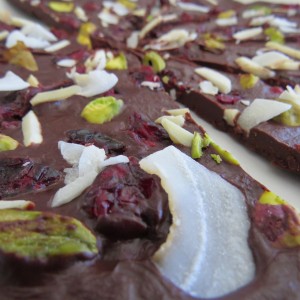 Ingredients:
3/4 cup melted coconut oil (if less cacao intensity is preferred, add 1 cup coconut oil)
1 ½ cups cacao powder
1 teaspoon cinnamon powder
1 teaspoon lucuma powder
1 teaspoon vanilla extract (not essence)
Pinch of celtic or himalayan salt
5 tablespoons pure maple syrup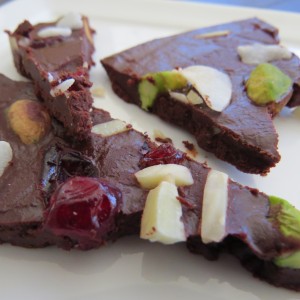 Method:
Add the ingredients to a mixing bowl in order. Quickly stir through and combine well.
Let the chocolate mixture sit for a few moments to thicken while you line a solid round pizza tray with good quality baking paper. Give the mixture another stir through then pour it into the centre of the baking paper.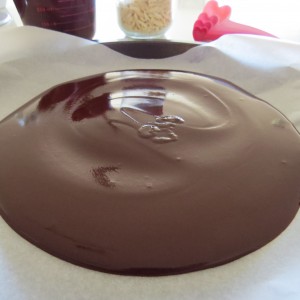 Use the back of a spoon to gently move the mixture in a circular motion whilst spreading it outward into a round circle. Allow the mixture to remain about an inch thick.
Decorate by sprinkling a selection of cranberries, pistachios, almond slivers and coconut flakes evenly across the top. Add any additional toppings to your "pizza" before transferring into the freezer.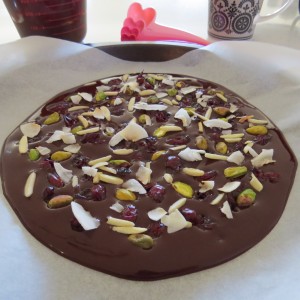 Allow to set for 15 minutes before cutting through into individual slices and returning to the freezer.
Eat or serve directly from the freezer!
Note: If you're a fan of food grade essential oils, you could experiment with orange, tangerine, fennel and cinnamon!
Enjoy and Merry Christmas 2013!
Viki  xo
PS – Beautifully delicious with a cup of tea or a glass of wine or port 😉