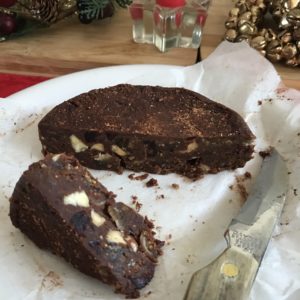 Healthy Chocolate Panforte Recipe
Perfect for Christmas!
Panforte is traditionally an Italian cake containing fruit and nuts. So more or less, it's kind of like a fruitcake – dense, moist, fruity.
It originated in the Tuscan city of Siena somewhere around the thirteenth century. Here I've made a healthy version that doesn't miss out on any of the traditional flavours, certainly has the dense quality but with a lighter feel in the tummy.
My healthy christmas panforte recipe is also gluten free, dairy free and refined sugar free. It's the perfect healthy recipe for christmas!
There's minimal liquid sweetener in the form of mineral rich maple syrup. You can opt for the rice malt syrup if you prefer though.
It's a much healthier version using whole food and love. But WARNING: It's rather more-ish!
Don't forget to post a pic of your creation on my Facebook page or tag me on Instagram @mindbodyfood 🙂
Healthy Christmas Panforte Recipe…. You'll LOVE it!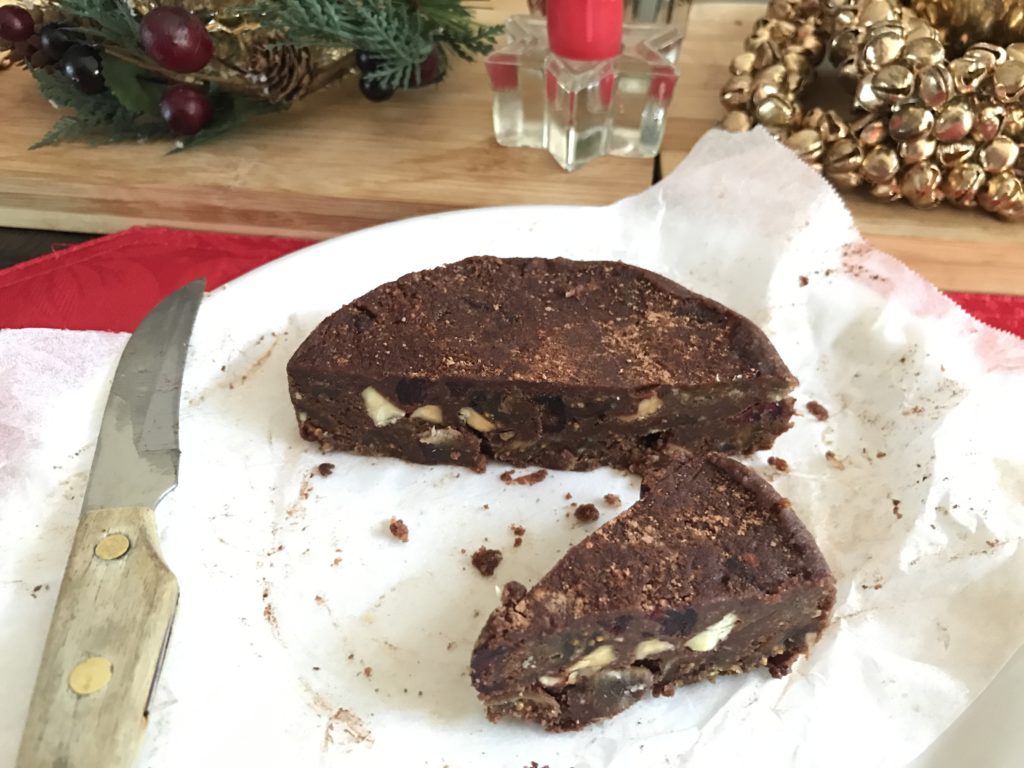 Ingredients:
2 cups almond meal
1/3 cup raw cacao powder
1/3 cup cranberries, lightly chopped and separated (preferably sulphur free)
1/3 cup chopped naked ginger
1/3 cup chopped almonds, roasted OR chopped hazelnuts, roasted
9 dried Turkish figs, roughly chopped
Pinch sea salt
1/3 cup coconut oil, melted or soft
3 tablespoons pure maple syrup (b grade) OR 4 tablespoons rice malt syrup
2 teaspoons vanilla extract (I always use homemade!)
1 teaspoon raw cacao powder, for dusting
Method:
Place all the dry ingredients into a bowl and stir through well.
Add the coconut oil and maple syrup (or rice malt syrup) and combine thoroughly with a wooden spoon.
Line a 20cm round shortbread or cake tin with cling wrap and spoon the mixture in and press down evenly.
Place in the fridge to set for approximately 1 hour. You can place into the freezer for 30 minutes if you're in a hurry!
When ready to serve, dust a teaspoon of raw cacao powder over the top.
Enjoy!