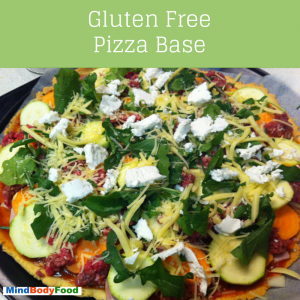 Gluten Free Pizza
REAL FOODIE FRIDAY!
Pizza on a Friday or Saturday night may be the perfect movie or footy companion (especially if you're gearing up for the AFL grand final this weekend!), but for those of us who struggle with heavy grains, wheat, dairy, bloating and poor digestion, enjoying a pizza is far from pleasurable.
It's surprisingly easy to make a gluten free pizza base recipe at home to decorate with your preferred toppings. You can actually create a tasty meal that's enjoyable all the way through your digestive tract!
This recipe is only four ingredients, easy to combine, and won't leave you with a stomach ache or gastrointestinal upset or inflammation (depending on your toppings of course!).
You can top this baby with anything you like. I topped ours with herb and tomato sauce, bacon, mince, sweet potato, zucchini, rocket, chives, mozzarella, goats cheese, parmesan, olive oil and garlic!
Pile it high with whatever real, whole and natural foods that you like!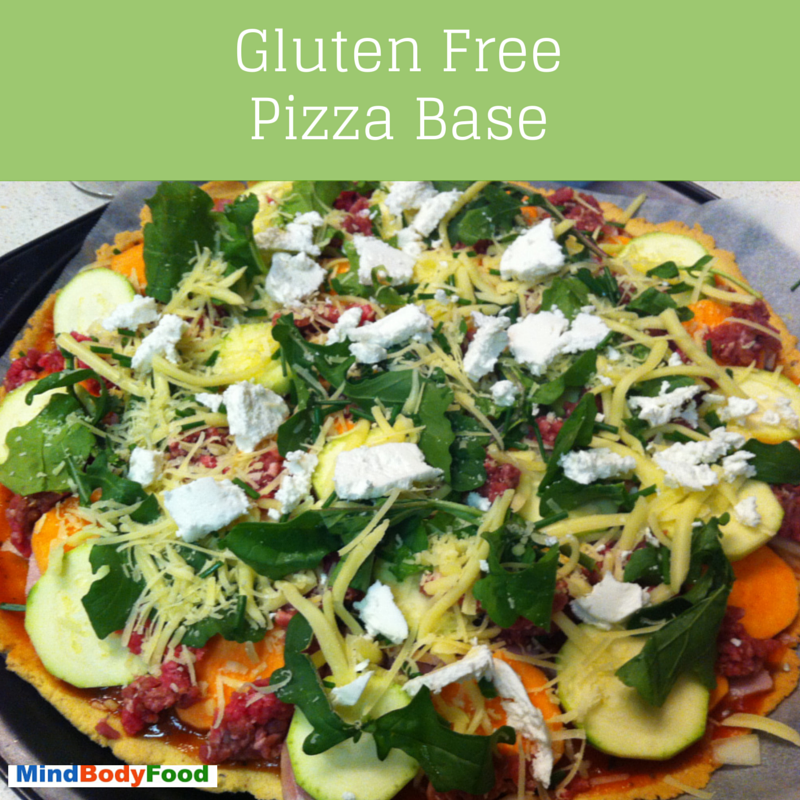 Almond Meal Pizza Base
2 cups almond meal
2 eggs
2 tbsp extra virgin olive oil
1 tsp pink Himalayan or sea salt
Combine together into a dough.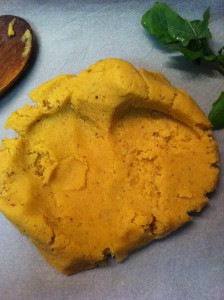 Place between two sheets of baking paper and roll into a round, with preferred thickness.

Bake for 10-15 minutes until lightly golden….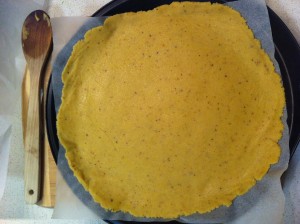 Spread your tomato base and toppings and cook for a further 10-15 minutes or until you just can't wait any longer!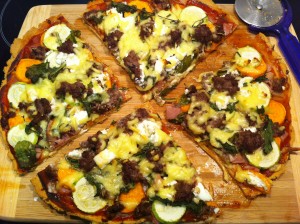 Slice and enjoy!
Viki xo
About Viki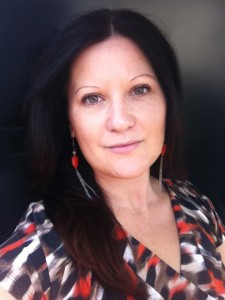 Viki Thondley is a Mind-Body Wellness Specialist and qualified Holistic Counsellor, Food, Stress & Lifestyle Coach, Meditation Therapist, and Eating Disorder Recovery Coach who inspires women to shift from limited thinking, low self-esteem and restriction to whole-self nourishment, body confidence and whole food healing. Recovered from bulimia nervosa and the many years of hormonal imbalances, food prison and self-sabotaging behaviours', Viki is an inspiring coach, speaker and event host who also provides personalised holistic programs, workshops and retreats to instil self-love, happiness, body confidence and real food freedom. She is author of "Achieving Your Wellness: Create a Life You Love" and "Healthy Chocolate Delights: Real Food Sweet Treats".