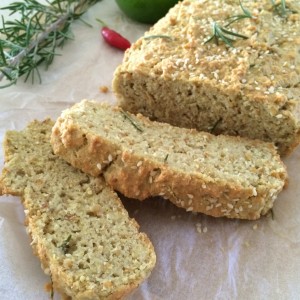 Gluten Free Herb Loaf
I love sour-dough bread but I'm not so keen on bread in general because it doesn't always sit well throughout my gastrointestinal tract. It's almost like it makes everything slow down, back up and feel heavy!
In wanting something a little more substantial and filling, to wrap around my salad or be covered with avocado and eggs, I've simply adapted one of my sweet recipes (Orange Almond Cake [gluten & diary free, naturally sweetened]) to a savoury one.
And voila!
Here you have a simple and easy alternative to full-on bread making that gives you a living loaf, full of flavour and soft texture. It will hold it's own toasting, but just watch for burnt edges if you toast it for too long!
Enjoy!  V xo
GLUTEN FREE HERB LOAF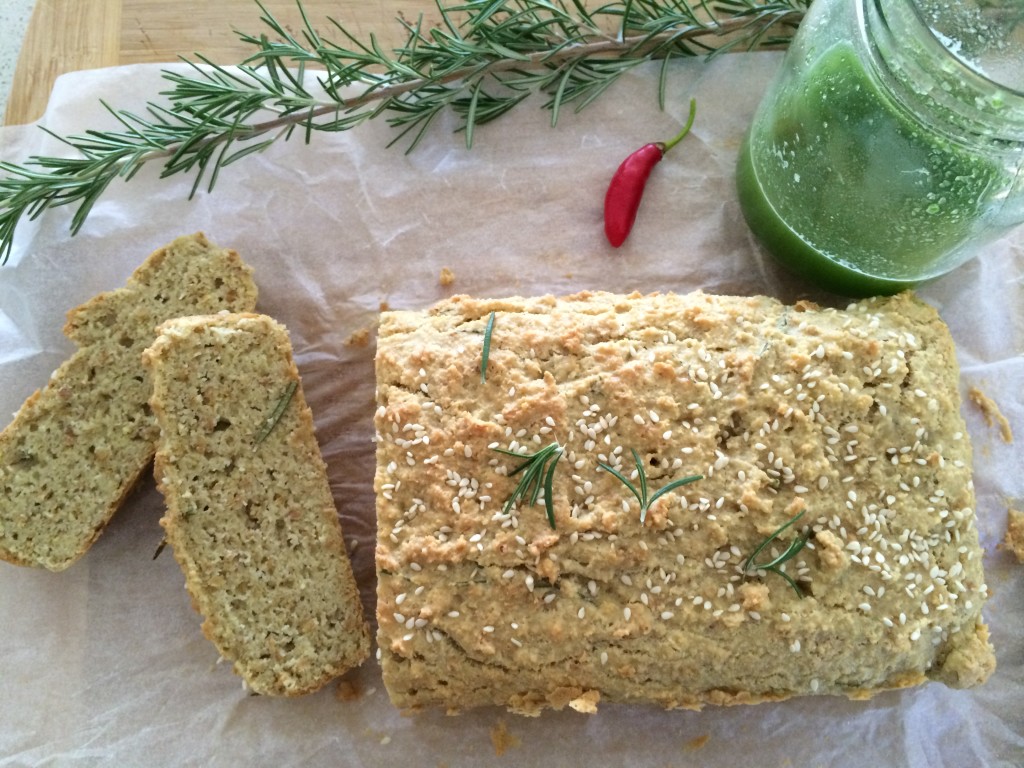 Dry:
2 1/4 cups almond meal
1/2 cup golden flax flakes
1 tablespoon nutritional yeast
1/2 teaspoon seaweed salt (pink Himalayan salt with dulce flakes)
1 teaspoon garlic powder
1/2 teaspoon turmeric powder
1 teaspoon baking soda
1/4 cup fresh rosemary leaves, chopped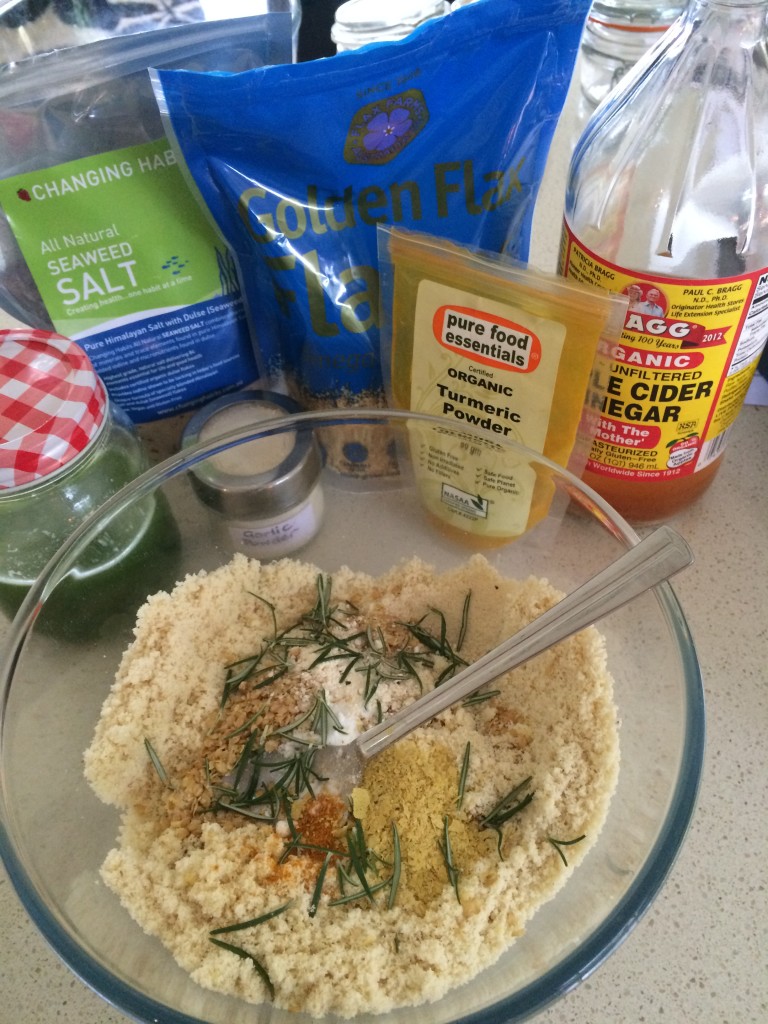 Wet:
5 large eggs
1/4 cup coconut oil
2 tablespoons apple cider vinegar (unfiltered)
1 tablespoon pure maple syrup
METHOD
Preheat the oven to 175 degrees. Line a loaf tine with baking paper.
Place all the dry ingredients into a large bowl and stir through well.
Into another bowl, add all the wet ingredients and whisk with a fork or spoon until well combined.
Pour wet ingredients into dry and fold through with a spoon or spatula. Mix well until batter is thick and thoroughly combined.
Pour dough mix into the prepared loaf tin and place into the over to bake for approximately 25 – 30 minutes, or until a skewer pierces the centre clean.
When done allow to sit for 5 minutes before lifting the loaf out with the baking paper onto a cooking rack or wooden board. Allow to cool for another 5 minutes to slice carefully and eat warm, or simply place into an air-tight container once cool. Will last longer stored in the fridge.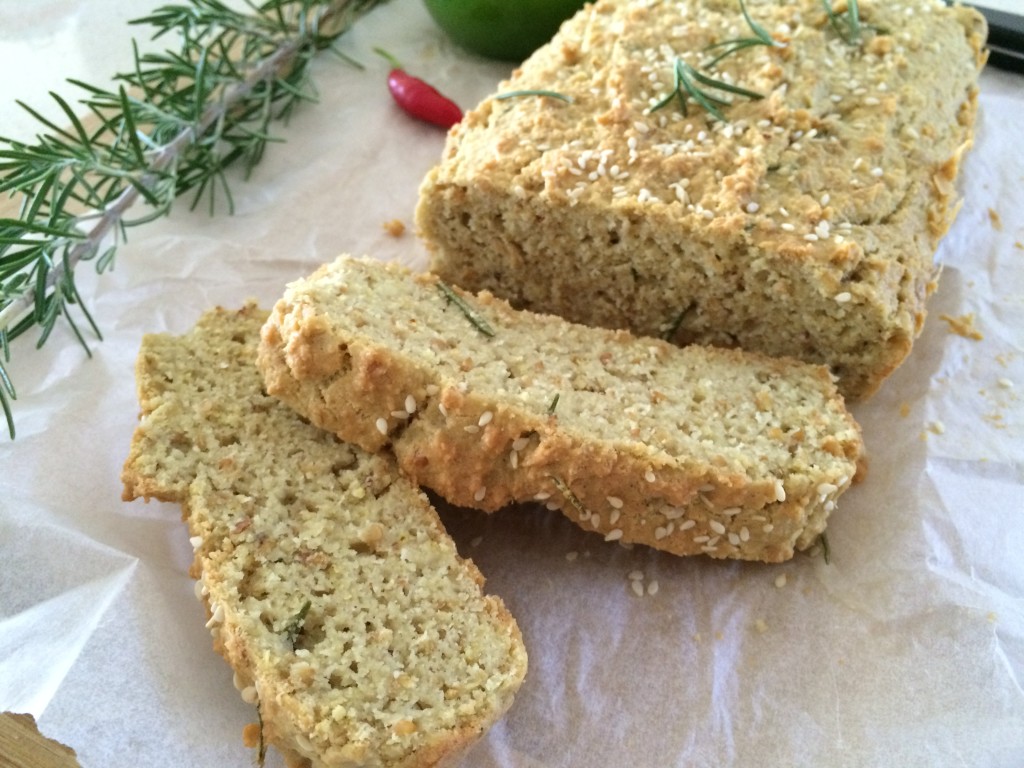 Love and Health
Viki  xo
About Viki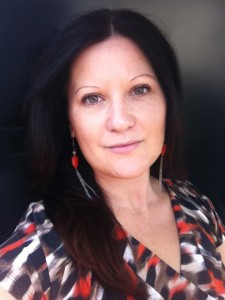 Viki Thondley is a Mind-Body Wellness Specialist and qualified Holistic Counsellor, Food, Stress & Lifestyle Coach, Meditation Therapist, and Eating Disorder Recovery Coach who inspires women to shift from dieting and restriction to whole-self nourishment, self-care and healing. Recovered from bulimia nervosa and the many years of hormonal imbalances, food prison and self-sabotaging behaviours', Viki is an inspiring coach, speaker and event host who also provides personalised holistic programs, workshops and retreats to instil self-love, happiness, body confidence and real food freedom. She is author of "Achieving Your Wellness: Create a Life You Love" and "Healthy Chocolate Delights: Real Food Sweet Treats".
Sign up to her Happy | Healthy | Confident newsletter for her free 43 page eBook "Break Up with Dieting: 10 Tips to Calm Your Mind, Relax Your Body & Eat With Pleasure" + weekly whole-self nourishment tips, inspiration and recipes!