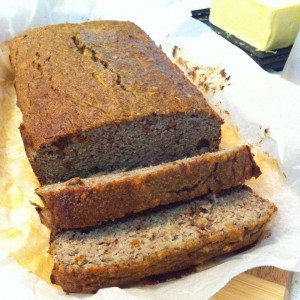 Banana Bread! Banana Bread!
Oh, I do love a moist, soft and tasty banana bread. Especially when it fits under the category of clean and healthy eating, holistic living and gluten free, grain free. (Dairy free too if you prefer it).
Banana bread is a scrumptious comfort food on a cold day when warmed with grass-fed butter on top and a cup of herbal tea!
Am I making you hungry?
Better get to the recipe quickly then!
This recipe was one that I adapted from the lovely Jane at Marinya Cottage Kitchen, who adapted it from another blog, Sleep Love Eat.
My recipe takes elements of both but with a couple of additions and changes, because I do like some soft crunch in my banana bread in the form of walnuts or pecans. Of course if you need it to be nut free, simply omit the nuts.
For a little something else, you could also add sultanas and a bit of extra spice!
No matter what whole foods I'm whipping up in the kitchen, I always like to experiment with taste, flavour, texture and aroma. It's always important to engage your senses and really enjoy what you are putting into your body, even before you've taken the first bite!
If you prefer dairy-free, you can simply swap the grass-fed butter for organic virgin coconut oil.
This recipe makes one large loaf.
Gluten Free Grain Free Banana Bread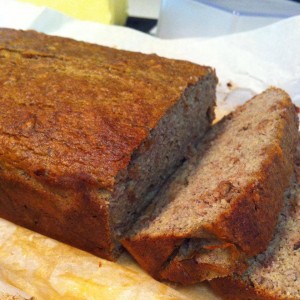 Ingredients
3 ripe Bananas
6 Medjool Dates (soaked in hot water, rinsed and pitted)
6 Eggs (organic free range)
1/2 cup Coconut Flour (Banana Flour also works well)
1/4 cup grass-fed Butter, melted (or 1/4 cup melted coconut oil)
1 tablespoon Pure Vanilla Extract
1 teaspoon ginger
2 teaspoons Cinnamon
1/2 teaspoon Sea Salt
1/2 teaspoon Baking Soda
1/2 cup walnuts or pecans, roughly chopped (I've also use slivered almonds that worked really well!)
Optional additions – 2 tablespoons sunflower seeds, 1/4 cup sultanas, 1/2 teaspoon nutmeg.
Instructions
Preheat oven to 160 degrees celsius and line a large loaf tin with good quality baking paper.
Soak the dates in some hot water for a few mins to remove any residue and soften them. Put to the side while you peel the bananas and break them up into pieces. Place them in a food processor.
Rinse and pit the medjool dates, and process with the bananas until well-combined and smooth.
Next, add the eggs into the food processor and combine with the banana-date mixture.
Add the rest of the ingredients (vanilla, coconut flour, melted butter, ginger, cinnamon, sea salt, and baking soda) into the food processor and process until combined well.
Lastly, once combined, add in the walnuts or pecans and pulse 2-3 times, or simply stir through with a spoon.
Finally, pour into the loaf tin. Bake for 60 minutes or until a thin skewer runs clean.
Let cool for 5 minutes before lifting the loaf out in the baking paper and cooling on a rack. You may like to take advantage of a warm slice with butter on top….!
Note: You can also bake mini loaves, which the kids will love for school snacks (perhaps ommitting the nuts!). Bake for around 40 mins or until the skewer runs clean.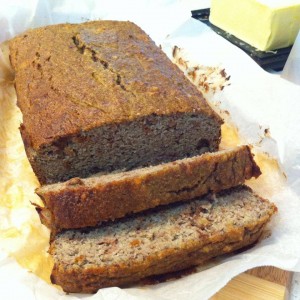 Check out my ebooks: "Achieving Your Wellness: Create a Life You Love" and "Healthy Chocolate Delights: Real Food Sweet Treats".
Transformational Coach, Counsellor and Therapist
Freedom and Recovery from your Emotional, Weight & Eating Issues
Viki Thondley is a Rapid Transformational Therapist, Holistic Counsellor & Meditation Therapist specialising in self-worth, stress, mind-body connection, subconscious reprogramming, depression/anxiety, body-image & eating disorder recovery. She is Founder/Director of the

 MindBodyFood Institute

 & author of the

 Holistic Life Coach & Mind-Body Practitioner 

certification course, plus several coaching & whole food books.