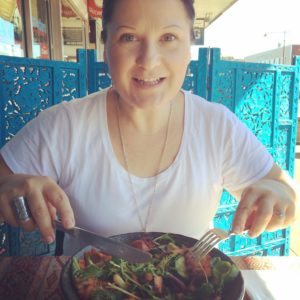 Instead of Dieting, Bingeing or Restricting this Christmas Try a New Approach…
It's that time of year again when many of us freak out at the abundant supply of festive food that is often on our "forbidden/bad/diet says no" list.
Because I have no intention of losing my mind dieting for the next two weeks just so I can let loose on Christmas Day, my lead up is mostly calm, relaxed and peaceful. (I say mostly because I can't control everything.. and it relieves a lot of unnecessary pressure when you realise that.)
Your Christmas can be calm, relaxed and peaceful around food and eating too! Here's how….
Keep it real
Eating at Christmas can be a totally enjoyable process that starts with a realistic mindset – It's christmas, there are going to be foods around that aren't available throughout the year so I choose to allow myself to taste and enjoy if I want to.
As soon as you start thinking you shouldn't – because you're on a diet – the more you will focus on wanting it so you don't miss out. And why should you? You're allowed to be human and enjoy christmas too. And that includes the food. It's about ALLOWING yourself to enjoy.
No fear. No bargaining with yourself. No internal stress.
When you take the mindset that you will allow yourself to have some if you want to, there's no longer a burning desire to throw it all in your mouth before anyone sees… There's also no feeling of guilt of shame afterward.
Make your own
On the day when visiting family, you don't always know what's in the food. So I make sure I contribute a nice big bowl of something whole, natural and nutrient dense. Not because I'm on a diet, but because I want to offer a healthy option.
When you bring something for everyone, it's a nice gesture, but also a healthy option you'll feel comfortable with, particularly if you have food intolerances or certain foods are still triggers for bingeing and overeating because you just can't get enough.
Remember that bingeing almost always is the result of dieting and restriction.
Take care of yourself
Especially on Christmas day I always make sure that I get up and meditate, or go for a walk to kick-start my morning with a positive frame of mind. Whatever keeps you connected and calm, try to start your day with it.
Be aware of potential obstacles 
If you know you have a tendency to freak out when desserts being served, or worry whether you're eating too many nibbles before the main meal, the key is to problem-solve these obstacles beforehand.
Not only will you have a plan to keep calm and stay in the moment, you'll feel better and more aware of knowing how to avoid putting yourself into those mindset spirals in the first place.
Stressful thoughts will only add to your discomfort and prevent proper digestion.
Remember that Christmas is about family, friends and connection – not dieting and restricting.
Focusing more on the conversation, the special moments and taking in the love and laughter into your heart will help you relax and enjoy the experience so much more than worrying about food and your weight all day long.
Affirm your intention to treat yourself and your body with love, kindness and respect. 
The scales can't measure that.
I hope these tips help reduce the stress a little for you. xo