MindBodyFood TV!
Digestion, Bloating, Gas and Gut Health: Symptoms, Causes & Treatment
Why is our gut health so important to health, vitality and wellbeing?
In this episode of MindBodyFood TV, I talk with Linda from Zest Natural Therapies about:
What can go wrong with our gut?
What symptoms or problems can we experience?
Which treatments or remedies can assist us in rebalancing our gut health?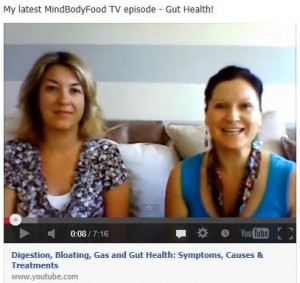 To find out CLICK HERE!! And look out for further interviews with a variety of professionals in the health and wellbeing fields who will share their knowledge and suggestions for creating greater health, vitality, life balance and wellbeing!
If you have any questions or topics you'd like to know more about, then send me an email and I'll post the answer in a video!
In perfect health..
Viki  xo
DISCLAIMER
All information contained in this video is for personal interest purposes only. It is not intended as a substitute for medical advice, nor medical care.  If you have particular health concerns, contact your healthcare provider.