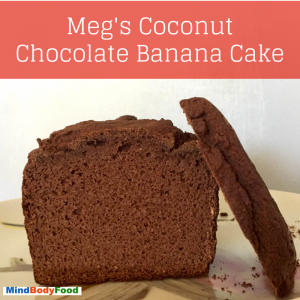 Healthy Banana Cake!
Real Foodie Friday
I'm so pleased to introduce you all to Meg Kummerow, who has generously donated her Coconut Cacao Banana Cake for Real Foodie Friday!
Meg has also written a little bit about her background, food philosophy (it's pretty awesome!) and family life to share with you.
Thank you for sharing your delicious recipe Meg!
Now let's get cooking and EAT REAL FOOD together!
Viki 🙂
---
Hi, I'm Meg!  I live on a farm west of Toowoomba with my husband and two daughters.  Farming and agriculture is my passion and whilst we are no longer farmers any more we still live here on the farm and love the life of not living in town.  It does mean that I have to be organised when it comes to shopping and using the food we produce or purchase – my freezer does not have room to spare as we keep lots of meat on hand in case it ever rains and we can't get out, or for when unexpected visitors turn up!

One of my favourite things is having fresh eggs always on hand, although at this time of year I can never rely on my chooks to not go clucky!  Two of my best layers are on maternity leave as we speak and if it gets any worse I may have to buy eggs next time I go to town!  We also breed Bantam Wyandottes, such a great way for kids to understand how life works.

My philosophy surrounding food is pretty simple.  Eat what works for you, avoid what doesn't and watch your portion sizes. 

I try to steer clear of table sugar – although I haven't completely removed it from my radar as I really enjoy my original cakes, slices and biscuits as an occasional treat.  Buying Australian is a primary focus for us, as from personal experience farming is a hard game to be in and Aussie farmers (of all types) need our ongoing support.  Farmers do care how their produce is grown despite what many not involved in the industry may think.

One of my first forays into using non-wheat flour in a cake was this recipe and to tell you the truth, I have not strayed far from this recipe since!  I really must get more adventurous but once I come across something I like I tend to stick with it for a bit!! (Mmm, perhaps an Almond Cacao fudge cake??) This recipe is a combination of recipes from Bianca Slade from Whole Food Simply, Teresa Cutter the Healthy Chef & my own take.  I serve it with homemade coconut yoghurt – yummo!!  I will share that recipe another day!  I truly hope you all enjoy it.

Thank you all – have a great weekend! Meg
Meg's Coconut Cacao Banana Cake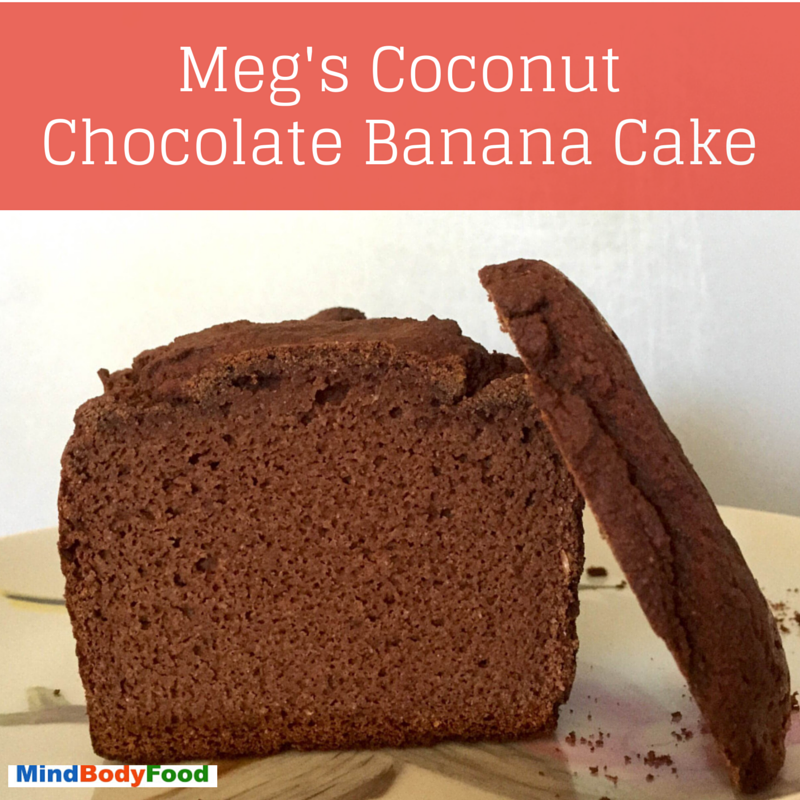 Ingredients: 
3 – 4 ripe bananas
½ cup coconut flour
2 heaped tbsp. cacao powder
1 tsp vanilla (vanilla & cacao/cocoa are best mates)
4 tbsp rice malt syrup (swap out for about 8 medjool dates if you wish)
2 tsp baking powder
4 – 6 eggs
3 – 4 tbsp tahini
1 tsp cinnamon
Method:
Whizz everything together in a blender until well combined.  I bake mine in a 20cm x 11cm tin which is quite small.  I have cooked it in a larger tin – it just comes out flatter.  Bake for 55 mins in the above tin (adjust to suit your tin) on 180deg.  Serve with coconut yoghurt, apple puree or what ever suits you!!
---
Thank you for contributing Meg! 
If you'd like to contribute and be featured on the MindBodyFood Blog (on Real Foodie Fridays) please email info@mindbodyfood.net and include:
your awesome real food recipe with clear instructions,
a quality and appetising photo of your creation,
a few lines about who you are (with a selfie if you'd like to share!),
and why you love cooking, creating and making real food (your health story if applicable).
Feel free to include a link to your own website or blog if you have one!
If you'd like to see your very own recipe up on the MindBodyFood Blog and shared over social media, then get creating and send us your real food recipe!
Let's all EAT REAL FOOD together!
Viki xo
About Viki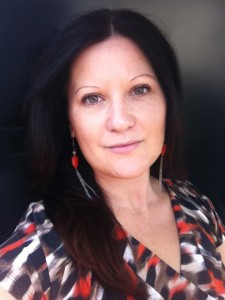 Viki Thondley is a Wellness Expert and qualified Holistic Counsellor, Food & Lifestyle Coach, Meditation Teacher, Stress Educator, and Eating Disorder Recovery Coach. Recovered from bulimia nervosa and the many years of hormonal imbalances, food prison and self-sabotaging behaviours', Viki now provides holistic personalised programs and retreats to inspire self-love, healing, body confidence and food freedom. Viki's passion is to help you balance your mindset, body and life to become happy, healthy and confident!
Sign up to her Happy | Healthy | Confident newsletter for a FREE comprehensive wellbeing assessment + weekly whole-self nourishment tips, inspiration and recipes.