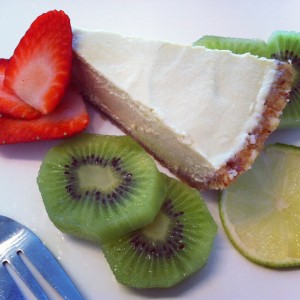 Citrus Cheesecake Recipe
Vegan, Raw, Paleo, Clean-eating, Dairy-free, Gluten-free, Naturally Sweetened, Unprocessed, Unrefined
(**Next Raw Cacao Easy Chocolate Delights Workshop Saturday 20th July, 12pm-3pm. Details Below!)
I've been creating in the MindBodyFood test kitchen again! This time I came up with a delicious healthy version of a classic cheesecake and tart flavour: Citrus!
It's completely unrefined and unprocessed, and contains nutrient dense substitutes for high fat, sugar and salt additives and ingredients that you'll readily find in most store bought cheesecakes.
This cheesecake is dairy free, gluten free and wheat free! It's vegan and paleo approved but most of all, it's healthy, delicious, nutritious and guilt-free!
Of course with all foods, enjoy in moderation so you don't overkill your tastebuds and exclude variety – variety is the spice of life after all! I encourage you to make this easy and healthy dessert and post your photos on my Facebook Page for everyone to enjoy drooling over – I'd love that!
You are welcome to share this recipe but please also share it's creator – me, The MindBodyFood Coach. Thank you 🙂
Ingredients List
Base:
1 cup Walnuts
1 cup Almonds
1 good pinch of Pink Himalayan Salt
1/8 cup of Desiccated Coconut
2 Tbsp Pure Organic Maple Syrup
Method In a food processor, pulse the nuts until broken into small, soft and crunchy pieces. Add remaining ingredients and process until combined and sticky. Scrape down the sides as necessary. The mixture is ready when it sticks together with a pinch of your thumb and pointer fingers. Press into a glass pirex dish or other flan/cheesecake plate and place into the freezer whilst preparing the filling.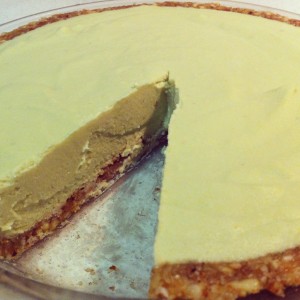 Filling:
1 cup soaked Cashew Nuts
2 Tbs softened Coconut Oil
1 ripe Avocado
2 tsp Vanilla Extract Pinch of Pink Himalayan Salt
Juice of 1 Lemon
Juice of 1 Lime
1 cup Coconut Cream
3 Tbsp Pure Organic Maple Syrup
Method In a food processor, blend the cashew nuts, avocado and coconut oil until combined. Add in the salt, lemon and lime juices and blend through until mixed. Add in coconut cream, vanilla and maple syrup until process until the mixture is smooth and creamy. Taste and adjust as required, according to your tastebuds. Pour mixture into the prepared base and set in the freezer for 2-3 hours or overnight. Allow to sit for 5-10mins prior to cutting and serve immediately with fruit, cream or grated chocolate (raw of course!)
Enjoy!
Viki  xo
___________________________________________________________________
COMING SOON!
The next Easy Chocolate Delights Workshop on Saturday 20th July, 12pm-3pm at Sauce I The Sauce Kitchen, Toowoomba.
Watch the YouTube video montage of the first raw cacao workshop HERE!