VIKI'S "MOVEMENT AND STILLNESS" CLASSES
KUNDALINI, HATHA & CHAIR YOGA + BREATHING, RELAXATION & MEDITATION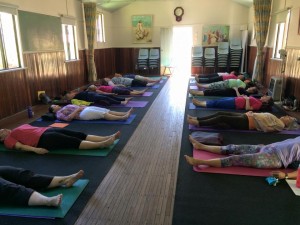 Weekly Mind-Body Relaxation Classes
NO CLASSES ARE CURRENTLY RUNNING DUE TO VIKI'S SCHEDULE
Are you ready to relax, laugh and thoroughly enjoy an hour of self-care with a fantastic group of fun-loving students? Join in with regulars and new students alike for an absolutely non-intimidating community class – perfect for beginners as well as those wanting to stretch themselves – just a little!
You can experience the powerful and effective combination of yoga postures, gentle stretching, energy breathing and relaxation exercises to prepare for a deep and rejuvenating meditation experience!
Each weekly one hour class will explore various kundalini, hatha and chair yoga postures, as well as breathing, relaxation and meditation techniques. Be introduced to various styles and traditions for relaxation, breathing, stress management, pain management, healing, confidence, visualisation, self-esteem and intention setting. This is a fantastic opportunity to deepen your practice and connection to self, and reinforce your learning with regularity, greater insight and promotion of the relaxation response to better manage stress and reactive behaviours.
WARNING – Yes, Yoga and Meditation are both wonderful practices in mind-body awareness, self-connection, stress release, and physical and emotional healing, BUT… This class is also a LOT of fun!
1 Hour duration and includes all equipment: yoga mats, blankets, eye pillows, cushions, weekly handouts and use of essential oils.
---
Student Feedback:
"I am very grateful that I stumbled across your ad in the paper and attended your stress management course and from there developed a passion for meditation. It has all helped me personally so much. Your enthusiasm, positive attitude, confidence and passion inspires me and is a wonderful positive influence on my life." – Karen B
"I absolutely loved the course and everything about it! I feel so lucky to have done this course with you. My anxiety and heart condition can now be controlled by meditation and breathing properly. Just knowing how to relax my mind is amazing. Thank you." – Sarah-Jane S
"The course content was more than I expected! I stopped having "monday-itis" because I knew mondays meant meditation! I most liked being taken away from the constant thoughts of daily life and being able to tune out for a while, learning different stress management techniques and that it's okay to say No! It's even healthy! Thank you Viki for a great 6 weeks." – Jess
"Viki you are brilliant. Easy to learn from and a great motivator. I was so thrilled that I was able to receive the CD which has been of great help. The course was more than I expected."– Dawn
"Viki, I thoroughly enjoyed the course and want to thank you again for your help. I feel that I've learned so much about myself and what I can achieve." – Sue
---