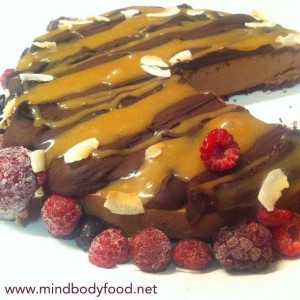 Decadent AND Healthy!
My parents were big on entertaining and hosting parties when I was growing up. We'd often have large groups of people in our backyard and patio indulging on the delights of 80's finger food and flans.
There would usually be a spread of colourful desserts like lemon slice, custard slice, chocolate éclairs, chocolate tarts, lemon tarts, fruit salad, jelly and ice-cream, trifle and of course, cheesecakes!
Even though it would be many years until I connected the dots between dairy and the immediate phlegm, biliousness and sick feeling – like you've swallowed something well past its' due date – I would always enjoy eating my mother's home-made cheesecakes.
I'd suffer terribly in the aftermath but that was usually put down to overindulging on the celebratory desserts that I came to expect it and didn't give it much attention. In my childhood I had better things to think about.
These days I am acutely aware of my body's preferences and always listen to whether it feels happy or not after every meal.
I'm a big believer in never feeling like you're going without. It's simply a matter of finding a way to enjoy similar foods in a healthful way for your individual biochemistry. Foods that your body thrives on.
When I discovered nut cheesecakes and cheeses my world opened up!
I realised that I didn't need to avoid all things dairy at all (I now also make my own banana and coconut ice-creams!). I simply made "cheesecakes" in a way that my body could enjoy as well as my taste buds.
This particular cheesecake is a simple and easy recipe that you can adapt to your taste buds, particularly if you want it sweeter – Mr 12 said it was great as it was, but Miss 10 said it needed to be a bit sweeter…! Beloved was in love with it and I liked it as it was, as I don't have much of a sweet tooth anyway.
Plus, the caramel sauce is a nice compliment with the rich dark chocolate sauce.
The best thing about this recipe is that my tummy loves it too!
No more instant phlegm, bloating, nauseousness and heavy digestive tract.
This chocolate cashew cheesecake taken from my Healthy Chocolate Delights eBook leaves me with a happy tummy and taste buds every time 🙂
Vegan, dairy free, gluten free, sugar free (naturally sweetened) and raw.
Enjoy!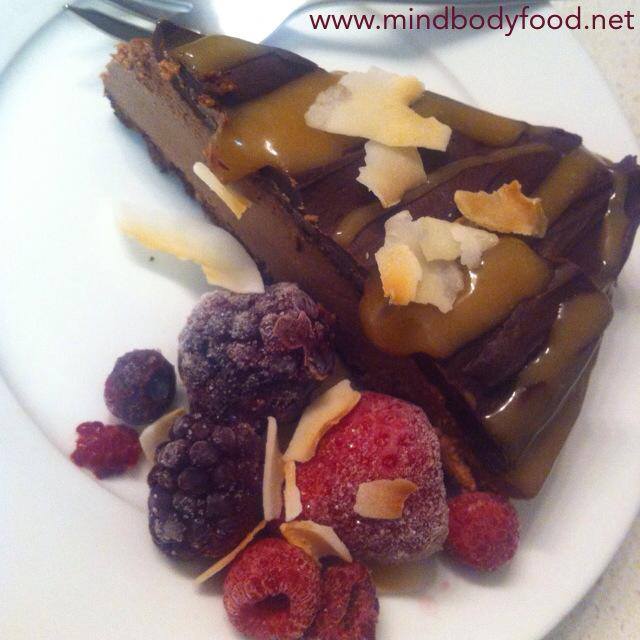 Healthy, delicious, nutritious and guilt-free! This "cheesecake" is a soft and creamy, rich and smooth experience that will leave your body satisfied and comfortable!
Use a 7" cheesecake spring form pan for best results, lined with baking paper.
Raw Chocolate Hazelnut Cheesecake
With Salty Caramel and Easy-Peasy Rich Chocolate Sauce Topping
(R, V, DR, GF, NS)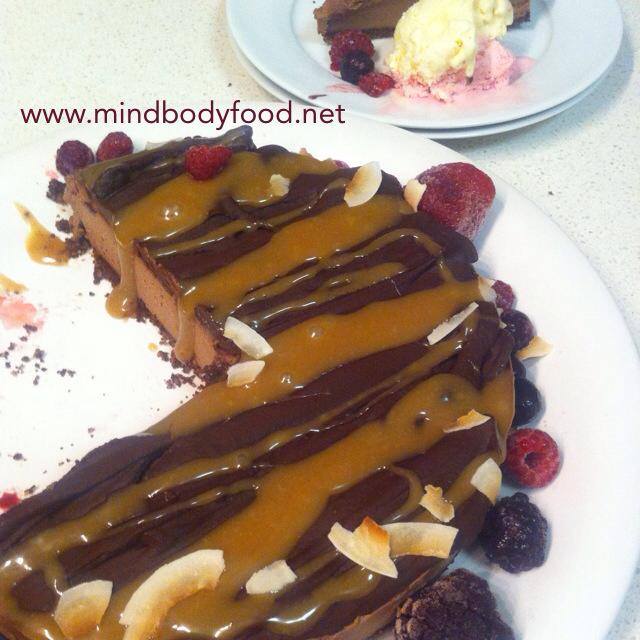 Making the "Cheesecake" –
You can use any chocolate base you like but this one is quick and easy and perfectly compliments.
Base:

1 cup hazelnut meal (or any other nut meal you like)
1/4 cup raw cacao powder
3 Tablespoons rice malt syrup or pure maple syrup
1 pinch sea salt
Process all the ingredients together in a food processor until well combined. It's ready when it sticks together between your fingers. Open the spring form pan, remove the bottom tray and line with baking paper. Reconnect the spring form pan and press the base evenly across the bottom with your fingers or the back of a spoon.
Place in the fridge while you make the cashew filling.
Filling:

2 cups raw cashews, soaked 2 hours and rinsed
1/2 cup filtered water
1/2 cup rice malt syrup or maple syrup (a touch more if you prefer the rich chocolate a little sweeter)
1/2 cup liquid coconut oil or full cream coconut milk
1/2 cup raw cacao powder
1/4 cup almond butter
good pinch of pink Himalayan or celtic sea salt
Use either a high-speed blender with tamper stick, or powerful food processor.
Blend or process the soaked and rinsed cashews with the filtered water, liquid coconut oil and maple syrup until smooth and creamy. (If using a high-speed blender you will need to continuously use the tamper stick until the mixture is smooth and blending freely. If using a food processor, you'll need to scrape down the sides occasionally and process a little longer).
Once smooth, add raw cacao powder, almond butter and salt and blend or process until the mixture is smooth, creamy and completely combined.
Pour filling onto the base and lightly spread the mixture evenly. Place into the freezer on a flat surface to set. Allow 3-4 hours or overnight.
When ready to serve –
Remove cheesecake from the freezer and out of the spring form. Place onto a serving plate and set to the side while you make the topping sauces.
Easy Peasy Rich Chocolate Sauce:
1/2 cup just liquid coconut oil
1 cup raw cacao powder
4-5 Tablespoons rice malt syrup or pure maple syrup
Add all ingredient in order into a glass or pouring jar. Mix through with a spoon until smooth, creamy and well combined. Taste test for any amendments. 
Leave to the side whilst preparing the caramel sauce.
Salty Carmel Sauce:

1 Tablespoon white tahini paste
2-3 Tablespoons coconut flower nectar (can be expensive so substitute for rice malt syrup if you prefer)
2 Tablespoons pure maple syrup
Good Pinch of pink Himalayan or Celtic salt
In a small bowl place all the ingredients and mix through with a spoon until completely combined, smooth and creamy. Taste test for any amendments.
Decorate the top of your cheesecake with both of the sauces in however pattern or way that you like. It's best to use the chocolate sauce straight onto the cold cheesecake first. The chocolate will start to set as you are adding the salty caramel sauce.
You can allow the topping to set more in the fridge or serve straight away. If the cheesecake is still too firm for cutting, use a warm knife or simply allow to sit out for another 10-15 minutes before cutting.
Serving suggestion: mixed berries fresh or frozen, banana slices, vanilla coconut whipped cream, nuts or toasted coconut flakes.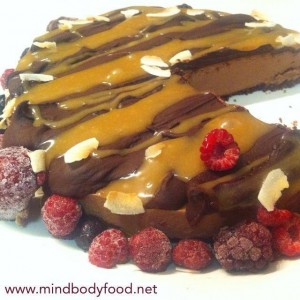 Enjoy this Healthy Chocolate Delight 
(and go here for a look at the Healthy Chocolate Delights eBook!)
Viki  xo
About Viki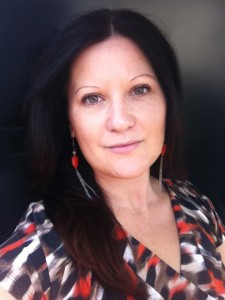 Viki Thondley is a Mind-Body Wellness Specialist and qualified Holistic Counsellor, Food, Stress & Lifestyle Coach, Meditation Therapist, and Eating Disorder Recovery Coach who inspires women to shift from limited thinking, low self-esteem and restriction to whole-self nourishment, body confidence and whole food healing. Recovered from bulimia nervosa and the many years of hormonal imbalances, food prison and self-sabotaging behaviours', Viki is an inspiring coach, speaker and event host who also provides personalised holistic programs,workshops and retreats to instil self-love, happiness, body confidence and real food freedom. She is author of "Achieving Your Wellness: Create a Life You Love" and "Healthy Chocolate Delights: Real Food Sweet Treats".