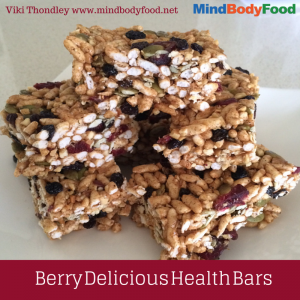 Berry Delicious Health Bars
A definite healthier version than the packaged "health" bars at the store, these healthy fruit and nut bars contain a good source of sustained energy, healthy fats, protein and fibre.
They're fun to make and easy to mix together.
A great little recipe to get the kids in the kitchen they are perfect for a morning or afternoon snack – maybe even as a breakfast bar (although I don't recommend when there are so many other wonderful and more rounded meals for breakfast).
Have fun with the mixture I've created below but don't be afraid to experiment and play – the ingredients I chose for this batch were based mostly on what I had in the cupboard!
With a little creativity you can create almost any flavour and texture. Give it a try and post me your pictures to the Facebook page 🙂
Enjoy!
Berry Delicious Health Bars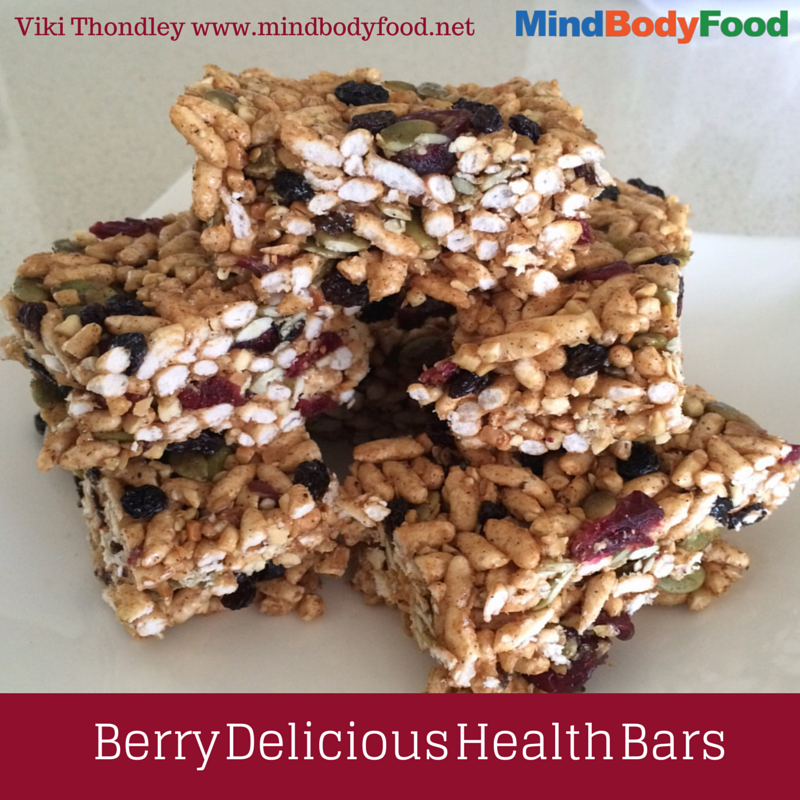 Ingredients:
Dry:
4 cups puffed brown rice
3/4 cup cranberries, dried (preferably preservative free)
1/2 cup blackcurrants (preferably preservative free)
1 cup chopped nuts
1/2 pepitas
1 tablespoon cinnamon
2 teaspoons vanilla powder
1 cup golden flax flakes
Wet:
3/4 cup rice malt syrup
3 tablespoons coconut oil
Method:
Let's keep this really simple. Put all the dry ingredients into a bowl and stir through until combined evenly.
Melt the wet ingredients together in a saucepan over low to medium heat, stirring thoroughly. Once completely melted and combined, pour it over the dry ingredients and stir through until the whole mixture is sticking together.
Scoop out into a medium sized slice tin lined with baking paper and smooth down.
Place into the fridge to set for at least 30 minutes – an hour is better.
when set, lift the slice out using the baking paper and place onto a cutting board.
Peel down the sides of the baking paper and slice through into bar sized pieces with a large smooth knife.
Enjoy!
Viki  xo
Transformational Coach, Counsellor and Therapist
Freedom and Recovery from your Emotional, Weight & Eating Issues
Viki Thondley is a Rapid Transformational Therapist, Holistic Counsellor & Meditation Therapist specialising in self-worth, stress, mind-body connection, subconscious reprogramming, depression/anxiety, body-image & eating disorder recovery. She is Founder/Director of the

 MindBodyFood Institute

 & author of the

 Holistic Life Coach & Mind-Body Practitioner 

certification course, plus several coaching & whole food books.