Achieve Your Wellness Coaching Program!
A 12 week positive change program for Mind, Body, Spirit & Food
A 12 week comprehensive wellness coaching plan designed using my 'Achieving Your Wellness' workbook with me as your personal guide. Follow a motivational and inspiring health and wellness plan designed to guide you step by step from overwhelm, confusion and low energy to wellness, happiness and abundance in all areas of your life!
My 90 page wellness coaching workbook prepares your mindset and behaviours to create lasting habits for life. It also contains thorough action worksheets for every day of your twelve week journey along with my weekly phone coaching guidance and email support.
The Achieving Your Wellness coaching program* includes:
My 90 page 'Achieving Your Wellness' coaching workbook and Beginners Meditation CD (value $19)
45-minute weekly coaching sessions + specific and attainable action steps (12 sessions)
Email support and inspiration between sessions
Recipes to support your health, healing and wellness
Positive thinking skills to increase personal awareness & create a successful mindset
Relaxation techniques to reduce stress, mental overload & muscle tension
Problem solving & stress management strategies to help you manage stress effectively
Recognise & fulfil ALL areas of your life with proactive self-management
Holistic Whole-Self Wellness approach (Mind, Body, Spirit, Emotion)
Additional resources tailored especially for you!
Additional information and resources may include:
Eating psychology concepts and behaviours
Mind-Body Nutrition approaches
Nutritional endocrinology and adrenal assessment
Meditation and Neuroplasticity
Exercise and movement
Learn to think about and approach your life in a "whole" new way, all while learning how to nourish your cells for improved energy, mood, sleep, concentration, digestion, health and hormone balancing.
Create a well-balanced and comprehensive plan for positive holistic change!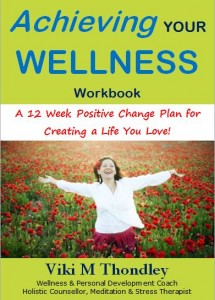 The Achieving Your Wellness workbook contains:
A Comprehensive Wellbeing Assessment to get you started on your wellness journey
Strengths audit
Values Identification
Life Charting exercise to envision your preferred lifestyle
Personal needs assessment
Thorough preparation worksheets to clarify goals and identify obstacles
Decisional balance sheet to clarify mental fears and obstacles
Solution focused weekly evaluation sheets for problem solving and powerful goal planning
Weekly Meal Planner
Body Review Sheet
Daily Affirmations
Short and long term goal planners
One step at a time, create daily acts of self-care and belief, leading to new habits, new perspective and greater self-awareness – all with a holistic and mindful approach.
Wellness coaching encourages you to:
Recognise your strengths
Choose your own values
Define your personal needs
Realise your full potential
Use positive psychology and mindset techniques
Release limiting beliefs and create a powerful and positive mindset
Understand self-sabotaging behaviours
Align your beliefs with your actions
You CAN Achieve Your Wellness!
*Please note: The 12 week "Achieving Your Wellness" positive change program is best suited for motivated individuals who thrive on a guided plan of action, support and accountability. I'll be there with you every step of the way helping you reach your full potential but you must be ready to help yourself and take achievable daily action steps!
Get ready to change your mindset, body and life!