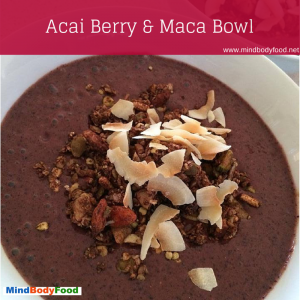 Breakfast Bowl of Champions!
REAL FOOD FRIDAY
This week is a nourishing and satisfying breakfast bowl of hormone balancing and antioxidant goodness for you!
Acai Berry & Maca Breakfast Bowl with homemade Nutty Choc Granola!
I've been making this for quite a while now, and when I'm out of Acai Berry powder I simply use my greens and reds powders instead for a "Green Hulk" bowl.
Breakfast is often the easiest meal to skip, but it's also the easiest meal to plan and create without too much effort. You can of course make plenty of dinner and keep the leftovers for breakfast or lunch, or you can simply soak chia seeds in nut milk overnight with nuts, seeds, spices and fruit.
Any way you do it, it's important to fuel your mind and body in the morning at some stage to kickstart your energy, balance your hormones and stave off hunger and sugar cravings later in the day.
With this delicious Acai Berry & Maca Bowl you're getting an easily digestible, nutrient packed bowl of goodness to start your day off right.
Enjoy!
Viki xo
Acai Berry & Maca Breakfast Bowl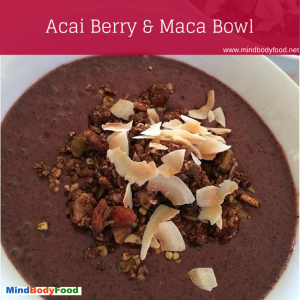 Ingredients:
2 cups of almond or cashew milk (homemade is best)
4 heaped tablespoons of Acai Berry Blend Powder (I like Nutra Organics)
3 tablespoons raw cacao powder
1 tablespoon Maca powder (I like Nutra Organics)
1 large or 2 medium frozen bananas
1.5 cups frozen blueberries or mixed berries
Method:
Add all ingredients in order to your high-speed blender and process until combined and smooth.
Pour into your preferred bowl or jar and top with Nutty Chocolate Granola and extra toasted coconut flakes, or your favourite nuts, berries and seeds! Serves two.
About Viki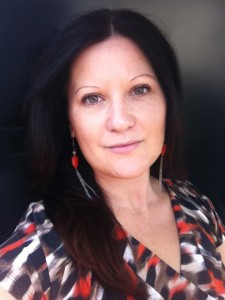 Viki Thondley is a Mind-Body Wellness Specialist and qualified Holistic Counsellor, Food, Stress & Lifestyle Coach, Meditation Therapist, and Eating Disorder Recovery Coach who inspires women to shift from dieting and restriction to whole-self nourishment, self-care and healing. Recovered from bulimia nervosa and the many years of hormonal imbalances, food prison and self-sabotaging behaviours', Viki is an inspiring coach, speaker and event host who also provides personalised holistic programs, workshops and retreats to instil self-love, happiness, body confidence and real food freedom. She is author of "Achieving Your Wellness: Create a Life You Love" and "Healthy Chocolate Delights: Real Food Sweet Treats".
Sign up to her Happy | Healthy | Confident newsletter for her free 43 page eBook "Break Up with Dieting: 10 Tips to Calm Your Mind, Relax Your Body & Eat With Pleasure" + weekly whole-self nourishment tips, inspiration and recipes!