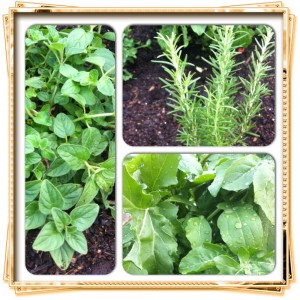 An Abundant Garden!
Even though Beloved and I don't have the largest space available for a huge variety of garden vegetables, we sure do have an abundant crop with the space we have!
It's important for us to know what food we're putting into our bodies for optimum health, hormone balance, blood sugar levels and wellbeing. So in our aim for holistic living we decided to make the use of what we have to provide us with the most variety of fresh greens, herbs and vegetables of our own.
This makes it easier for us to obtain whole foods when we can't get them, grow chemical free produce, and reduce our overall cost of clean eating.
We were lucky when we bought our beautiful home last year that the garden was completely landscaped – it was merely a job of maintenance. What impressed us mostly though were the two raised garden beds up the corner of the block that ventures into a point. This is where we've now dedicated our time to growing our own fresh produce.
This is the space we started with in January 2013. We built the vegetable garden at the back and got started planting in February. The sign was a little token of our neighbourhood block party last December!…. 🙂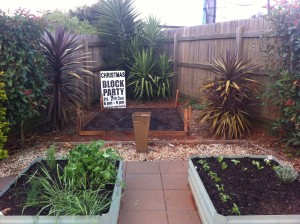 Most of our herbs are in the two raised beds: lemongrass, rosemary, chives, thyme, oregano, basil, curry, mint and rocket… and several pots contain parsley, coriander, ginger, chili and capsicum!
Then there's the vegetable patch that we made ourselves – not much wider than 2m x 2m. In this space we've comfortably planted baby spinach, spring onions, baby carrots, beetroot, kale and silverbeet.
Alongside these we have a lime tree and a lemon tree!
An abundant garden indeed!
A few weeks ago in October, Beloved took some photos of me picking greens – dress hitched up and knee deep in the vegie patch! Look how much it's grown!
Hopefully this will inspire you to grow your own, even with a small space!