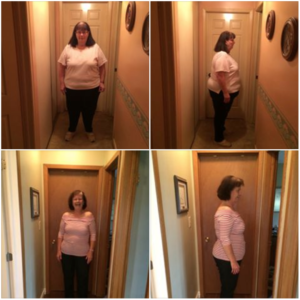 What 48 Kilos GONE looks like without dieting and in just 12 months!
This is what 48 Kilos (106lbs) removed in a year looks like as a result of RTT.
Meet my colleague, Colleen Andruszkiewicz, who gave me permission to share this with you. Colleen lives in Ontario, Canada, and is a fellow Rapid Transformational Therapist (RTT). 
Overnight she shared photos of herself inside our RTT therapy practitioner group – where students and graduates from all over the world come together to share support, insight on various case studies, and ongoing education.
It's my favourite Facebook group because it's full of other passionate change-makers who truly love their work and seeing their clients come alive! 
Today Colleen shared her before and after photos of her own massive weight reduction over the last 12 months since experiencing RTT herself during training last year !!!
Look at how much happier, alive and confident she is in the 'after' photos at the bottom……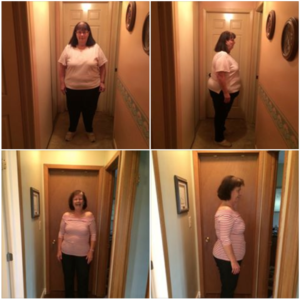 It is NOT easy to SEE yourself when you're struggling with body and food issues.
It's certainly not easy to share details of your actual weight.
But Colleen believes in the phrase: "a picture is worth a 1000 words" and in her own words, she's "as proud as hell of what I've accomplished so far"!
And I'm so proud and excited for her – and her clients 🙂
It's important to note that even though Colleen didn't "diet", she did change how she ate and got educated about food and nutrition. RTT helped uncover the root meanings that needed addressing as to "why" she had weight issues. It then helped to entrench the new habits to ensure she would succeed. 
The greatest act of transformation was listening to her bespoke recording for the minimum 21 days to affirm and rewire her subconscious to want to release the excess weight and help her maintain a healthy attitude and lifestyle.
These kinds of stories are important to share because it shows you what can happen using this phenomenal method to get to the ROOT cause of emotional, weight and eating issues – with a completely NON-diet approach to reducing excess weight and reaching your ideal or comfortable size.
Throughout August I conducted nearly 30 discounted RTT sessions to introduce what RTT can do, and find my flow. Read the testimonials HERE)
My clients taught me so much about the rhythm and application of RTT in drawing out the information to uncover the hidden meanings and emotions creating the issues, so we could release them, then rewire a new meaning and belief system to support them.
Those sessions – and clients – were immensely important in heightening my skills.
If you add up the cost of every diet, supplement, program, shake, powder, pill and fad way you've followed in your years of struggle, you've paid PLENTY already on top of the emotional, physical and mental strain of working against yourself to change.
But the cost and struggle will always be ongoing when the root issues of why you do what you do are still locked within your body, mind and brain.
When freedom and recovery is absolutely available to you once and for all in just 1 to 3 sessions, the choice is quite simple. If you're ready, I'm here to help.
Transformational Coach, Counsellor and Therapist
Freedom and Recovery from your Emotional, Weight & Eating Issues
Viki Thondley is a Rapid Transformational Therapist, Holistic Counsellor & Meditation Therapist specialising in self-worth, stress, mind-body connection, subconscious reprogramming, depression/anxiety, body-image & eating disorder recovery. She is Founder/Director of the

 MindBodyFood Institute 

& author of the

 Holistic Life Coach & Mind-Body Practitioner 

certification course, plus several coaching & whole food books.
RTT TESTIMONIALS
[testimonials]