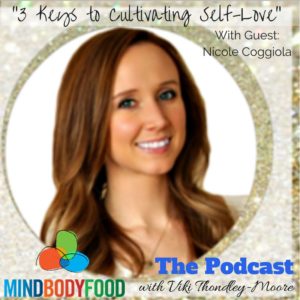 3 Keys to Cultivate Self-Love
PODCAST EPISODE
We all need a little help in how to cultivate self-love, gratitude and a positive mindset. So earlier this week I shared an inspiring talk with Nicole Coggiola, Health & Lifestyle Coach over at the Nourished Goddess. I've discovered I really enjoy connecting with like-minded souls around the world and sharing interesting conversations and stories that speak my language.
This one dives a little deeper into the importance of the mind and gratitude when making healthy lifestyle changes. Aspects that can't be ignored when creating inner transformation for outer change. It's all about being a creator, not a reactor, by becoming 100% responsible for your life.
The aim is always to bring you inspiring conversations from others who've been where you might be, to bring some hope and light to your own path forward.
We talked about:
what goddess embodiment means (I liken it to bringing back the feminine connection)

her story of looking for worth in designer handbags and clothes,

recognising her obsessive food rules were bordering on orthorexia,

how she discovered the pathway to change her eating and heal her body,

how she changed her life by changing her internal state,

how practising gratitude had a profound effect on her life,

the 3 keys she discovered that helped her find herself and connect with her inner wisdom
Hopefully we can inspire you to grab hold of your life and take control of the steering. It all starts in the mind…  
[soundcloud url="https://api.soundcloud.com/tracks/293282989″ params="color=ff5500&auto_play=false&hide_related=false&show_comments=true&show_user=true&show_reposts=false" width="100%" height="166″ iframe="true" /]
Nicole's Free Gift: Jump-Start Your Joy Mini-Workshop – 3 part video series to create a morning routine that brings more peace and happiness into your day – nourishedandfree.com/videoseries
DON'T FORGET!
Listen to or download this audio interview mp3 file on Soundcloud while you're out walking, watering the garden or cooking in the kitchen. You can download and take the file anywhere to listen, laugh and learn at your leisure. 
Please reply or comment with your personal insights, ah-haas and intentions for your own self-care! I love reading your comments!
Thank you for helping me create more value and support to help you be happier, love yourself more, and finally enjoy food and life without stressing yourself out.